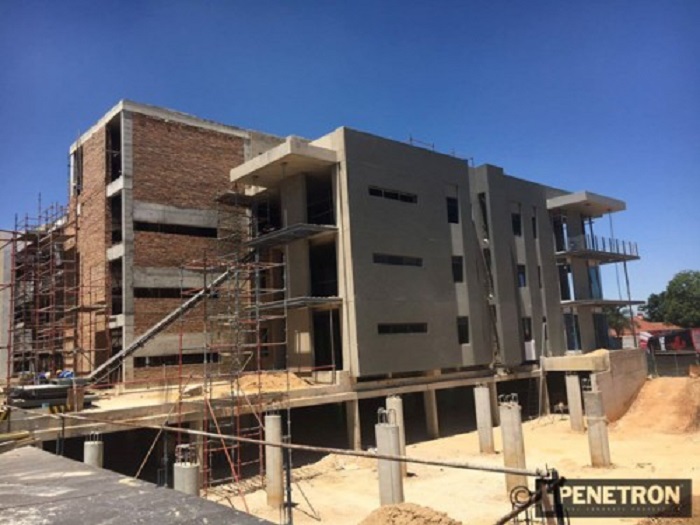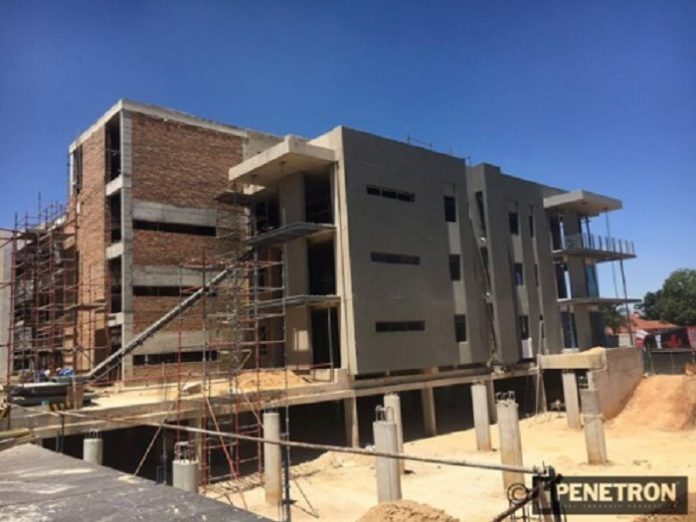 Inaugurated in March 2018, the modern HQ Bedfordview in Gauteng Province, South Africa, sets high standards for design, sustainable technology and concrete waterproofing. The PENETRON System provided long-term durability for all exposed and below-grade concrete.
HQ Bedfordview office complex
Bedfordview is an affluent town in eastern Ekurhuleni on the northeast border of Johannesburg. Located in the town center, the HQ Bedfordview office complex sets a new standard for office space in South Africa, with a contemporary, minimalist design and sustainable building features.
Built by Farquharson Construction, the complex consists of three individual twin blocks, each four stories tall, surrounded by a landscaped park and common areas, and includes underground parking for over 300 cars. Each building faces predominantly north or south to minimize heat from the east and west and optimize the use of natural light. HQ Bedfordview has offices ranging in size from 140 m² to 8,000 m².
"Similar to the Alice Lane Office Park in nearby Sandton, also a successful Penetron solution, the HQ Bedfordview site is a showcase project with future-oriented, sustainable technologies still relatively rare for South African office parks," says Clive Leader, Director of Penetron South Africa. "PENETRON crystalline products were used on all six buildings and the underground parking decks of the complex."
PENETRON ADMIX and PENEBAR SW-55 waterstop
The combination of PENETRON ADMIX and PENEBAR SW-55 waterstop (to seal the construction joints) provided the optimal solution for the HQ Bedfordview project. PENETRON ADMIX was mixed into over 3,000 m3 (3,900 yds3) of concrete during batching by Afrisam, the ready-mix supplier. The treated concrete waterproofs and protects all the exposed and below-grade structures: the ground floor slabs, roof slabs, elevator shafts, and elevator pits in the underground parking garage floors.
Once mixed into the concrete, PENETRON ADMIX creates a crystalline network that lowers permeability and promotes self-healing properties that can increase the durability and extend the lifespan of the concrete. All PENETRON crystalline products are non-toxic, contain no volatile organic compounds (VOCs), and are ISO 14001-certified.
"PENETRON technology has been a successful component of many sustainable projects around the world," adds Mr. Leader. "And right here in South Africa as well."