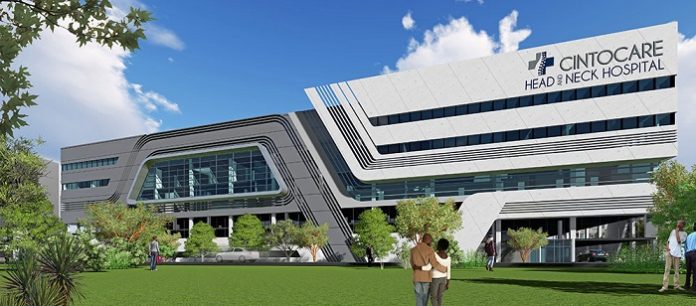 The first green-certified hospital in Africa is set for construction in South Africa at a cost of US $34m; this is after Real estate investment trust Growthpoint Properties and private company Cintocare recently broke ground for its construction in Pretoria.
The 11 000 m2 hospital
The 11 000 m2 hospital will be an exclusively surgical head and neck hospital and also a spinal and vascular surgery with highly specialized medical professionals and state-of-the-art technology.
Reports confirm that the mega building will comprise of seven floors including the hospital plant room, three clinical and consulting levels and three parking levels. The 100-bed hospital, with the built-in capacity to expand to 160 beds and will have five theatres, one of which is a hybrid.
The development partnership is delivering the full suite of services for the hospital from inception to completion. It will be located adjacent to Menlyn Maine Central Square.
Also Read: TAL South Africa completes tile installation at new Krugersdorp hospital
Growth of the healthcare sector
Head of Corporate Finance at Growthpoint, George Muchanya, explains that Growthpoint Healthcare Property Holdings' investment mandate allows it to invest in green field investments thus playing a leading role in promoting the growth of the healthcare sector by providing the capital to build new healthcare facilities.
"Growthpoint Healthcare is in an exciting growth phase and we are increasing its scale through asset acquisition as well as specialized developments. Partnering with Cintocare provides Growthpoint Healthcare the opportunity to own this world-class hospital on completion," said Muchanya.
Growthpoint's in-house development team and Cintocare are applying their mutual experience to achieve the goal of creating a clinical centre of excellence. This project has been a year in the planning and is the result of a wide collaboration of its operators, doctors, promoters, developers, owners, and other stakeholders.
"We have worked closely with Cintocare to create a tailor-made, high-performance space, which includes positive social and environmental impacts," said Rudolf Pienaar, Growthpoint's new Chief Investment and Development Officer.
Construction of the green-certified hospital will commence in August this year and is scheduled for completion during the first quarter of 2020.