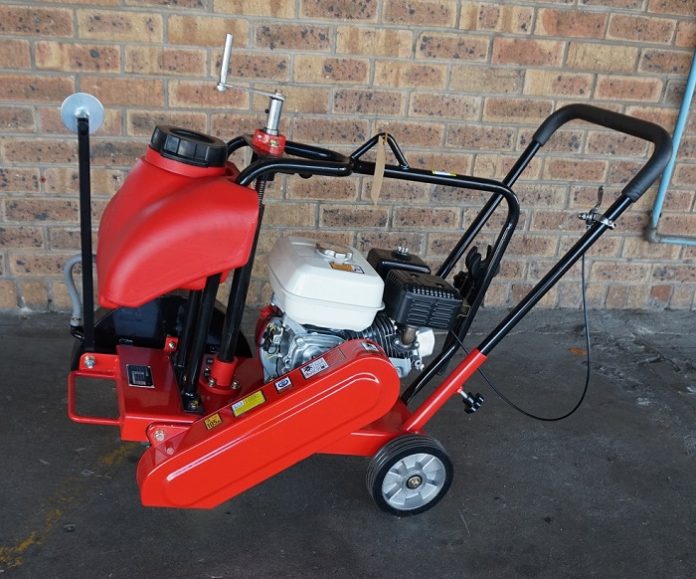 Leading tool hire and sales company Hire It (Natal) (Pty) Ltd. has officially launched the tough, cost-effective Kwagga range of locally-assembled equipment for the building and construction industry.
Hire It has over 37 years' experience in the hire and sales industry, gaining an excellent understanding of customers' needs, and supplying the best machines for the job, because it has used a wide range of products and knows what works, Hire It Sales Director Richard Fraser comments. It is also an authorized Honda power products dealership and a Level 4 BBBEE supplier.
Powered by Honda engines, the Kwagga range is ideal for use in tough South African operating conditions. This is due to its durability, in conjunction with the company's well-established back-up and service division offering after sales support. The Kwagga range is supplied with a standard one-year warranty.
It includes compaction equipment such as tamping rammers and plate compactors, floor saws, scarifying machines, drive units, poker vibrators, submersible pumps, generators, high-pressure cleaners and water pumps. Hire It intends establishing a nationwide distribution network supplying end users, retailers, and hire companies.
The Kwagga range
Fraser explains that the main reason for the introduction of the Kwagga range is to leverage off the cost-competitiveness of local assembly. "We wanted to bring a brand-new range to the market that is both high quality and cost-effective."
Hire It is also a dealer for leading brands such as Husqvarna, Yamaha, Makita, Bosch, and Hoffman. "The addition of the Kwagga range means we can provide our customers with total equipment solutions at a more competitive price point," Fraser highlights.
"We are extremely excited about its prospects, particularly at a time when many equipment suppliers are rationalising their ranges. We believe that a totally different approach is required, ensuring that quality, affordable products are available to meet the requirements of our customers."
The Kwagga FS400 floor saw
The Kwagga FS400 floor saw, with a 12 hp GX390 Honda engine, is ideal for cutting surfaces such as concrete and asphalt. Key features are a maximum cutting depth of 140 mm, and a super-rigid box frame to ensure straight cuts and extend blade life substantially. A height-adjustable handle gives a comfortable grip for users, while an easy-to-use crank raises and lowers the cutting depth efficiently.
The 70 kg Kwagga four-stroke petrol tamping rammer has a GXR 120 Honda engine and float-type carburettor. Key characteristics are its easy-start mechanism, low-noise operations, a rated power output of 2.2 kW, and an impact force of 1 3 00 kg. It is ideal for compacting in confined areas such as trenches and foundations, and around pipes.
Fraser reveals that pre-orders have already been received for the Kwagga range, which bodes well for its future success. Full training and aftermarket support will be available through Hire It and its partners and resellers.
For more information about the Kwagga range, visit www.hireit.co.za.
About Hire It (Natal) (Pty) Ltd.
Hire it is a tool hire company specializing in the hire, sales, and repair of equipment for the building & construction industry, with branches in Pinetown and Springfield. Founded in 1981 by Doug Fraser, the company has over 37 years' experience in the tool hire and equipment sales industry. With son Richard Fraser carrying on the legacy, the company is set to grow throughout Durban, and to continue selling nationwide.
Our hire fleet covers a wide range from breakers and concrete mixers to floor sanders, water pumps and generators. We sell tools and equipment through our sales division called Tool Time. We use our extensive experience to advise our clients of the best, most reliable products. We are agents for Honda, Husqvarna, Yamaha, Makita, Bosch, Hoffman, and more. Our-fully fitted workshop handles servicing and repairs of the full range of tools and equipment in our hire fleet, from power tools and breakers to gardening tools and generators.