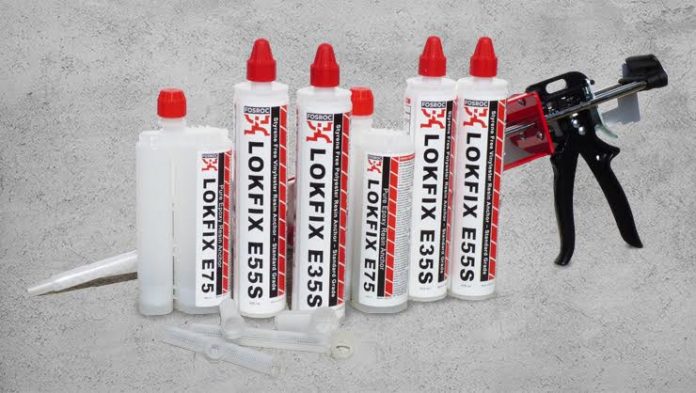 Building on the strong reputation of their Lokfix products, Fosroc are proud to announce their brand new Lokfix E range, bringing a multitude of exciting new features to designers and installers.
The Lokfix E range of products have been extensively tested to the new EAD standards and enable applications in masonry, cracked concrete as well as being fire rated and seismic tested. Applicators will find the 300ml cartridge size fits into any good skeleton gun, and being styrene free is safer to apply.
Their comprehensive design software is available to download for free. All of the product information and downloads are available at www.lokfix.com.
About Fosroc
Fosroc is a leading international manufacturer and supplier of high performance chemicals for the construction industry, with a particular focus on concrete and cement. But they don't just supply world-renowned products, they deliver complete construction solutions – from advice and training to site support.
Fosroc's tailored Constructive Solutions are developed combining their extensive range of products with expertise and experience to meet the needs of the construction industry. Their range of solutions include:
• Adhesives
• Concrete Admixtures
• Concrete Repair
• Protective Coatings
• Industrial Flooring
• Joint Sealants
• Waterproofing
• Grouts & Anchors
• Cement Additives & Grinding Aids