Informed Systems Ltd provides integrated and independent system solutions for asset and people protection; Biometric & Access control, Closed Circuit Television (CCTV), Electric fencing; Fire equipment, Automatic gates, Fire suppression among others in Kenya.
The company which was started in the year 2009 supplies and installs the best electric fences that are durable and work long enough to protect your property and your loved ones. These electric fences are usually installed on top of mesh fences, walls and roofs to deter intruders.
Do you have new or existing building that requires fire alarm systems installation? Informed systems Ltd has experienced and knowledgeable technicians who will carefully plan your installation, ensuring that everything is installed properly and efficiently. Your peace of mind is assured because they will check and test every system after installation. Whether you need a new system installation, an addition or an update to your existing fire alarm, they have the experience and knowledge to install the system to meet your unique needs since they have a long history of successfully installing alarm systems in homes and various institutes.
They also do installations of Video Door Phones "intercoms" with colour memory which helps you to know who was at your doorstep even when you were not home. If you have an electric door lock installed, an optional remote control will allow you to activate the open lock button. The intercoms also have a night vision feature which allows the inner monitor to display images in darkness.
The intruder alarm systems are designed to detect intruder presence at your premises. When detected, a siren will activate and communicate an alarm signal to the responsible authorities or Monitoring centers, from where an appropriate response will be coordinated. Intruder systems can be either hard wired or wireless.
Informed systems Ltd offers a two-in-one access control system that combines a biometric device and smart card reader, using standard non-contact smart card technology. Fingerprint or hand geometry templates are captured during enrollment and directly written to a smart card chip.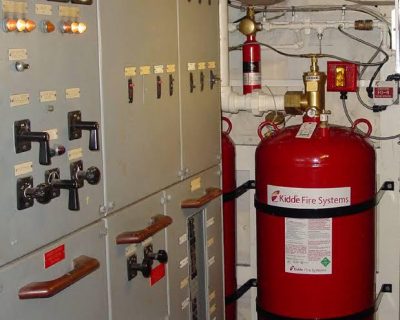 Informed systems Ltd will protect your premises against fire even if you are not around. They install fire suppression systems which are used to extinguish or prevent the spread of fire in a building. The Suppression systems use a combination of dry chemicals and/or wet agents to suppress equipment fires.
Modern security technologies
The evolving and rising nature of crimes have led to many people relying on contemporary and effective ways to monitor their businesses, homes and events. Guards, the most popular response to crime in many African countries have become inadequate. Newer ways are being sought including a combination of electronics support, to enhance the effectiveness of Man Guarding. Technology creates solutions around different risk equation and demands for safety.
Informed systems Ltd have successfully completed hundreds of project in Kenya. Some of their clients include British High Commission Kenya, Nairobi County Government, Machakos County Government, Red Cross Kenya, Phonix Aviation Ltd, Capwell Industries LTD, KCA University, Athi Water Services Boar, East Africa Cable LTD, Embassy of Spain Residence and many others. Over the last decade the company has been leading in East Africa hence their decision to broaden their wings to Djibouti and Eritrea.
The company's national footprint and ability to integrate various security services, combined with ongoing innovation, is a key differentiator from both local and international competitors. They are committed to the principles and philosophies of the world's best practices and as a result, have a strong commitment to continuous improvement. This forms the foundation of their relationships with their customers, suppliers and sub-contractors.