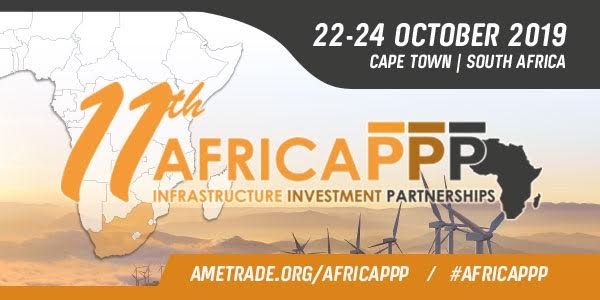 Only a few days until the 11th Africa Infrastructure Investment Partnership Conference and Showcase takes place! October 2019 – With the 11th Edition of Africa PPP just a few days away and over 40 speakers already confirmed, this year's conference has set out to be South Africa's most established platform for reducing the infrastructure gap by using a collaborative approach between the public and private sectors to effectively, efficiently and economically implement infrastructure projects.
Our most prized sponsors of Africa PPP include Almar Water Solutions, Jospong Group of Companies, IFA, DEG and ZoomLion Waste management and the event will be supported by NEPAD and WESGRO. Africa PPP 2019 will take place in Cape Town, South Africa, gathering global perspectives in and around Africa to discuss optimising projects, structures and sources of finance for infrastructure and energy projects beyond PPP's'.
Africa PPP conference will comprise of important mechanisms to implement infrastructure projects: Governments need projects that the private sector is better equipped financially and technically to implement. This is an opportunity for mega industry and government participants to indulge on the outlook of reducing total project costs – avoiding risk mitigation and credit enhancements, understanding a comparison between unit price and fixed price contracts and investigating the major causes of scope and design.
There are also some benefits of PPPs for the African public sector, these include: improved service delivery and budgetary process for better use of assets, increased investment in public infrastructure, reduce public sector risk. PPPs help the public sector develop a more disciplined and commercial approach to infrastructure development whilst allowing them to retain strategic control of the overall project and service.
The very best professionals in the industry have been selected as featured speakers for this year's edition. Confirmed speakers at the Africa PPP 2019 Include:
● Ruth Erasto, Planning & Investment Officer, Tanzania Railway Corporation, Tanzania
● Leonard Makwinja, Chief Executive Officer, Botswana Railways, Botswana
● Manel Salvado Tenesa, Business Development Director, Africa, Almar Water Solutions
● Shafeeq Abrahams, Chief Financial Officer of Eskom Provident Pension Fund, South Africa
● Joseph Siaw Agyepong, Founder & Executive Chairman Jospong Group of Companies
● Gabriel T Aduda, Permanent Secretary, Political and Economic Affairs Office, The Presidency, Government of the Federation, Nigeria
● Jim Mugunga, Director,PPPs Unit, Ministry of Finance, Planning & Economic
Development, Uganda
● Ragnar Grieg, Director Energy & Infrastructure for Africa & Latin America, DEG Invest, Germany
● Lindokuhle Hlatswahya, Director Business Development, GTAC, PPP Unit, National
Treasury, South Africa and many more.
The event will include a one-day training on 22 October, dedicated on project preparation for utilise and PPP units. If you would like to attend the most interactive event in Cape Town, South Africa, contact us today for more information: [email protected]
About AME Trade Ltd:
AME Trade's business to business events provide vital practical information for companies looking to diversify and realign their business strategies to keep up with fast-moving global trends. Through sector specific and country focused events, we are now one of the leading independent providers of strategic business intelligence for the African region. Our services include bespoke conferences, trade exhibitions, training workshops and networking functions.
Contact AME Trade:
AME Trade Ltd
2nd Floor, 326 City Road, EC1V 2PT |London |UK
W: www.ametrade.org
T: +44 (0) 207 700 4949
E: www.ametrade.org