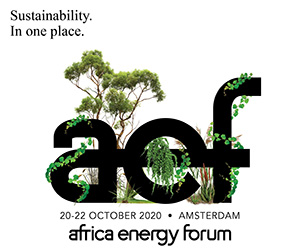 What the Africa Energy Forum delivers is simple: Energy. In One Place.
For the last 21 years the Africa Energy Forum (aef) has developed into a global investment meeting for Africa's power, energy, infrastructure and industrial sectors. aef 2020 arrives in Amsterdam from 20th to 22nd October 2020 under the theme 'Investment and Impact.'
The Forum brings together decision-makers in Africa's energy sector to form partnerships, identify opportunities and collectively move the industry forward. aef has a loyal following of credible players working in the power space, and a track record of delivering a valuable networking experience.
For more information about this year's Forum please contact us at [email protected] or visit www.africa-energy-forum.com