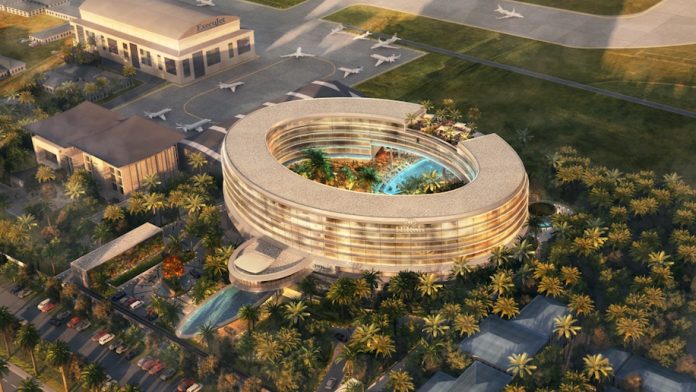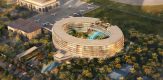 The Hilton Lagos Airport Hotel in Nigeria will open in 2023. This is according to the project developers Hilton who said the project is part of plans to increase key count in the booming Nigerian capital.
The project which is currently under construction is located within close proximity to Ikeja, the capital of Lagos State, as well as the passenger terminals at Murtala Muhammed International Airport, which service travelers flying to hundreds of destinations around the world.
Also Read:Radisson Hotel announces its fourth hotel in Ethiopia
Hilton Lagos Airport Hotel
The 5-star hotel takes the form of an oval and accommodation and will feature; 350 guest-rooms, out of which 72 are suites, an Executive floor and multiple food and beverage outlets, including; a restaurant serving international cuisine; a specialty restaurant; a fashionable rooftop cocktail bar; and a hip night club.
An elevated pool deck, with lavish gardens and a striking horizon pool overhanging the side of the property, will provide breath-taking views of the surroundings and a unique leisure experience for an airport property.
The hotel will also feature a spa and fitness centre. Set over several levels, the property takes advantage of the differences in height and uses external decks, atria and sunken lobbies to create a variety of spaces that are designed to wow visitors.
Some of the beneficiaries for the project will include Business travellers and event planners who will get to enjoy a wide choice of professional facilities across the 2,600sqm event space, including a 1,350sqm ballroom and 500sqm junior ballroom.
"Strong growth is forecasted in both domestic and international travelers using Murtala Muhammed International Airport, so this exemplary new hotel will be well placed to meet traveller's needs, offering an unparalleled level of design, comfort and service," said Patrick Fitzgibbon, senior vice president, development, EMEA, Hilton Worldwide.