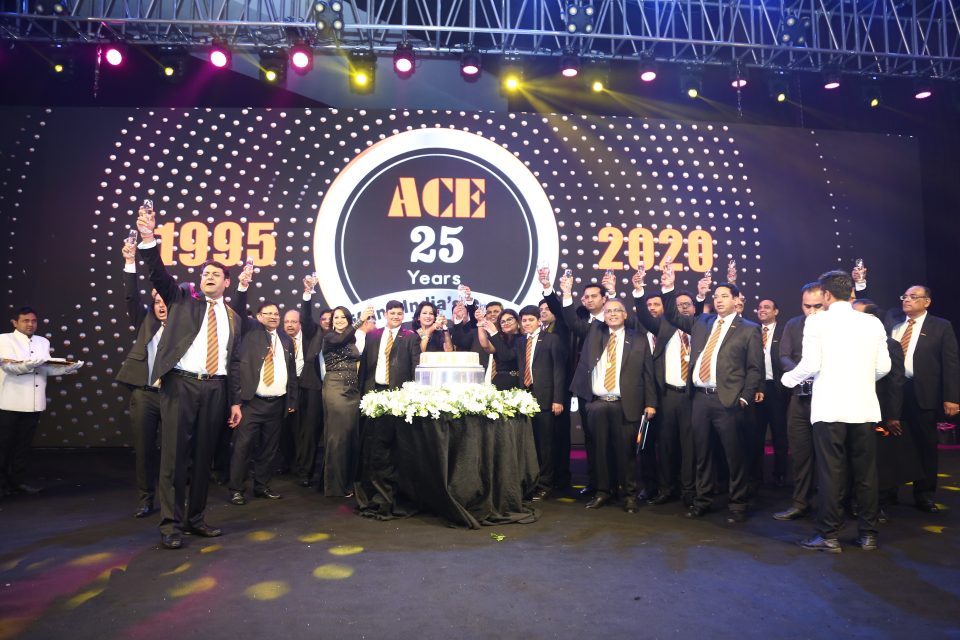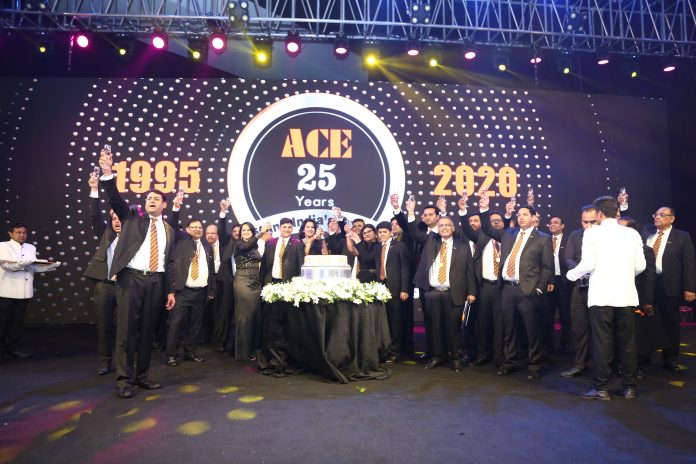 Last month, Action Construction Equipment (ACE), India's Leading Construction Equipment & Material Handling manufacturing company hosted a gala ceremony at Gurgaon's Ambience Island to mark their 25th anniversary.
The event, which featured over 1200 key stakeholders including ACE's Chairman & Managing Director, Mr. Vijay Agarwal, Mrs. Mona Agarwal- Director & wife of Mr. Vijay Agarwal, His son & Executive Director, Mr. Sorab Agarwal, and Mrs. Mishu Agarwal wife of Sorab Agarwal as well as other ACE employees and their extended family members plus top industry leaders, customers, and suppliers, celebrated the glorious history of the company and ushered in the new journey of ACE's Growth story.
Welcoming everyone at the momentous occasion, Mr. Vijay Agarwal shared moments of his inspiring journey with the guests. "From making the first Crane under a temporary structure on an uneven land to creating India's No. 1 Crane Company, the journey has been full of challenges, problems, and hardships. Today, when I look back, I feel proud and nostalgic that every challenge and problem has become a milestone for us."
"We as a brand love to summarize our journey with the claim of '25 years of Lifting India's Growth'. Our history of excellence is much wider in terms of years, customers, suppliers, and employees who have been our pillars of strength and support throughout this journey. During these years, our customer-centric approach and focus on product and innovation have made ACE the No.1 Crane Brand in India. Today, we have the largest portfolio of Cranes in the country and over the years, we have managed to add many more Construction Equipment & Agro products catering to the diverse demands of the industry. At the outset, I would like to thank all concerned from the bottom of my heart who have supported us in our journey so far", said the ACE's Chairman & Managing Director.
The ceremony also highlighted the company's future plans and vision for the next five years. Mr. Vijay Agarwal, said, "As ACE completes 25 glorious years, we stand, "EMERGED, EMPOWERED and ENERGIZED" to race forward into the future, to achieve even bigger milestones. Moving ahead, we are focused on developing ACE from being a leading Crane company to a Construction Equipment giant with a determined focus on new product categories in Road Making, Backhoes, and Agro Equipment. I would like to express my deepest gratitude to our valuable customers, suppliers and business partners in believing in us, patronizing us, supporting us and motivating us. Our ambition is to follow this path, keeping an eye on the long-term to continue to build a long-lasting position as one of the most trusted brands in the world.''
The event attracted wide participation from employees and industry leaders and stakeholders. Popular Bollywood singer Mika Singh and actress Gauhar Khan enthralled the audience with their popular songs and dance numbers.
About ACE
Incorporated in 1995, ACE- Action Construction and Equipment Ltd. is India's leading material handling and construction equipment manufacturing company. With a dominant market share of 63%, ACE is the largest crane manufacturer in India and the world's largest manufacturer in Pick 'N' Carry cranes category. Committed towards "Lifting India's Growth", the company is continuously striving towards offering innovative products integrated with excellent customer service and robust sales and support network across the globe. ACE R&D Center based at Faridabad is fully-equipped with modern facilities, dedicated towards development and speedy commercialization of globally competitive products.
With 8 state-of-the-art fully-equipped manufacturing facilities located in Faridabad (Haryana) and widest product range in the CE industry, ACE has an impressive portfolio of 15000+ customers across India. After establishing itself as the No. 1 Crane Brand of India, ACE is steadily expanding its global footprints by exporting its products to around 30 countries around the world, majorly catering to the Middle East, the Asia Pacific, Latin America, and African regions.