Besides the wind turbine installation, other major offshore construction work continues at the Dogger Bank A site. As far as the other works are concerned, the installation of all 95 monopile foundations by the heavy lift vessel Seaway Strashnov is now completed. 52 transition pieces have also been installed on their respective monopile foundations by crane vessel Jumbo Fairplayer.
Dogger Bank Wind Farm comprises a group of offshore wind farms being constructed 125 to 290 kilometres in the North Sea, off the east coast of Yorkshire, England. The farm was developed by the Forewind consortium, with three phases – Creyke Beck A and B being the first phase, the second as Teesside A and B, and the third phase being Teesside C and D.
It was anticipated that the Dogger Bank project would comprise four offshore wind farms, with each having a capacity of up to 1.2 GW, generating a combined capacity of 4.8 GW.
Dogger Bank A and B
This was the first phase also referred to as Dogger Bank Creyke Beck A and B. The project plan called for two offshore wind farms with power up to 1.2 GW and a total installed capacity of around 2.4 GW. They would link in Yorkshire, East Riding with the former Creyke Beck substation in Cottingham. Both sites lie 131 kilometres from the coast of East Yorkshire. Dogger Bank Creyke Beck A will have an area of 515 square kilometers while Dogger Bank Creyke Beck B will comprise an area of 599 square kilometers.
Dogger Bank Teesside A & B (Dogger Bank C and Sofia Offshore Wind Farm)
Dogger Bank Teesside A & B project comprises two wind farms, each creating up to 1.2 GW of electricity. Dogger Bank Teesside A is situated 196 kilometres from the shore and will cover approximately 560 square kilometres. Dogger Bank Teesside B is located 165 kilometres from the shore covering an area of 593 square kilometres. Planning consent was approved for 400 turbines on 5 August 2015.
In 2017 SSE and Equinor's own Dogger Bank Teesside A was renamed Dogger Bank C, while Dogger Bank Teesside B was possessed by Innogy who renamed it Sofia Offshore Wind Farm. The farm will use 100 Siemens Gamesa 14MW turbines. Offshore construction is planned to commence in 2023 with the completion of the overall scheme set in 2026.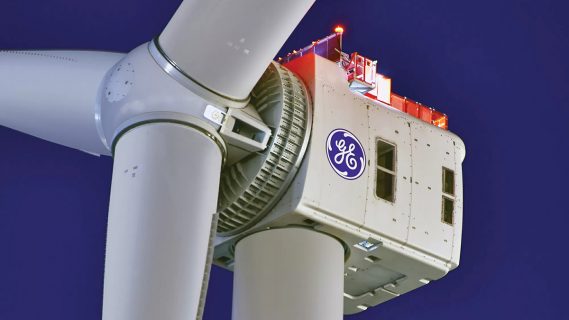 Dogger Bank C will deploy the GE Haliade 14 MW turbines with the Installation set to commence in 2025 and the overall Dogger Bank C project to be complete in 2026.
Dogger Bank Teesside C & D
This second phase (C and D) was set to have two wind farms, with each creating up to 1.2 GW of power. Earlier expected was that planning consent would be determined later in 2017. The final phase was however scrapped in August 2015 by Forewind and gave the remaining area of the Dogger Bank development zone back to the Crown Estate.
German, Dutch, and Danish electrical grid specialists are cooperating in a scheme to develop a North Sea Wind Power Hub complex on the artificial islands to be built on Dogger Bank part of a European system for sustainable electricity. The power hub is set to link the three national powers together and with the Dogger Bank Wind Farm.
Dogger Bank Project Timeline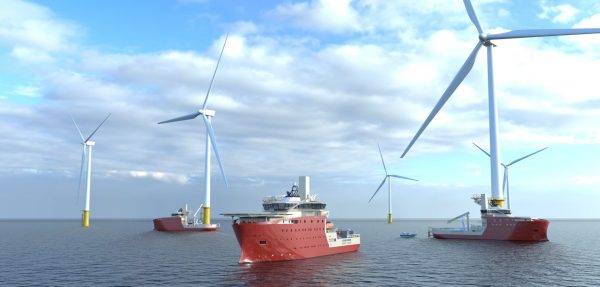 November 2008
The Forewind consortium comprising four owner companies – RWE, SSE, Statoil, and Statkraft – was formed in response to the third license round.
January 2010
Forewind was revealed as the Dogger Bank Zone the developer, the biggest of the Round 3 zones.
2015
Planning consent was offered for up to 400 turbines on 17 February. The two schemes were owned by SSE and Equinor. The Teesside C and D phases were also abandoned, with the first and second phases being granted consent.
2017
In February, a study from Dutch electrical grid operator TenneT stated that around 110 gigawatts of wind energy generating capacity would ultimately be created at the Dogger Bank location. Statoil increased its share from Statkraft earlier in the same year. In August new ownership arrangements were published, SSE and Equinor (formerly Statoil) had each taken a 50% share in Dogger Bank Creyke Beck A, B, and Teesside A, with Innogy (RWE subsidiary) receiving Teesside B and renaming it to Sofia Offshore Wind Farm.
Jan 2020
Construction of the world's largest offshore wind farm begins in England
Construction of the world's largest offshore wind farm dubbed Dogger Bank Wind Farm located near the coastal village of Ulrome, East Riding of Yorkshire, England has begun.
The facility includes three offshore wind farm sites namely Creyke Beck A (1.2GW), Creyke Beck B (1.2GW), and Teesside A (1.2GW) in the North Sea, that have a combined capacity of 3.6GW. They will be equipped with GE's Haliade-X wind turbine and will generate clean energy that will be sufficient to power more than 4.5 million homes annually.
Groundbreaking ceremony
Speaking during the groundbreaking ceremony for the project, Dogger Bank Wind Farms managing director Steve Wilson said that getting the first spade in the ground is a significant milestone on any project, but for what will be the world's largest offshore wind farm, it is a major moment for a project that has already been over a decade in the making.
"Dogger Bank Wind Farms will play a critical role in the UK's effort to achieve net zero through the use of low-carbon fuel sources," he added.
He also revealed that they will be working with UK-based civil engineering contractor Jones Bros Civil Engineering on the project.
Jones Bros work as per the contract
According to the contract, Jones Bros will be installing onshore cable infrastructure, approximately 20 miles of electrical cables within ducts to be precise, for the Creyke Beck A and Creyke Beck B sites.
Once completed, the onshore cables will be used to pass on clean power generated by Creyke Beck A and Creyke Beck B wind farm sites from the landfall point at Ulrome to new converter stations in the south of Beverley.
The cable route will be built adjacent to the A1079, eventually connecting to the existing National Grid substation at Creyke Beck, Cottingham. Besides onshore cable infrastructure installation, Jones Bros will also be responsible for completing earthworks at the onshore HVDC convertor station locations in East Riding.
The contract also includes other works such as the construction of a temporary access road to facilitate the main works, as well as creating access junctions and obtaining vegetation clearance.
The project, a joint venture (JV) between SSE Renewables and Equinor, is supposed to be completed in 2022.
On 21 September, Dogger Bank A and B decided to deploy the 190 GE Haliade-X 13 MW offshore wind turbines on both sites of which 95 turbines were to be used on each site. In December Eni acquired a 20% stake. ABB was selected for the HVDC power transfer cables to shore.
Sep 2020
The world's largest offshore windfarm places record-breaking turbine order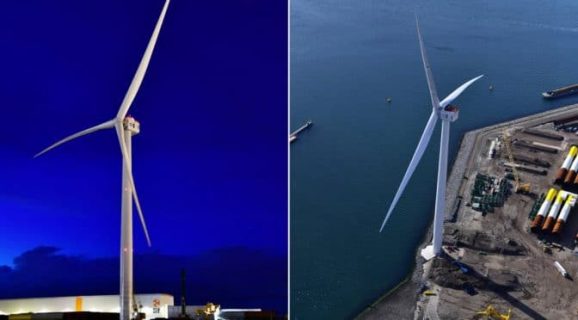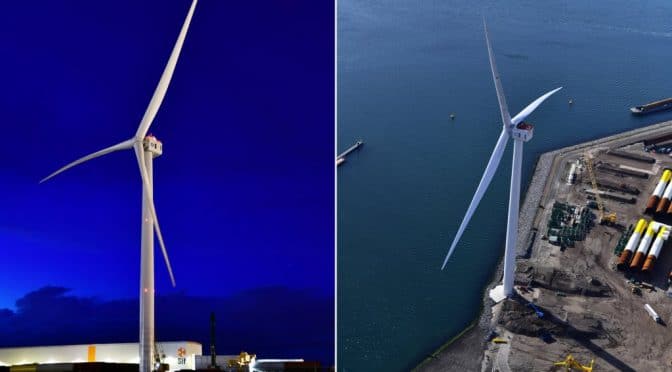 Dogger Bank Wind Farm and GE Renewable Energy have announced new contracts confirming the 13MW Haliade-X turbine to be delivered for the Dogger Bank A and Dogger Bank B phases of the world's largest offshore wind farm.
The contract includes an order for 190 Haliade-X 13MW offshore wind turbines to be installed off the northeast coast of England, split evenly at 95 turbines for each of the first two phases of Dogger Bank Wind Farm. The  13MW Haliade-X will be installed in the turbines for the first time ever in the world. One spin of the Haliade-X 13MW can generate enough electricity to power a household in the United Kingdom for over two days.
As part of the agreement, GE Renewable Energy will establish its marshalling harbour activities at Able Seaton Port in Hartlepool which will serve as the base for turbine service equipment, installation, and commissioning activities for Dogger Bank A and B. This will see the delivery of component parts for each of GE's Haliade-X 13MW wind turbines to the specialist port, including the nacelle, three-tower sections, and three 107m long blades, for pre-assembly on-site at Able Seaton prior to transport out to the North Sea for installation.
This activity will lead to the creation of 120 skilled jobs at the port during the construction of what will be the world's largest offshore wind farm. This brings the total number of jobs in the North East associated with the development and operation of Dogger Bank Wind Farm to 320 so far. The turbine installation is expected to commence in 2023 at Dogger Bank A. Recruitment activity is expected to begin in early 2021, and job roles will be advertised closer to the time by GE and by Dogger Bank via the Dogger Bank website and social media channels.
2021
In March, Siemens Gamesa Renewable Energy (SGRE) was awarded a tender by RWE to deliver 100 flagship 14 MW turbines for the 1.4 GW Sofia offshore wind power project.
In November, Equinor decided to sell a 10% interest in the Dogger Bank C scheme in the UK North Sea for around £70 million to Eni. Eni also had an agreement to buy a further 10% from SSE Renewables under the same terms.
Dec 2021
Tekmar Energy wins Dogger Bank Wind Farm Cable contract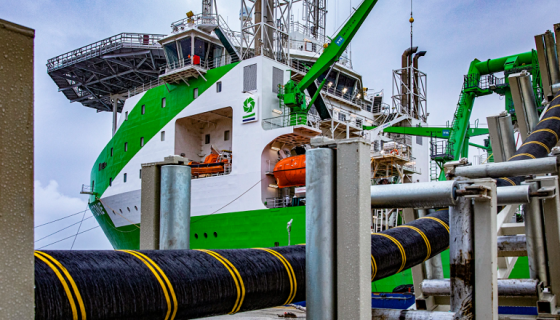 Tekmar Energy Limited has been awarded its largest-ever cable protection system (CPS) tender to develop the new phases of Dogger Bank Wind Farm. The Darlington-based technology and services specialist for the global offshore energy markets, secured a tender DEME Offshore, the Dogger Bank Wind Farm's tier one contractor.
Tekmar Group company is set to design, manufacture and supply Generation 10 TekTube CPS to safeguard subsea inter-array cables on the wind farm's first two phases, Dogger Bank A and B, with a future alternative for Dogger Bank C. All systems will be produced at Tekmar's state-of-the-art plant located in the northeast of England, creating 170 jobs and more roles in Tekmar's 100% United Kingdom-based supply chain.
Enough renewable electricity to supply 5% of the United Kingdom's demand.
Tekmar Group Sales Director, Gary Howland stated: "As a company with headquarters in the north-east of England, we are much excited to play a role in this hugely important scheme for the region and anticipate working with DEME Offshore to successfully carry out the project." The Project Director at Dogger Bank Wind Farm, Steve Wilson, added:
"We're happy to welcome the leading north-east producer to the supply chain for the world's biggest offshore wind farm. To secure the tender on our ground-breaking project, Tekmar has indicated world-class capability and expertise. With over 3,000 UK jobs currently associated with the construction and management of the wind facility, we can ascertain that with the right opportunities and support, the offshore wind supply chain in the United Kingdom is becoming progressively globally competitive."
Because of its size and scale, the wind farm is being constructed in three consecutive 1.2GW stages; Dogger Bank A, Dogger Bank B, and Dogger Bank C. In total, the wind farm is set to create enough renewable electricity to supply 5% of the United Kingdom's demand, equal to power six million homes.
January 2022
Smulders, an international steel construction company and a part of Eiffage's metallic construction division was awarded a contract under which it would work with Sif Holding NV on 87 foundations, each with a monopile and a transition piece, for the third phase of the 3.6-GW Dogger Bank offshore wind complex.
In November 2020, the same consortium was awarded contracts to provide the 190 foundations for the first two phases of the project.
March 2022
Offshore construction works start on Dogger Bank A
Offshore construction works have started on Dogger Bank A, the first of the three 1.2 GW phases of the 3.6 GW Dogger Bank Wind Farm, which is the world's largest offshore wind farm currently under construction. The works are beginning with a geophysical pre-lay survey along the Dogger Bank A export cable corridor in the Southern North Sea offshore the UK.
The survey vessel, Geo Ranger, will conduct the survey that includes the acquisition of high-resolution, hull-mounted Multi-Beam Echo Sounder (MBES) data and Remotely Operated Vehicle (ROV) visual inspections of pipeline crossings and targets of potential interest, between March and 15 April.
These works follow the joint high voltage direct current (HVDC) onshore civil project announced last month to link Dogger Bank C and Sofia windfarms. Developed by J. Murphy & Sons, the high voltage wires from the two wind farms will run 195km from the North Sea and come ashore close to Redcar on Teesside.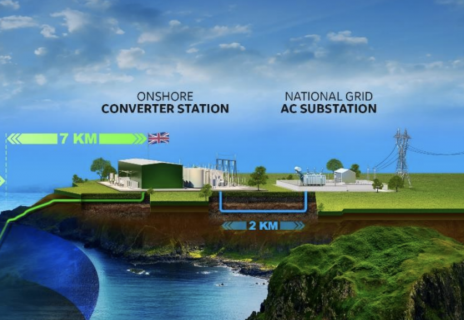 Both Dogger Bank C and Sofia wind farms' converter stations are being constructed on a site close to Lazenby and the developers are partnering along the shared onshore cable route that stretches 7km from where the cables come ashore to the new converter stations.
An additional 2km cable of high voltage alternate current (HVAC) will be installed from each of the stations to the current National Grid substation at Lackenby, where the current will join the National Grid. Murphy's contract is to position onshore cable ducts that lead the lines from the landfall site to the HDVC onshore converter stations.
Dogger Bank C and Sofia windfarms HVDC onshore civil project scope
The Dogger Bank C and Sofia windfarms HVDC onshore civil project comprise detailed engineering and design for the works, ecological management, civil infrastructure installation, and engineering and installation of crossings. The main civil work will commence in March, progressing until the end of 2024.
Murphy has devoted itself to working with local colleges to hire local talent and suppliers for resources. Speaking on the project the managing director at Murphy Energy division Jon Downs said that they are happy to be selected as the delivery partner for High Voltage Cable for two of the country's most significant strategic renewable energy schemes.
"At Murphy Energy, we are devoted to assisting our customers to speed up the clean energy transformation on our journey to Net Zero and to create 40GW by 2030. The Dogger Bank C and Sofia windfarms HVDC onshore civil project is an important element of this journey and we are happy to be playing such a significant role in their delivery," concluded the MD.
Jul 2022
Dogger Bank Wind Farm Prepares for First Above-Water Hardware Installation
The first of three 1.2 GW phases of the 3.6 GW Dogger Bank wind farm, will soon begin installing monopiles in the first half of July. The wind farm is the largest wind farm in the world currently under construction.
On July 13, DEME Offshore's Innovation installation vessel is scheduled to begin erecting the first three of the 95 monopiles. The work will be at the Dogger Bank A site. It is located over 130 kilometres off the coast of Yorkshire, United Kingdom. The installation of all 95 monopiles is anticipated to be finished in the third quarter of 2023.
Sif Group, in collaboration with Smulders, is in charge of delivering all 277 monopiles for Dogger Bank. Similarly, Smulders will be providing the transition pieces. The monopiles were produced by the Sif Group.
The monopiles have an overall weight of 103,087 tons and a diameter of 8.6 meters, according to Sif. In addition, DEME Offshore is in charge of all three phases of the project's inter-array cable engineering, procurement, construction, and installation.
Read Also: Duqm Refinery Project in Oman 92% Complete
Installation of monopile foundations at Dogger Bank Wind Farm.
As previously reported, the new-build foundation installation vessel Seaway Alfa Lift, currently being built at the China Merchants Heavy Industry (CMHI) shipyard in Jiangsu, China, was initially intended to transport and install the monopile foundations at the Dogger Bank Wind Farm.
The ship, however, experienced a crane incident in October 2021, delaying the anticipated delivery until the second half of 2023. Since then, Seaway 7 has chosen to use Seaway Strashnov on the project until Alfa Lift is delivered. Additionally, Seaway 7 has strengthened the installation fleet by chartering DEME's Innovation.