Below is an overview of the top ten tallest buildings in Nigeria, one of the most economically developed nations on the African Continent. The list is made of buildings that are mainly in Lagos and Abuja, and partly in Ibadan. These are the cities that have recently experienced rapid growth in the West African country.
Also Read: Tallest buildings in Kenya
NECOM House
NECOM House also known as the NET Building, NITEL Building or the Nigerian Telecommunications Limited Building is a 32-story building standing at a height of 160.3 m / 526 ft. in the city of Lagos.
Constructed by Costain in the 1970's, the building which houses the headquarters of NITEL and whose communications spire at the top serves as a lighthouse beacon for Lagos Harbor, has graced Lagos skyline since 1979 and it is not only the tallest building in Nigeria but also the tallest building in the entire West Africa region built using concrete.
2. Champagne Pearl Tower
The Champagne Pearl tower (on the left hand side of the above picture) is one of the five residential towers in Eko Atlantic, Lagos State, that make up the Eko Pearl Towers.
At a height of 134 m (440 ft.) the Champagne Pearl tower consists of 30 residential floors with 4 apartments per floor, a technical floor, a ground floor and a basement floor in addition to a private health club, meeting room and lounge.
Completed back in 2017 the tower is currently the tallest residential building in Nigeria, and the second tallest building overall in Nigeria and West Africa at large.
3. Union Bank Building
Located in marina, Lagos, Union Bank Building is a 28 floors storey building that serves as the headquarters of the Union Bank of Nigeria.
It was designed by Modulor Group and constructed by CCMC International up to 1991.
At a height of 124 m (407 ft.) the Union Bank Building is currently the third tallest building in Nigeria.
4. World Trade Centre (WTC) Tower 2
Touted as "Abuja's only Grade-A office space", the WTC Tower 2, or simply Tower 2 is one of the eight buildings of the proposed World Trade Centre complex in the Central Business District of Abuja, FCT in Nigeria.
Completed back in 2016, the WTC Tower 2 has a height of 120 m (394 ft.) and a total of 25 floors. It is the tallest building in Abuja, breaking Lagos dominance in this list, and the fourth tallest in Nigeria.
5. Eko Towers II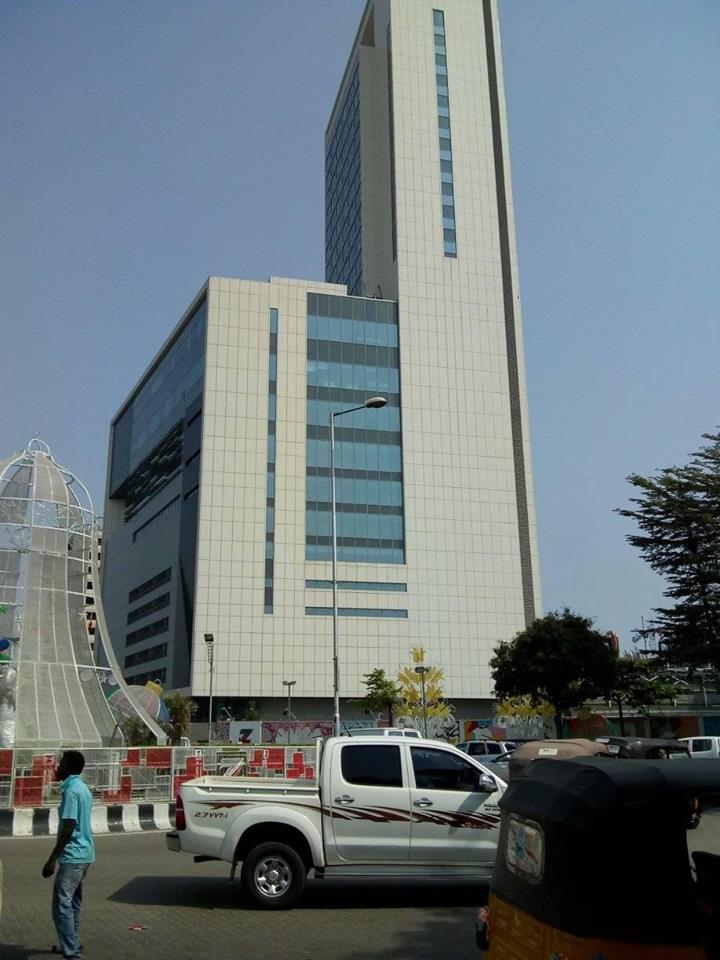 The Eko Towers II is a 27 floor mixed use development at the Adetokunbo Ademola Street Roundabout that is also known as the Eko Hotel Roundabout in Victoria Island, Lagos.
According to the project architects, Enia, the building consists of a mixture of real estate components including a guesthouse, medical and social center, 5 floor parking area, restaurants and bars, conference and staff rooms among others.
The building is the tallest in Victoria Island at a height of 118.34 m (387 ft.). Its construction begun in 2012 and was completed in 2016.
6. The Black Pearl tower
This (on the right hand side of the above photo) is another one of the Eko Pearl Towers. It is particularly a 24-floors residential apartment building. It contains a total of 84 apartments, which range in size from 1 to 3 bedrooms, with Duplex options, combined apartments and Terrace Penthouses.
The 112 m (367 ft.) tall Eko Black Pearl tower is located close to the much taller Champagne Pearl and they both have similar attributes. They are situated behind two tennis courts, a swimming pool and other communal facilities, and they both have parking available at the ground and basement levels.
This was opened back in 2017.
7. World Trade Centre (WTC) Tower 1
The (WTC) Tower 1, or rather Tower 1, is a 24-floor apartment building, standing at a height of 110 m (361 ft.) on the premises of the previously mentioned World Trade Centre in Abuja. The tower contains 120 apartments that range in size from 1 to 6 bedrooms, with Duplex options and two exquisite Penthouses and Pool Villas.
Its construction was completed back in 2016 the same year as its sister tower, WTC Tower 2.
8. Ministry of Communication Building

Initially named NIPOST building and built to serve as the headquarters of Nigeria postal activities, the Ministry of Communication Building is one of the oldest government buildings in the West African country constructed in 1970's.
At a height of 109 m (358 ft.) the building is number 8 on our list even though it was abandoned by the federal government after moving to from Lagos to Abuja.
It has a total of 30 floors.
9. Cocoa House
Initially named 'Ile Awon Agbe' a Yoruba name that when translated to English means 'the house of farmers', Cocoa House is the very first skyscraper to be constructed in West Africa back in the 1960's.
Located in Dugbe, a major commercial area in Ibadan, Oyo State, Nigeria, on a land area of 1.7 hectares, the building has a total of 26 storey's and a height of about 105 m (344 ft.).
10. InterContinental Hotel and Resort Building
This is a 22 storey building constructed along Kofo Abayomi Street in Victoria Island, Lagos, Nigeria and home to the 5-Star intercontinental hotel that comprises iconic club intercontinental, conference and meeting areas, a business center, an exclusive boardroom, 4 restaurants and 3 bars.
The building is the tallest hospitality building and the tenth tallest building overall in Nigeria at a height of 105 m (344 ft.).
94