Over 5000 passenger planes take off in the USA every day. They do this from the hundreds of airports that dot the country.
The largest airports in the USA of course carry most of the traffic. Below is a list of the Top ten largest airports in the US in terms of acreage covered.
Denver International Airport in Colorado (33,917 acres)
Dallas/Fort Worth International Airport in Texas (17,050 acres)
Washington Dulles International Airport in Virginia (13,000 acres)
Orlando International Airport in Florida (11,609 acres)
George Bush Intercontinental Airport in Texas (10,000 acres)
Salt Lake City International Airport in Utah (7,700 acres)
O'Hare International Airport in Illinois (7,627 acres)
San Francisco International Airport in California (5,207 acres)
John F. Kennedy International Airport in New York (5,200 acres)
Detroit Metropolitan Airport in Michigan (4,850 acres)
Denver International Airport (DIA), Colorado
The largest airport in the USA is Denver International Airport, locally known as DIA. The airport is spread over 33,917 acres of land.
Conceived in 1980 and opened to the public in February 1995, DIA has a total of six runways. Additionally, it has one main terminal, Jeppesen Terminal, with a built-up area of more than 1.5 million square feet.
Moreover, it has three airside concourses and more than six million square feet of public space. Concourses A, B, and C have a total of 89 gates.
Also Read: Five of the world's largest airport terminals built to date
There are plans to construct four more runways, add 20 gates to the existing concourses and construct two more i.e. concourse D and E, among other improvements by the year 2035.
2. Dallas/Fort Worth International Airport (DFW), Texas
Plans for the construction of the 17,050 acres of DFW were unveiled back in 1940. However, the project was put on hold until 1964, and construction began five years later.
The DFW opened for commercial operations in January 1974 with a total of four terminals. To date, the airport has a capacity of 5 terminals (A-E) and 182 gates, in addition to 7 runways.
In 2019, DFW airport, along with American Airlines, announced plans to build a 6th terminal. This would be carried out alongside the addition of up to 24 new gates to Terminal F and renovations of Terminal C.
The estimated cost of the project is US$ 3–3.5 billion and its completion is expected by 2025.
3. Washington Dulles International Airport (IAD), Virginia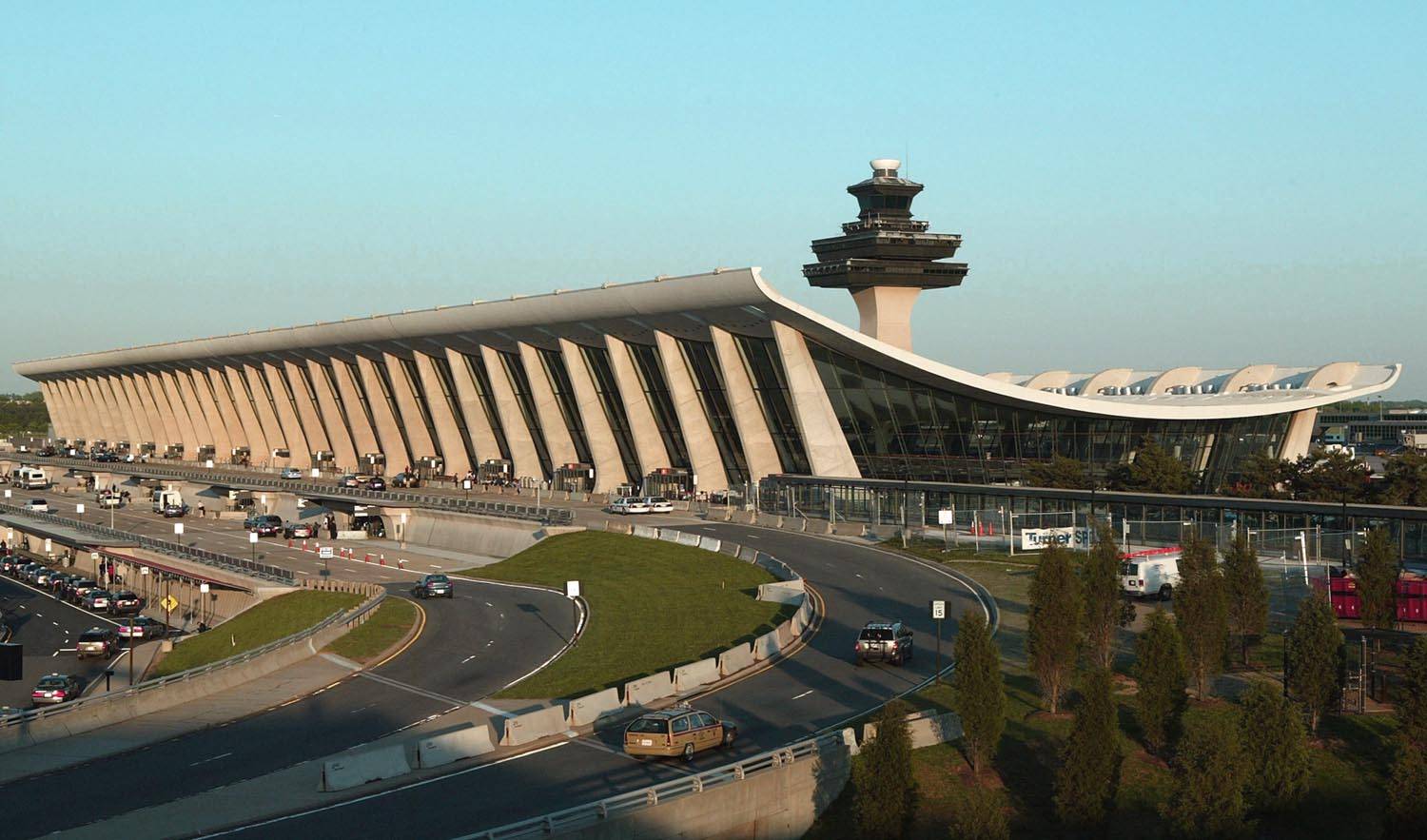 The airport sits on a 13,000 acres piece of land in the suburbs of downtown Washington, DC. The Main Terminal, which includes four of the original gates, "Z" gates was opened in 1962.
In addition to the main terminal, the IAD's terminal complex also includes two parallel midfield terminal buildings (Concourses A/B and C/D).
A total of 123 gates, and 16 hardstand locations from where passengers can board or disembark using the airport's plane mate vehicles.
The facility is connected to the region's highway system by an Authority-operated, 16-mile Airport Access Highway dedicated to airport users.
A 23-mile expansion of the region's Metrorail system that includes a station at Dulles is currently under construction.
4. Orlando International Airport (OIA), Florida
The 11,609 acres airport has a hub-and-spoke layout with a large main terminal building. The latter is divided into two i.e. Terminal A, on the building's north side, and Terminal B, on the building's south side.
It has a total of four runways and four airside concourses.  Airside 1 (gates 1-29), Airside 2 (gates 100-129), Airside 3 (gates 30-59), and Airside 4 (gates 60-99). The concourses are accessible via elevated people movers.
Noteworthy, Orlando International Airport is one of the few airports in the world that can accommodate the new-generation Class 6 aircraft. It is also used as a space shuttle emergency landing site.
Opened for commercial services in 1981, the airport is the 4th largest in the US.
5. George Bush Intercontinental Airport (IAH), Texas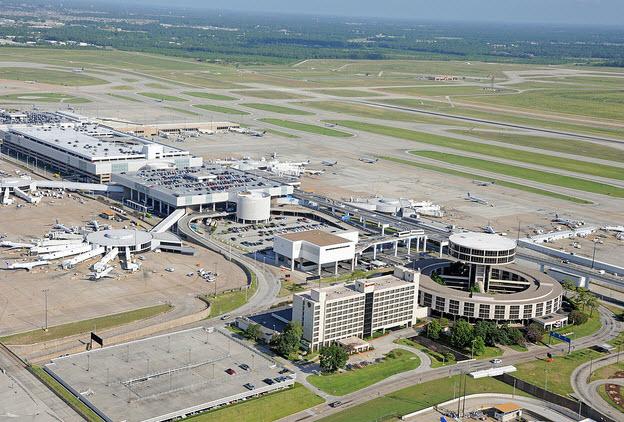 Initially named as "Houston Intercontinental Airport", the 10,000 acres airport was opened in 1969. It has a total of 5 runways and five terminals A, B, C, D, and E with 130 gates.
Skyways provides airside connections between all five terminals. Subways provide landside connections between the five terminals and the airport hotel (the Marriott).
IAH, 5th largest in the US, is accessible via the landslide inter-terminal train which runs every 3 minutes from 3:30 am–12:30 am every day.
6. Salt Lake City International Airport (SLC), Utah
The 7,700 acres civil-military airport has four runways. The runways are generally oriented in an NNW/SSE magnetic direction due to consistent prevailing winds in this direction.
In addition, it has a single terminal with two concourses. Concourse A has 25 gates with 22 more expected to open in 2024. Concourse B on the other hand has 20 gates and 11 more will open in 2024.
The concourses are connected by an underground tunnel.
7. O'Hare International Airport (ORD), Illinois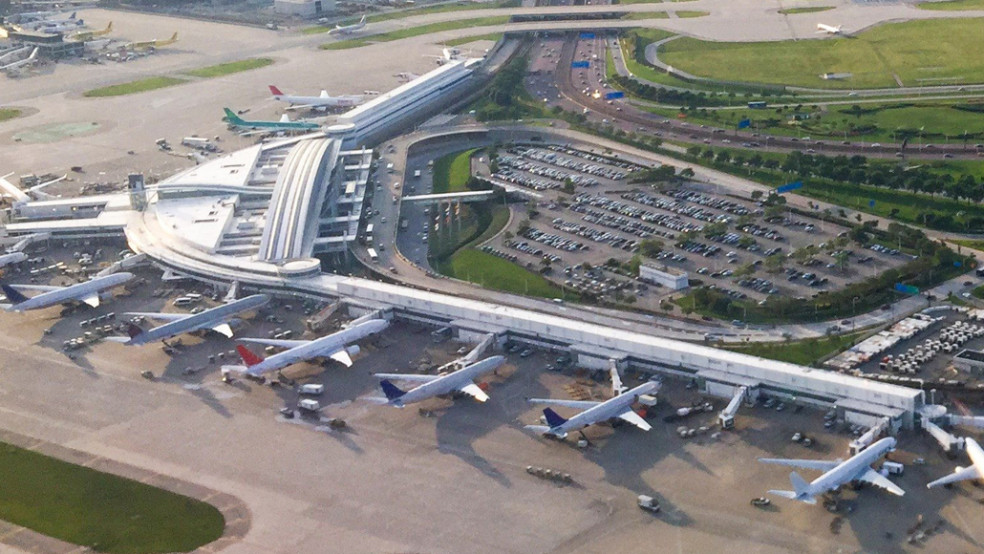 Covering 7,627 acres of land, O'Hare International Airport began as an airfield serving as a Douglas manufacturing plant for C-54 military transports during World War II.
To date, the airport is the 7th largest in the US with a total of four passenger terminals, nine lettered concourses and 191 gates.
It has two sets of parallel runways, one on either side of the terminal complex. The north airfield has three parallel east–west runways while the south airport has three parallel east–west runways.
8. San Francisco International Airport (SFO), California 
Owned and operated by the City and County of San Francisco, the SFO covers 5,207 acres of land and it started operations in March 1927.
It features four asphalt runways, four terminals (1, 2, 3, and International), and seven concourses (Boarding Areas A to G) with a total of 115 gates arranged alphabetically and counterclockwise.
9. John F. Kennedy International Airport (JFK), New York
JFK is an international airport built on 5,200 acres piece of land in Jamaica, Queens, in the south-eastern part of New York City.
Operated by the Port Authority of New York and New Jersey, the airport has 6 operating airline terminals, 4 runways, and 128 aircraft gates that serve the terminals.
The facility opened back in 1948 as New York International Airport and was commonly known as Idlewild Airport before it was renamed following John F. Kennedy's assassination in 1963.
10. Detroit Metropolitan Airport (DTW), Michigan 
Detroit Metropolitan Wayne County Airport, commonly as "Detroit Metro," opened on September 1930. It is located at the corner of Middlebelt Road and Wick Road in Romulus, Michigan.
Today the airport has six runways, two terminals, and a total of 129 in-service gates. It also has maintenance facilities capable of servicing and repairing aircraft as large as the Boeing 747-400.
The airport covers a total of 4,850 acres making it the 10th and the last in our list of the top ten most significant airports in the US.