The buzz around Miami Freedom Park's construction has been mounting since the Miami City Council voted in favour of the 99-year lease for the Melreese site in April 2022. As the future home of Major League Soccer team Inter Miami CF, this state-of-the-art facility promises not only to provide top-notch soccer experiences but also to redefine urban space and architecture.
Miami Freedom Park's construction update and timeline
Construction for this much-anticipated project commenced in August 2023, and the latest construction update shows that everything is moving as planned. The official groundbreaking ceremony is scheduled for later in the year, adding to the already high anticipation for the project.
The Miami Freedom Park completion date is set for the 2025 MLS season. This construction date aligns with the ambitious vision laid out by Miami Mayor Francis Suarez and David Beckham, one of the primary figures behind the soccer club and the stadium project.
The costs, architects and design elegance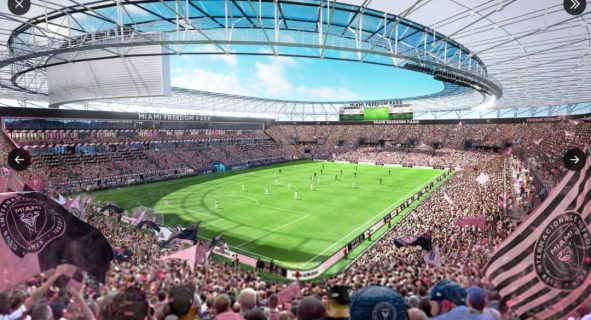 The Miami Freedom Park cost is estimated to be around $1 billion, a figure indicative of the project's grand scope. The expense includes a 25,000-seat stadium and a comprehensive, mixed-use complex comprising office, retail, and commercial spaces.
The stadium itself will be a marvel, designed by leading architects who are known for their innovative approach to sports facilities. The esteemed group behind Miami Freedom Park comprises local architectural powerhouse Arquitectonica, globally recognised arena and stadia design firm Manica, and CAA Icon, leaders in managing expansive stadium projects.
Intriguing features and capacity
One of the most talked-about features is the Miami Freedom Park seating. Designed to hold approximately 25,000 people, the seating arrangements are being crafted to provide unparalleled views of the action, prioritising both comfort and spectacle.
Beyond soccer, the Miami Freedom Park construction aims to incorporate 1 million square feet of commercial space, 750 hotel rooms, and 23 acres of public soccer fields. Moreover, an additional 58 acres will be devoted to public parks, giving the project a community-centered appeal.
Miami Freedom Park's opening date

As construction progresses, soccer fans are most excited about the Miami Freedom Park opening date, projected for the 2025 MLS season. Once opened, Inter Miami CF will shift from their current stadium to this magnificent new home, making it a landmark event in the world of soccer.
A comprehensive transportation plan
Located near the Miami International Airport and the adjoining Miami Intermodal Center, transportation to and from the stadium is expected to be smooth. It will be served by Metrorail trains to Downtown Miami and Tri-Rail commuter rail to the northern suburbs and counties, making it easily accessible for fans.
READ ALSO: Etihad Stadium expansion project in England
From the Miami Freedom Park groundbreaking to its projected completion, this ambitious project promises to be more than just a sports facility. By merging soccer, commercial enterprise, and public spaces, it aims to redefine the urban experience in Miami, elevating it to a global standard.
As we count down to the Miami Freedom Park completion date, one thing is clear. This is not just a win for Inter Miami CF but for the city of Miami and soccer fans worldwide.