Concrete Solutions offers flexible and adaptable approaches to companies operating in the building sector by providing them with business development, financial advisory and technical assistance services. The purpose is to foster their growth in emerging markets.
Concrete offers services such as;
A complete catalogue of building machinery and accessories.
Personalised solutions for the implementation of projects.
Individual sales of assets and turnkey projects.
Competitive insurance and financial solutions.
Offices and Partners in several African countries.
They combine the technical-commercial expertise of the companies with a long and diversified experience in the insurance and financial sectors, allowing their partners to raise funds necessary to finance their investments and to provide risk management and mitigation solutions.
Some of the companies that work hand in hand with Concrete Solutions include;
COMEC BINDER+CO
With over 50 years of experience, COMEC is a manufacturer of crushers and a leading supplier in Italy with a powerful sales network in Europe, North and Africa. Since 1964, COMEC designs, produces and builds complete turn-key plants for the processing of aggregates.
The company also provides highly economical water treatment plants and sludge dewatering equipment to respond to the shortage of water in the supplied areas and through this to secure a sustainable competitive advantage for its customers.
COMEC products are popular for their uniqueness as they entail high quality, minimize environmental impact, and have high clarity by having high separation grades and high throughput. Together with the company Binder + Co, leader on the world market, have embarked on a journey together, strengthening the commercial network and aiming for greater precision, perfect service and maximum economy.
MCT Srl
MCT is a world leader in the field of batching plants for concrete production and distribution systems established in 1967. The company has been managing the complexity of the production cycle, transport and distribution of concrete, developing for the customer integrated and customized technological systems.
Their MCT Batch Plants are specially built for industrial concrete precast factories and for ready-mix producers. Both in the precast and ready mix markets, MCT batch plants fulfils customer's requests by providing a complete customized solution.
CIFA S.p.A.
CIFA is a designing, producing and distributing innovation company in the construction field with over 90 years of experience. It is known to be a full liner with a complete range of products for production, transportation, laying of concrete.
CIFA constantly invests in research and development of products and services and in the absolute value of quality. Since 1928, CIFA has been producing and selling all over the world products that range from mixing to distribution, from pumping to laying concrete.
Some of their products include;
Truck pumps
Portable pumps
Mixer pumps
Shortcrete
Mixers
CGM Srl
CGM is specialized in the design and supply of mobile vibrating machines for the production of concrete elements like road barriers, manholes, curbstones, channels, septic tanks, slabs, covers, pipes, interlocking blocks, retaining walls and customized products.
Established in 1962, the company has grown to design and create machines and moulds for concrete products that customer's need and specifications. They also provide batching plants, truck mixers, pumps, crushers and all the accessories for the concrete business.
CGM comply with the latest standards and quality requirements, creating state-of-the-art products and providing the best service to each client. Thanks to continuous research for new and innovative solutions CGM is now a leader in the dry-cast industry.
Vortex Hydra S.r.l
VORTEX.l has over 50 years of experience in the concrete roof tile machinery industry and is also active in the area of hydraulic works with large valves to control water flows and gates to build dams and waterways.
The company offers a complete packing and curing system solutions, concrete roof tile technology, both new and second-hand refurbished VORTEX tile plants. The company has a wide range of machines and automations (over 100 with several combinations), plants (over 20 with several combinations), and final products (over 100 models), all having a 20+ International registered trademarks and patents and supported by ISO 9001 and ISO 14001 certification.
MARIO CROCI & FIGLI
CROCI manufactures machines for the production of concrete products, mixers and concrete production plants. The machines designed in their own technical office, equipped with three-dimensional CAD systems, and produced with the aid of cutting-edge machine tools and equipment.
The components used on the machines produced are carefully chosen to ensure reliability, availability and robustness. They emphasize on the experience and new planning concepts technologically advanced which satisfy the requirements of the more demanding market.
The range of automatic machines CROCI guarantee to user full automatic producing cycle with immediate strip­ ping of products. One operator is appointed to transport the green pipes with forklift to the dry area. Their automatic machines allow the production of concrete pipes and manholes from DN200 to 1600 mm with maximum length of 2500mm.
The range of semiautomatic machines CROCI on the other hand guarantee the production of a wide range of products, transport of green items to the dry area and its stripping is made by over­head crane. Semi-automatic machines allow the production of concrete pipes, jacking pipes and box culverts with dimen­sions according to customers' requirements and with a maxi­mum length of 3000mm.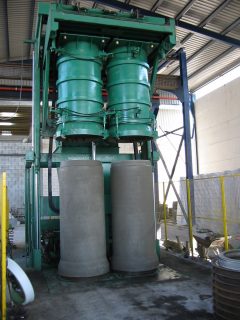 CEA
CEA was founded in 1982 as a general construction cooperative society, with important qualifications for public works such as buildings, railways, streets, water gas and sewerage networks. The company has also placed the focus on highly specific sectors, such as asphalt dams and waste water treatment plants.
CEA has developed and patented an efficient automatic water treatment system that can accurately and in real-time characterize all incoming wastewater coming from roads, tunnels or parking areas. It has realized, over 300 plants, including public and private, with a total capacity exceeding 1,000,000 population equivalent.
SCHNELL Group
SCHNELL is a world leader in the sector of automatic machines for working iron for reinforced concrete, for the production of welded mesh and management software for shaping centers, founded in 1962.
The company offers building elements for civil and commercial building and reinforcement processing equipment. Able to design and build innovative products, Schnell has built over time a complete range of machines able to meet all the needs of the industrialized processing of iron for reinforced concrete.
This has radically changed the approach with customers: expanding the range has not only meant "having more products to offer", but has transformed the company from a supplier of machines to a supplier of integrated and customized production solutions.
SCHNELL leads in the production of machines for building elements, better known as the Concrewall System. Concrewall construction system is unique and simple: easy to install, very fast, energy efficient, fire resistant, very performant in seismic and stormy areas.