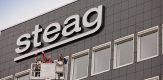 JSE-listed technology solutions provider EOH Industrial Technologies on Tuesday got into a strategic joint venture (JV) with German energy group Steag Energy Services expand EOH's services offering in South Africa.
The JV will handle all aspects of power project developments, from beginning through to viability study, project development, construction, operation and maintenance and the optimization of plants that are already running.
Search for construction leads
Talking at a signing ceremony on the sidelines of the Africa Energy Indaba, in Johannesburg, EOH CEO Zunaid Mayet said the two companies decided to honor their years-long relationship.
"Collectively, we can add noteworthy value to the utility market," said Mayet, noting that the energy sector was becoming further complex and vibrant and that the JV Company would be active in the gas, coal and renewable-energy sectors.
EOH energy group managing executive Jayesh Ranchod added that the change in South Africa's electricity generation mix had alerted EOH to the necessity to cover all its bases in terms of skills, technology and expertise to tackle this mix. "This was part of the motivation of forming this JV, to tackle that hole in our market, while building local skills and ability," he said.
Steag CEO Dr Ralf Schiele portrayed the JV as a significant highlight for the German company.
"We are certain that it is a joint venture between equals and can make a huge difference to the power generation sector in South Africa and to the region at a later period."
Whilst the JV would originally center on South Africa, Mayet stated that the relationship was not restricted to the nation's borders.
Schiele added that Steag, which already owns and run power plants producing 12 GW of electricity using numerous sources, is "very active" in Botswana, where it runs the 600 MW power plant in Morupule. "There is a dedication from our company to the whole area."