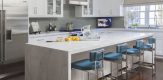 By Dennis Ayemba
Search for construction leads
Since its inception, The Italbuild Group has been an institutional importer and distributor of quality building materials.
The company was established in 1997 with the aim of bringing quality in the Kenyan construction industry. According to Mrs. Emanuela Nesta Veneziani, a Director at Italbuild Group, they have so far achieved this while working in two directions: Italbuild Construction registered with the National Construction Authority under classes NCA 1 Building Works, NCA 2 Water Works and NCA 3 Road Works, and Italbuild Imports that specializes in the latest roofing and waterproofing solutions.
Mrs. Veneziani feels that quite often guarantees on products are just proposed as a marketing tool for manufacturers or suppliers. "Some companies are importing products that have been in the market only for 3 or 4 years; they offer cheaper prizes and longer guarantee periods than ours and the clients are attracted by this, but the companies cannot even see out their guarantee period." she said. "We have evidence of long guarantees offered on product that have already failed abroad and have been the target of mass tort actions," she added.
"We offer a guarantee of 10 years on our roofing shingles but the best guarantee is the manufacturer's name; Tegola Canadese Spa. The company is without doubt the most reputable manufacturing company worldwide, with a flawless reputation. All roofs done in Kenya with our roofing shingles are still perfect after 15-16 years.
The same applies to Polyglass, the most advanced manufacturer of APP modified membranes, a company of the Mapei Group; a giant in the international waterproofing business" she affirmed.
The director insists that, in the modern world, all professionals are keen on impeccable performance and long guarantees hence they have to be at the highest level, especially where projects are technically challenging. In that case, they possess professional know-how, long-standing experience, the widest range of products and they are capable to offer a solution to every problem.
"Many products look similar, only a specialist can pass an informed judgment. Some products are not suitable for this country; others are sub-standard cannot be offered in Europe that is why they are shifted to the African market. Here at Scala, our supplier gives you a guarantee backed by an insurance company of international reputation; so even if Scala were to close tomorrow, the client has the guarantee from the European supplier," said Mrs. Veneziani.
"It is very important therefore to research on the company you are about to do business with. Nowadays everything is on the web, you can check for litigations around the world, the amount of experience they have and how many projects they have done worldwide especially in Europe and North America where the regulations are very strict," she explained. "Unprofessionalism is a major challenge in this industry. Clients have to be very careful of tricks from unscrupulous businessmen whose aim is to make money in a hurry and leave the market," she advised.
Mrs. Veneziani maintains that Italbuild Group offers technical support to their clients to ensure their products are properly installed. "Most of our clients are contractors and in the 20 years we have been in the industry we understand the needs of the contractor. When they purchase our product we make sure they know how to install it because if our product fails at the end of the day, it will come back to us.
In a case that the client wants to install the product on his own, we send them one of our supervisors who will inspect the structure and give them recommendations where necessary; then stay at the site the rest of the day showing how to implement the recommendations," she said.
However she reiterates that, it is always advisable to ask for supply and installation since roofing and waterproofing is a technical business and no product is good enough to perform if the installation is faulty. "Our artisans have been trained abroad, from the manufacturers, and they undergo advanced training over the years. We have installers that have been in the trade for 15 years and have been meticulously trained to a degree of perfection as they know that the secret to success is in the details," she attested.
Some of the Italbuild's Group satisfied clients include: government ministries and state corporations like ministry of Public Works, Ministry of Housing, Kenya Ports Authority, National Cereals and Produce Board, Kenyatta International Conference Center, Kenyatta National Hospital, Kenya Airports Authority, and Kenya Bureau of Standards;  Private hospitals like The Nairobi Hospital, and MP Shah Hospital; corporate companies like Serena Hotels, Hilton Hotels, Sopa Lodges, Mobil Oil, Victoria Towers, Regent management, Knight Frank, and Sameer Group of Companies; and consultants like Infinity Arch, Symbion Arch, Planning Systems, SFA, DMJ, Vamos International, and Space Form Studio. They also have building contractors as clients like Parbat Seyani, Mavji Construction, Vakkep, Seyani Brothers, Epco Builders, Mistry Jadva Parbat, V.K. Construction, H. Young, Samani Builders, Sentrim Contracts, Milicons Construction, Esteel Construction, Jagat Singh.
To stay abreast with the current trends, Mrs. Veneziani asserted that they are the first company to develop and professionally implement waterproofing of green roofs in the country. She went ahead to point out the Swiss embassy as an example of where they used the technology. "Furthermore, we are now importing very new self-adhesive membranes for water proofing flat roofs, balconies and terraces. This membrane is not torch-applied and allows work in difficult conditions where a flame is not advisable. It is a new concept in the market which may take time to register but can offer some technical advantages" she said. "We bring a new technology in the market after every six months, plus we are also offering osmotic/crystallization waterproofing for concrete structures, HDPE membranes for basements, tanking and retaining walls; we are now moving into the most modern waterproofing technologies of PVC and TPO membranes that can be used both in roofs and underground," she added.
"We are well known in Kenya because we are very serious with our work. We are not the cheapest in the market but if you use our products you are set for life. We take customer care services very seriously and we never compromise on quality or installation procedures and we use the entire range of original accessories from the manufacturer; that is why sometimes we lose deals to less scrupulous operators in this market who like to cut corners" stated Mrs. Veneziani.
Recently the Italbuild Group has added another jewel to their range of products for the construction industry: a new company called Scala Enterprises Limited specializing in interior design and production with an objective of maintaining European standards and Italian taste while manufacturing its products in Kenya. "With over twenty years of experience in Italy, our aim is to become a market leader in Kenya by making use of technology and innovation in the development of our products; with quality being our watchword," she said.  Scala specializes in interior design and outfittings such as kitchen furniture, wardrobes, vanities, internal doors, flooring, and T&G cladding and are able to combine importation and local production of the highest standard, with a touch of Italian taste and international expertise.
"In our team we have Italians, Portuguese, Asians, Kenyans of all areas and both sexes. It is a real international environment where everyone does his best; we call it the 'Italbuild family'. Whoever joins the Italbuild family will eventually leave as a professional, ready for the highest goals; since we offer professional training and education to our staff," she proudly said.