German company RATEC, known as technology leader for intelligent formwork and mould solutions for user-friendly and efficient production of precast concrete elements, has been a key driver of this technology for almost 25 years now.
The profound knowledge and experience in the precast sector comes from the background and history with engineering office Reymann Technik, which started in 1974 as a one-man-engineering firm and made itself a name in the field of plant design and engineering for precast concrete plants. Reymann Technik developed the first CAD/CAM controlled circulation plant in the 80s and has been involved in hundreds of projects around the globe.
Search for construction leads
RATEC was opened with the goal to implement the rationalization ideas in formwork design from the Reymann Technik engineering department, as it became clear, that the available solutions from suppliers did not develop at the same pace as was required by the market to gain more efficiency and economic feasibility in the concrete plants. "Our drive to make everything that little bit better further reinforces our high-level process engineering expertise, creativity and strategic thinking," says Joerg Reymann, Managing Director of RATEC and Reymann Technik.
This objective was also the initial impulse for the development of their modular housing production concept, which was first implemented in Peru. Almost 3 600 houses were built on a 10-hectare site, each with 70 sq. m. of living space, consisting of 3 room modules on 2 storeys, an own patio and garden, within a period of 60 months. The houses are earthquake and storm proof and provide a pleasant interior climate.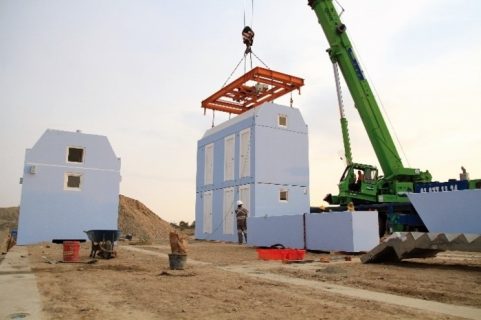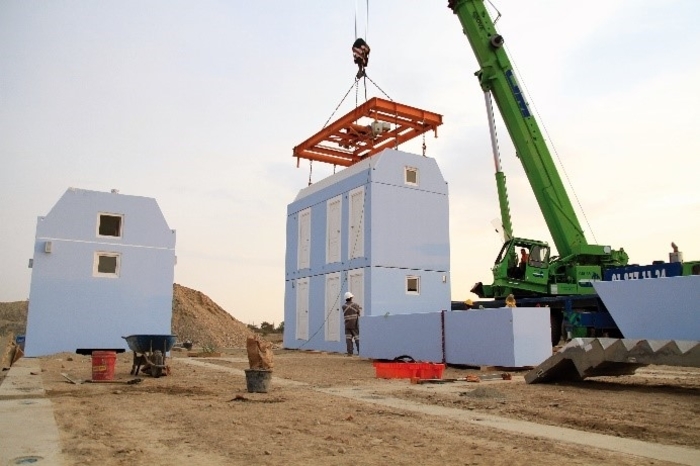 Reymann Technik has planned the complete production plant, while RATEC provided the moulds and concrete pumps. The modular housing project in Peru used upcrete® technology, which basically means the process of pumping self-compacting concrete from the bottom into a closed mould. This way, concrete spreading inside the mould is optimized and an excellent surface quality is reached, making rework unnecessary.
Another advantage of this concept is that room modules are produced in installation position instead of upside down, thus, saving the step of turning and speeding up production time.Every room module is finished at the plant, including window and door installations and then transported to the construction site, where it only needs to be placed in the required position and connected with foundation, roof and other elements.
RATEC has been providing its formwork solutions to a few customers in South Africa and Kenya and in North African countries, such as Algeria or Egypt. Currently, there is no direct sales contact in Africa,but they maintain contacts directly through RATEC headquarters in Germany.
Factors that have hindered the implementation of precast concrete as an ideal form of affordable housing construction in Africa
The firm believes, that to some extent it is the high investment cost for setting up a complete precast concrete production plant, while the according demand from market side is not exactly predictable. Precast is on the rise in general, but it also requires a lot of effort in the pre-planning stage, including the architectural concept, preplanning of all installations and logistics. The engineering process before actual construction is a prerequisite and includes according cost for the engineering and know-how.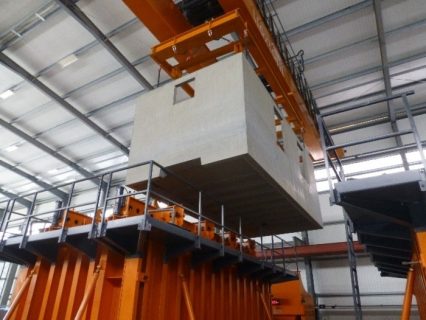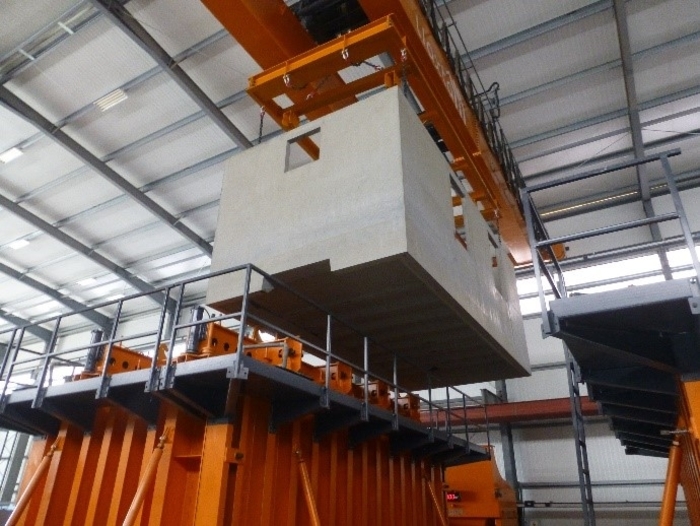 It pays off to make the investment, but it definitely is a hurdle, especially as long as the method is not the common construction standard in a region. Precast is not just a construction method, it starts with the design process and architectural planning etc. It gets feasible trough economies of scale and optimization of house design and production process.
Another aspect is the availability and price of required raw materials for a good concrete mix, which is not always ideal. Also, skilled workers are necessary to implement a precast concrete production with smooth processes.
Projects in Africa
RATEC formwork magnets were used for example to produce the precast concrete stairs for Cape Town Stadium, which was built for FIFA World Cup in 2010.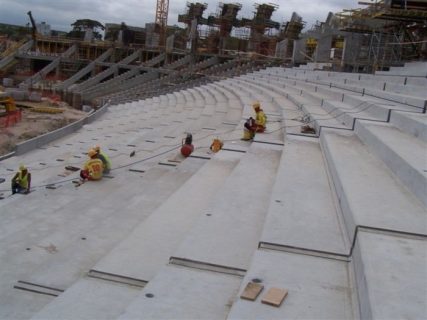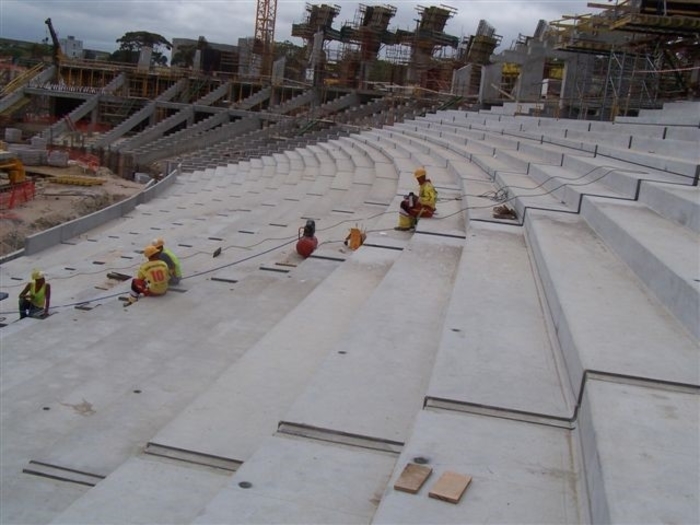 RATEC has also been involved in the planning of some larger scale Modular housing projects, which have been presented to government for funding or for official tenders. However, the final decisions were either for another use of the land or against precast method.
What to be done to encourage more use of precast concrete in Africa
Precast concrete offers a variety of advantages, such as rapid construction on-site, repeat ability, accuracy, strength and durability, and precast concrete buildings are fire, water, earthquake, termite, marine and corrosion proof. The controlled production process helps save on raw materials, which can be accurately dosed.
As was proven in other regions, we believe, that governmental funding programs or facilitated financing conditions can help to encourage investment in precast concrete production facilities.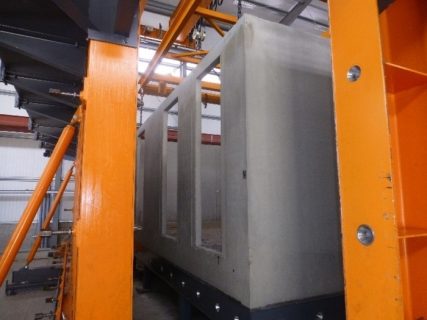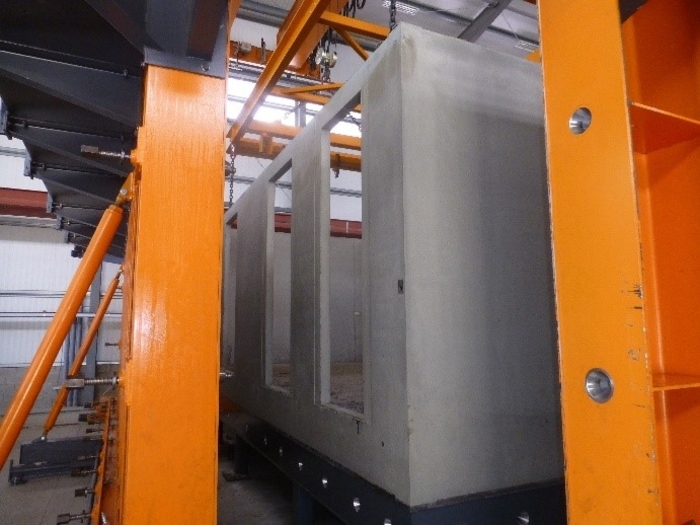 At the same time know-how and expertise in engineering and planning with precast needs to be acquired and promoted within the regional building industry.
What is often not considered is the fact, that it does not need a complete production plant to make a first step into precast. We have assisted customers in other regions to set up a small-scale production unit including some basic casting equipment with low investment to help them start with a project and then take it further from there.
Implementation of precast concrete construction often goes hand in hand with a general industrialization trend. This is something, that also depends on political and general economic developments in the individual countries.
In some ways, it is a natural process, where industrialization leads to more attention to precast as a method of construction, as it combines the benefits of controlled production process, constant quality and economic planning certainty.