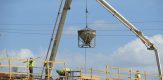 A US$95m contract has been awarded to a joint venture between Italian companies Itinera and Cimolai to construct a bridge in Botswana in the remote Okavango Delta, a major tourist draw renowned for its wildlife.
Also read:Botswana-Zambia bridge construction project on track officials say
Search for construction leads
The project, which will be fully funded by the government and involves the construction of a 1.1-km-long road bridge and pedestrian walkways, is expected to be complete in July 2019. It will replace a pontoon service across a section of the Delta.
"An environment impact assessment was done since the Okavango Delta area is a Unesco World Heritage Site. We will make sure construction will not disturb the environment," Elias Magosi, Permanent Secretary in the Ministry of Transport and Communications said.
At certain times of the year, the Okavango Delta is home to some of the greatest concentrations of African wildlife, and development has generally been kept to a minimum there.
It floods during Botswana's winter dry season, making it a magnet to herds of elephants and other animals