Manchester City Council has given its approval to two pivotal applications related to the Red Bank district transformation project, set to bring more than 4800 new homes on the outskirts of Manchester's city center. This ambitious endeavor, a collaborative effort between the council and Hong Kong-based developer The Far East Consortium (FEC), is set to breathe new life into 35 acres of brownfield land, envisioning a vibrant future for the Red Bank district.
One of the project's primary objectives is to construct 3,250 new homes on the outskirts of Manchester's city center. The planning committee has granted permission in principle for these residences, accompanied by an additional 160,000 sq ft of non-residential space. This space will include commercial facilities, a health center, primary school, residential amenities, community spaces, and improved public spaces. Significantly, a significant proportion of these new homes will be designated as affordable housing, addressing the critical need for accessible housing options.
Dantzic Street, an integral part of the Victoria North scheme, will soon see the development of 1,551 apartments and townhouses, with construction slated to commence later this year. This marks a significant step towards the broader goal of constructing 15,000 homes near the city center over the next 15 years, with 20% designated as 'affordable.'
The residential buildings ranging from six to 37-storeys in height. In addition to the residential structures, the comprehensive project includes plans for a new high street, boasting 20,000 sq ft of commercial and retail space, aimed at bolstering local independent businesses. FEC's commitment extends to the improvement of the urban environment, with enhancements planned for Dantzic Street and Dalton Street, encompassing tree planting, resurfacing, widened footpaths, and new cycle lanes.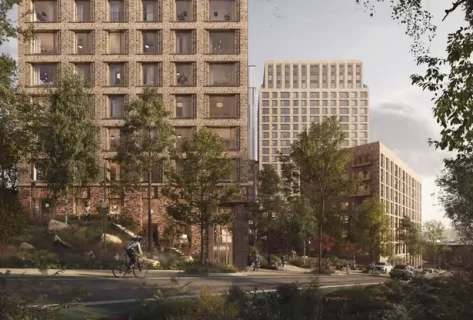 The cost of the just-approved construction of 4,800 new homes in Manchester city
The £4 billion project is poised to be a game-changer for the Manchester city, with plans to increase the local population by a staggering 40,000 people. Furthermore, the development has secured over £50 million in government grants, underlining its significance in driving economic growth and urban revitalization in the region.
Read also: Why Is The Demand For Build-To-Rent Homes Growing?
Hilary Brett, the Project Director, has expressed optimism regarding the timeline, stating that, if approved, work will commence by year-end, generating over 1,800 construction jobs. The council's decision to greenlight the 4800 new homes in Manchester city scheme is contingent upon the signing of an affordable housing agreement, ensuring that the project remains inclusive and beneficial for all.
The planning committee also extended its support to further initiatives, including the expansion of a sixth form in Hulme and the construction of 50 affordable apartments for individuals over 55 at a former leisure center in Chorlton. These projects collectively signify Manchester's commitment to inclusive urban development and community growth.