A ground-breaking ceremony at Asheville Regional Airport marked the commencement of a remarkable $400 million terminal expansion project, on August, 11. Lew Bleiweis, President and CEO of the Greater Asheville Regional Airport Authority (GARAA), addressed the crowd: "Our need for space has been evident in recent years. Today, under the theme of space, we celebrate the end of preparatory work and the start of our architectural journey."
This visionary initiative follows an extraordinary June, witnessing over 220,000 passengers the airport's busiest month on record. Surpassing 200,000 passengers in a single month was a historic milestone. The resounding success of 2022, with a 29% increase from 2021, saw 1.8 million passengers traversing the airport's gates, underscoring its growth trajectory. Replacing the aging 62-year-old passenger hub, often strained beyond capacity, the new terminal heralds progress and expansion.
Read also: Ambitious plans submitted for London Luton Airport expansion project
Lew Bleiweis conveyed the deeper significance: "Beyond its structural role, the terminal embodies economic promise for our community. It fosters an environment that not only facilitates air travel but enhances the entire airport experience, promising enduring positive impressions."
Embedded within the architectural blueprint are captivating features expansive floor-to-ceiling windows bathing spaces in natural light, a vibrant concessions plaza, and engaging art installations including a captivating "living wall" within the baggage claim area. Reflecting inclusivity, the design incorporates dedicated spaces for nursing mothers and an indoor haven for pets. The terminal, expanding by 150% compared to its predecessor, will house 12 gates distributed across two sleek concourses.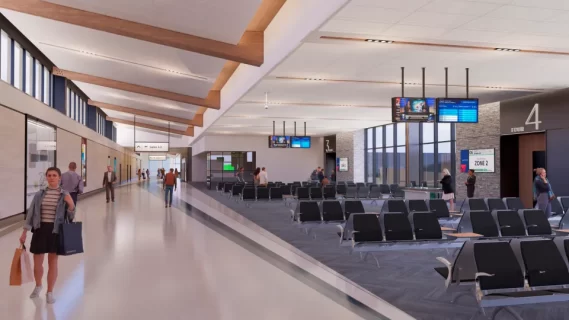 Asheville Regional Airport expansion project phases
Phase one involves the demolition of the north concourse by August 2023, making way for a modernized north concourse with seven gates and six boarding bridges, slated for public access by 2025.
Subsequently, the transformation of the south concourse will unfold, featuring the second-floor concessions plaza, an expanded ticket arena, the grand lobby, and an efficient TSA security checkpoint. These intricately planned phases, projected to conclude in roughly three and a half years, strike a balance between precision and aspiration.
A third phase will follow, encompassing backstage enhancements, demolitions, and meticulous clean-up, enacting a year-long encore after the terminal's grand debut.
Throughout the north concourse transition, passengers will temporarily use southern gates for boarding and utilize thoughtfully designed temporary gate spaces. Parallel, a complementary project will establish an additional parking facility south of the airport, complete with shuttle services ensuring seamless access to the terminal.
In scripting this chapter, Asheville Regional Airport unites vision and innovation, embarking on a transformative journey set to redefine the modern travel experience.