Hutto, Texas, is on the cusp of a remarkable transformation as a developer unveils plans for a groundbreaking 113-acre mixed-use development known as Huggins Crossing. In a presentation to the City Council on November 2, Fidelis developers laid out their ambitious vision for this project, contingent on a three-party agreement involving the developers, the city, and Municipal Utilities District 22.
The Huggins Crossing in Hutto project promises to be a catalyst for job creation and a substantial source of revenue. Developers are forecasting that it will generate between 800 to 1,000 jobs and contribute an estimated $9.8 million in property and sales tax revenue for the city. These economic prospects not only excite the local community but also paint a promising future for Hutto as it continues its impressive growth trajectory.
One of the key factors that drew Fidelis to Hutto is its strategic location within a burgeoning community, in close proximity to two major projects: Samsung Electronics Co. Ltd.'s factory in Taylor and Tesla Inc.'s gigafactory in eastern Travis County. This prime location heightens the likelihood of high demand for the industrial spaces within Huggins Crossing, further fueling the city's economic prosperity.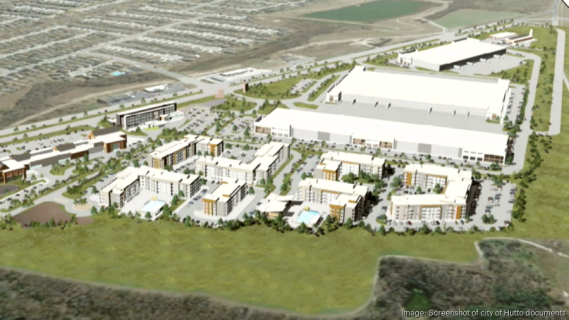 Development plans for Huggins Crossing Project in Hutto
The development plans for Huggins Crossing encompass an impressive array of features designed to enhance the quality of life for Hutto residents and visitors. Among these are 600 multi-family residential units, a greenbelt, water features, and an expansion of the existing Brushy Creek trailways. Additionally, the development will offer 60,000 square feet of restaurant and retail space, a grocery store, a hotel or medical facility, and three logistics buildings totaling 700,000 square feet.
While Fidelis has secured the capital, concept, and land for the project, there are some jurisdictional and land-use challenges to overcome. A portion of the land, 93 acres, falls within the city's extraterritorial jurisdiction and the boundaries of Municipal Utility District No. 22, while the remaining 20 acres are situated within the city limits. This complexity in land division necessitates careful planning and cooperation among all parties involved.
Read also: Hines to Build 1400-Home Master-Planned Community in Waller, Texas
If all proceeds according to plan, the initial phases of the Huggins Crossing in Hutto, including the construction of industrial and retail spaces, are projected to be completed by late 2025 or early 2026. The entire project is anticipated to reach its conclusion by late 2026 or early 2027. This timeline represents a significant milestone in the city's evolution, adding another remarkable project to Hutto's list of accomplishments.
Additionally, the unveiling of Huggins Crossing marks a pivotal moment for Hutto, Texas, as the city prepares for a transformative 113-acre mixed-use development. With the project gaining momentum, it will provide a multifaceted environment that combines residential, commercial, and industrial spaces while promoting economic growth and job opportunities. Hutto is well on its way to becoming an even more vibrant and prosperous community, further solidifying its status as a rising star in the Texas landscape.