The Oklahoma Department of Mental Health and Substance Abuse Services (ODMHSAS) has unveiled ambitious plans to construct a cutting-edge mental health facility, Donahue Behavioral Health, on the campus of Oklahoma State University Oklahoma City (OSU-OKC). This new hospital is set to be a game-changer in the realm of mental health care, offering a broad spectrum of innovative services to support individuals during their most vulnerable moments. These services will cater to both adults and children, encompassing referrals to outpatient services as well as the most acute care services available.
Situated on the OSU-OKC campus near the intersection of I-44 and West Reno Avenue in Oklahoma City, the Donahue campus is strategically located for easy access, reflecting the strong support from the local community. Additionally, it opens up opportunities for fostering broader workforce development partnerships and support resources.
Read also: University of Louisville Hospital US$190 mn expansion begins
The economic impact of this new Donahue Behavioral Health Hospital is substantial. With an estimated contribution of $447.5 million to the Oklahoma City metro area over the course of five years. This encompasses job creation, tax revenues, savings in emergency room costs, and addressing homelessness. A holistic approach to mental health care and its far-reaching benefits.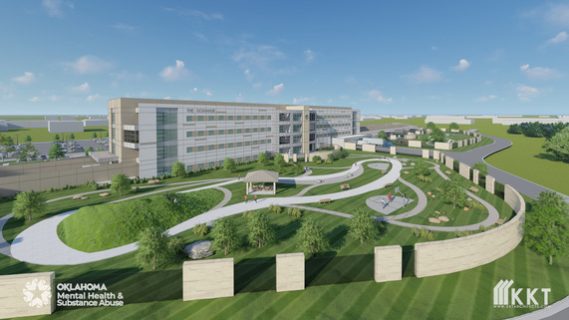 Donahue Behavioral Health construction budget
With a budget of $147M and spanning over 200,000 square feet. Donahue Behavioral Health will have the capacity to serve 275 adults and 55 adolescents daily. Furthermore, this expansion marks a significant milestone for ODMHSAS, increasing its operational capacity by an impressive 100 beds. Notably, the facility will feature an Urgent Recovery Center (URC). Designed to enhance immediate accessibility to services for Oklahomans confronting mental health crises.
OSU President Kayse Shrum emphasized the university's commitment to improving mental health across the state of Oklahoma. The location of this state-of-the-art facility aligns with OSU's One Health mission. That is aiming to serve the community and address critical needs effectively.
The construction of Donahue Behavioral Health represents a significant step forward in Oklahoma's visionary approach to mental health treatment and care. It's worth noting that the project was made possible through funding of $87M from the American Rescue Plan Act (ARPA). To secure ARPA funding, Oklahoma Legislature stipulated that the facility must be situated within 30 miles of the state Capitol.
Significantly, when completed, the Donahue Behavioral Health will replace Griffin Memorial Hospital. Thus, symbolizing a shift towards modern and comprehensive mental health care for the people of Oklahoma.