The Philadelphia 76ers have unveiled new renderings to give a fresh insight into their ambitious arena project, 76 Place at Market East, set to transform the cityscape. The team released updated renderings of the proposed arena on Market Street, accompanied by significant design enhancements and community-centered initiatives.
Sustainability forms a core principle of 76 Place's design. The project integrates carbon reduction strategies, melding nature, and technology-driven solutions. The renderings display solar panels and a green roof, indicating the commitment to environmentally conscious design. The project's sustainable features are poised to evolve throughout the planning process.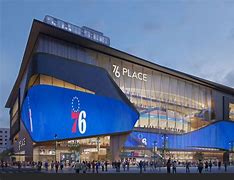 New Philadelphia 76ers Arena Renderings include $250M mixed-income housing.
Responding to feedback gathered during extensive community engagements, the Philadelphia 76ers revealed plans for a $250 million private investment in mixed-income housing, embedded within the arena complex in the new renderings. With affordability a primary concern, the team commits to designating 20% of the approximately 395 residential units as affordable housing a move not mandated by zoning regulations. This aligns with the national trend of integrating sports arenas with mixed-use developments, fostering both accessibility and vibrancy along East Market Street.
Beyond housing, the vision for 76 Place emphasizes transparency and connection. A striking glass façade bridges the gap between interior and exterior, fostering a lively atmosphere and diverging from the existing mall. An elevated walkway connecting the arena to the Fashion District Philadelphia will now feature abundant glass, opening up views toward Chinatown and fostering visual continuity.
Read also: Crypto.com Arena announces renovation and upgrades project
Importantly, 76 Place's impact transcends its physical structure. The recent announcement that the project will generate over $1 billion in new tax revenue for the city, state, and School District of Philadelphia underscores its potential as an economic catalyst.
As the design journey unfolds, ongoing community input will steer the finalization of 76 Place. The Sixers' initiative converges design innovation, community needs, and environmental stewardship, paving the way for an iconic addition to Philadelphia's urban landscape.