The Asokore Mampong in Ghana is a 1,053-unit affordable housing development in the Ashanti region. The Ghanaian government initially started the development in 2006 and then later abandoned it in 2009. Eventually, they kickstarted the project in 2015 and handed it over to the Social Security and National Insurance Trust (SSNIT) to complete.
SSNIT worked with a budget of GH¢256,972,988.04 ($62.3 million) to complete the Asokore Mampong project within two years. The project has been completed and now features 91 blocks with a total of 1,053 units. Additionally, the development includes a mix of 336 one-bedroom, 691 two-bedroom, 26 shops, and other ancillary facilities. 
The government built the project with the aim of providing accommodation for low and middle-income workers and creating employment opportunities.
Also Read Mooikloof Mega City's first residential apartments to be ready soon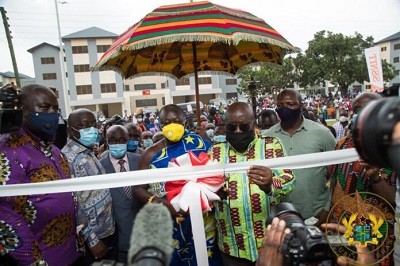 Reported in 2015
Govt begins construction of affordable houses in Ghana years after stalling
The construction of 1,200 affordable houses in Ghana has kicked off years after stalling signaling that the housing project will finally be completed.
The Ministry of Water Resources, Works, and Housing in Ghana has tasked Social Security and National Insurance Trust (SSNIT) with the construction of the Asokore-Mampong affordable housing project.
The project that was intended to construct affordable houses in Ghana had stalled for Seven years but is now scheduled for completion in the next 18 months. The original project target was to deliver 1,500 housing units, but due to financial constraints, the target has been scaled down to 1,200 housing units.
The 1,200 housing units will consist of 389 736 2-bedroom flats, 1-bedroom flats, 52 stores, a police station, and other social amenities.
The residing squatters on the project's land have been issued with a one-month notice by Dr Kwaku Agyemang Mensah, the Water Resources, Works and Housing Minister to vacate the project's site and give way for the contractors to commence the construction work of the housing project.
Ernest Thompson, the SSNIT Director-General, said that he will not abide by any contractor who will unduly delay the project instead the contractor's contract will immediately be terminated.
The Director-General of SSNIT, Mr. Ernest Thompson, said with 30 years of experience in the provision of affordable housing, the Trust would use the same business management procedure adopted for the unduly delay the project Borteyman project on its latest task.
When completed, the project will attract professionals into the municipality to help in its development activities and leave the thugs with nowhere to hide since they have currently taken over the uncompleted project site using it as their hideout.