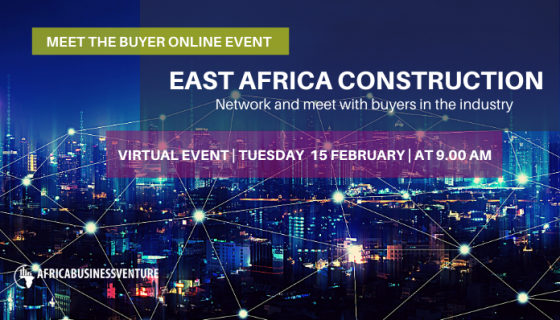 Given the enormous infrastructure deficit and rapid population growth, the construction sector in East Africa continues to expand amid Covid19. The huge demand for highly skilled engineering firms, construction management, and machinery equipment exists in a rising market in Africa.
We are super excited to welcome you to the East Africa Construction: Virtual Meet the Buyer on Monday 15th February 2021 at 09 AM GMT. This year we wanted to allow businesses to expand their network and generate new opportunities in Ethiopia-Tanzania and Kenya.
The full agenda will be published in stages, so register your interest today to be kept up-to-date with announcements and to avail your Early Bird exhibitor pass at £99.00. The prices will go up to £189 early January 2021.
https://hopin.com/events/east-africa-construction
Our focus for this year is to allow companies to extend their network and create new opportunities in Ethiopia-Tanzania and Kenya where there is tremendous potential for growth.
Triple Bonus!
Establish connections with local buyers from East Africa.
In one day, expand your network in three of Africa's most dynamic markets (Ethiopia-Tanzania-Kenya).
3 sectors covered: Real estate- commercial building-Infrastructures development.
Opportunity for Investors Networking!
Africa Business Venture will connect investors during the event with local project owners looking for funding.
Go beyond your current network and pitch international investors to your project.
Who is this event for?
EPC & Investment Companies, Architect Firms, Structural Engineering Companies, Project Owners
C-Level Executives, Project Manager, Architects, Innovation officer, Property Developers