The Global Free Trade & Special Economic Zones Exhibition & Summit 2013 links international manufacturers, industry & investors directly with global locations for their business – Joining the chain upstream & downstream from Governments – Agencies – Finance – Advisory – Clients – Tenants – Locations.
This is the leading international event dedicated to the strategic development of international free trade, special economic zones & regions and the development of nations through trade & industry.
The trade exhibition & capacity building programme features leading Locations, Governments & IPA's to provide a one stop shop for the latest developments on locations, incentives, opportunities & partnerships for global corporate locations through one platform covering Africa, Americas, Asia Pacific, Europe & Middle East.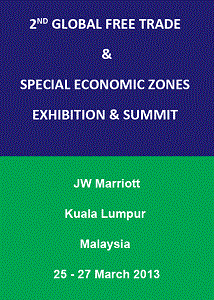 Date: 25-27 March, 2013
Venue: JW Marriot, Malaysia
Contact: Anne Williams
Email: [email protected]
Website: www.kwsez.com