The modern real estate market is so competitive that simply doing your work well is no longer enough if you want to gain proper visibility. Using all the possible benefits that modern technology can give you is an advantage that others might not have. Consequently, mastering 3D tours and working with the best 3D specialists can take you to a whole new level. Besides the obvious advantage of allowing you to advertise buildings that have not been finished yet, 360 3D Virtual Tour for Real Estate | Visengine also gives you many other benefits we would like to talk more about.
What does a 3D real estate tour look like, and how is it used? Briefly speaking, it is designed to reflect reality without actually using any real photos. Instead, it is composed of CGI that must include as many details and aspects as possible to make it look photorealistic. The main purpose of creating such tours is to showcase property on various levels of development, which helps attract investors and potential clients.
Search for construction leads
Another crucial feature 3D tours have, is interactivity. As a viewer, you can click on various objects, open and close doors, and make minor setting alterations. You can also look at the property from different angles and choose your perspective in accordance with your location within the tour.
In addition, real estate professionals who use 3D tours are not limited in possibilities when it comes to design solutions. Interior designers can combine all kinds of furniture and textures to create a perfect impression. Moreover, they can adapt the setting to each separate viewer and easily eliminate errors once they are spotted.
[yarpp]
Should you implement 3D tours in your real estate business? Let us take a look at five main reasons why you should.
1. Broaden your market
When you work with real estate, you know that location has crucial importance. Alleged buyers are hardly likely to travel cross-country in order to look at options. However, 3D tours revolutionize this approach. Instead of aiming at clients you can reach physically, you can now aim at everyone who has an Internet connection.
3D tours are available 24/7, regardless of where you are. It comes in handy because people, in fact, do have to travel across the country or even arrange international relocations. Businesses work the same way: looking for foreign investors can be really lucrative for your development.
Of course, people do not usually buy houses online, and your prospective buyer will want to visit the location before making a conclusive decision, but 3D tours make sure that they are not disappointed once they arrive.
2. 3D Tours Engage Viewers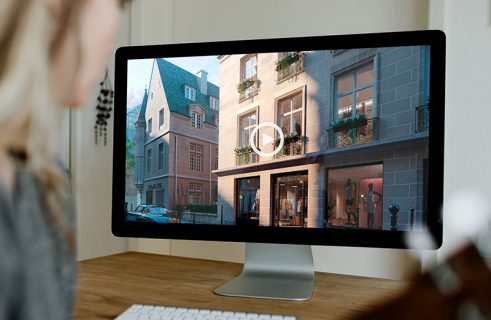 Reportedly, users leave most websites after viewing one page, never to go back again. This is called "bounce rate," and it shows how well you can interest the viewer once they do follow your link. Your bounce rate should not be high unless you want search engines like Google to consider you inefficient and put you at the bottom of the search list.
3D tours can help you fix this problem by interacting with yours and inclining them to research your website even if they are not seriously considering property investments.
Being on top of search results can change your business drastically by attracting more clients and boosting your general market visibility. Therefore, before investing in marketing, you should take care of your search engine optimization.
3. SMM Potential
Social media marketing has already become a sufficient marketing strategy that many brands prioritize over other, more conventional techniques. Therefore, your reflection on social media can influence your sales significantly. Of course, there are many approaches that are directed at increasing your SMM productivity, but 3D tours are the most effective when it comes to the real estate business.
In order to encourage people to share information about your product on their personal pages, you must make it very esthetically appealing. While not all platforms support the proper format, people can share screenshots or photos of places that inspire them. They can also share links if they like what they see.
Allowing people to explore the possibilities of a 3D real estate tour in the comfort of their social media feed makes them more interested
in the process and increases the possibility of them actually making a purchase or an investment in the future.
4. Working With Atmosphere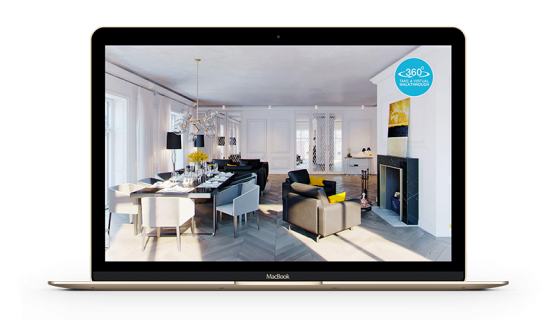 3D tours are drastically different from all other visualization approaches because instead of giving you plain information about measurements and facts, they appeal to your emotions and show you a dream coming true. What does this mean?
All good real estate agents, regardless of whether they work in the commercial or residential sphere, know how important creating an atmosphere is. In residential buildings, this might mean bringing real flowers or paintings; in office buildings, it may be about using expensive furniture and minimalistic decor. Whatever you want people to feel and believe in must be visible and easy to catch.
3D tours give you brand new tools for creating a proper atmosphere: you can add huge paintings for your young artistic client, a freshly baked pie for a local family of clients, or a jacuzzi for an eccentric bachelor. Colors, textures, and lighting also have crucial importance in creating a vision of what one's life may turn into once they move in.
5. Space For Improvement
3D tours allow you to constantly improve your visualization and, consequently, make changes to the initial interior strategy if it proves to be ineffective. You can analyze the reaction of your viewers and make valuable conclusions to avoid the necessity of actually changing physical objects later, which would obviously be hard and expensive.
Being able to see clearly how different design elements look together from different perspectives is a huge advantage in the development stage.
In conclusion, 3D tours are more than just another tool for improving your real estate business. It is a promising strategy that revolutionizes our perception of working with real estate by depriving us of various restrictions: advertising finished buildings, finding local clients, and choosing affordable solutions. Once you master 3D real estate tours, you will be able to broaden your market, your set of tools, and your possibilities.