Sand aggregates, as important parts of concrete and mortar, are widely used in infrastructure, real estate, water conservancy, hydropower and other engineering construction fields.
Sand aggregates are divided into two types according to different sources: natural sand and artificial sand.
Search for construction leads
People usually refer to sand and gravel collected from rivers, lakes, seas, etc. as natural sand. In recent years, affected by multiple factors such as the depletion of natural sand, mining mines as artificial sand and gravel have become the mainstream.
According to relevant industry experience, sand and gravel aggregates account for more than 70% of concrete, and its cost is about 20%-30%.
The artificial sand making machine manufacturer Fote Heavy Machinery says that artificial sand has gradually replaced natural sand to be widely used in engineering construction projects now.
What are the standards for high-quality aggregates?
Only by improving the production quality of sand and gravel aggregates can the project be implemented smoothly.
High-quality sand aggregates have the following standards in terms of over-diameter and under-diameter content, stone powder content, needle flake content and moisture content.
Content of over-diameter and under-diameter aggregates
Sand and gravel aggregates are generally controlled within 1.1 ~ 1.2 cm. They can be screened by a screening machine to realize the effective control of oversize sand and gravel aggregates.
Stone powder content
Stone powder mainly refers to particles less than 0.16 mm in aggregates, which can be regarded as an admixture. A reasonable content of stone powder can enhance the compactness of concrete.
At present, the recommended amount of stone powder content in sand and gravel aggregates for hydropower projects is 6% – 14%.
Needle flake content of aggregates
The flexural strength of needle-shaped coarse aggregate is relatively low, so when the content of needle flakes is high, the bonding strength between coarse aggregates will decrease, thus resulting in a decrease of concrete strength.
For ready-mixed concrete, high content of needle flakes will poorly shape coarse aggregates, thereby reducing the fluidity of the concrete.
At the same time, the needle flakes are easy to be blocked in pipes, leading to pump blockage and even pipe explosion.
Generally, the content of needle-like particles in sand aggregates should be effectively limited to about 6%.
Moisture content
If the machine-made sand with a moisture content of less than 6% is more than 70%, the mixing quality is "qualified". While when it is more than 90%, it is rated as "excellent".
Concrete artificial aggregates are generally produced by wet method, that is, in the production process of machine-made sand, a large amount of water is used to wash the aggregates.
The finished sand just produced has a moisture content of about 12%-15%. Excessive free water needs to be removed.
The production process of high-quality aggregates
Raw materials mining
Normally, the quarry adopts ladder operation. In the mining plan, the height of the ladder section, the ratio of slope, the width of berm as well as the form of support and protection shall be determined according to the topographic and geological conditions of the material yard and the type and model of excavation equipment.
Generally, the road transportation route is long, therefore, many shipping equipment are needed during the production and operation period. However, it is easy for stable production with simple management and lower geological risks.
Coarse crushing
Coarse crushing is used to process raw materials mined from the quarry. Jaw crushers are widely used in coarse crushing.
Jaw crusher has the advantage of simple structure, small size, reliable operation, convenient adjustment of discharge opening, convenient maintenance and a small number of civil works.
The jaw crusher is generally equipped with a vibrating feeder for screening and feeding.
Medium and fine crushing process
For medium and fine crushing, impact crushers and cone crushers are often used.
The cone crusher adopts laminated crushing, so the material is crushed by squeezing. It is suitable for crushing hard rocks such as granite, basalt, tuff, river pebble, etc., but the content of needle-like flake particles in the aggregate is high.
Impact crushing adopts the principle of impact crushing. It is suitable for crushing limestone, calcite and other low and medium hardness stones. The aggregate particle produced by impact crushers is relatively better in shape.

Sand making
The commonly used sand-making equipment is VSI sand-making machine. It's small in size and weight. According to cavity types, it is often divided into "rock on rock" and "rock on iron".
The sand-making machine with "rock on rock" cavity is often used to crush hard rock, while "rock on rock" is often used for soft rock.
The powder yield rate of "rock on iron" is higher than that of "rock on rock" cavity type.
Screening and washing
A screening and washing process is needed in the artificial sand and gravel processing system.
Screening and grading equipment include trommel screens, linear screens, etc. The filter screen for screening coarse aggregates can be a square hole screen, which can be made of polyurethane material.
The size of the mesh can be divided into 5 mm, 10 mm, 20 mm, 40 mm, 80 mm and other specifications according to the different aggregate gradations.
The flushing system needs 100 mm diameter main feed pipes with a water supply capacity of 100-120 cubic meters per hour. The spacing of water supply pipes should be controlled between 25-35 mm.
The water spray hole should be arranged uniformly, and the water pressure should be adjusted to the appropriate pressure during flushing.
Uses of high-quality aggregates
Sand and gravel aggregates are the most important and indispensable basic materials for the construction of infrastructure projects such as buildings, roads and bridges.
Paving
Sand aggregate can be used as base materials for road construction. The requirement for railway ballast is that it is not easy to be broken under vibration pressure.
Of course, schistosity or bedding rocks are not suitable for use as ballast, while hard stones such as limestone and basalt are more suitable.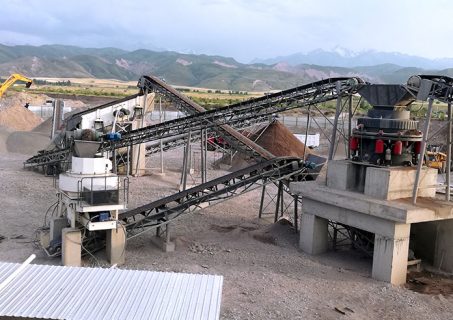 200 T/H basalt production line
Production line configuration: vibrating feeder, jaw crusher, cone crusher, sand making machine, circular vibrating screen, belt conveyor
Advantages: The crushing equipment is based on the principle of lamination, which can reduce the high wear loss of wear-resisting parts and better meet the high requirements of customers for sand and stone granules.
Infrastructure construction
Sand and gravel aggregate can be used as crushing material for foundation engineering, base filler for drainage engineering, crushed stone aggregate for concrete preparation, and general filler for a large number of uses, so it is the main building material in infrastructure construction.
700 T/H river pebble production line
Production line configuration: vibrating feeder, cone crusher, 2 sets of hydraulic cone crushers, 3 sets of sand making machines, 5 sets of trommel screens, belt conveyors
Advantages: It produces sand and gravel aggregates with uniform grain size and reasonable gradation, which is the most important for local hydropower dams and other infrastructure facilities.