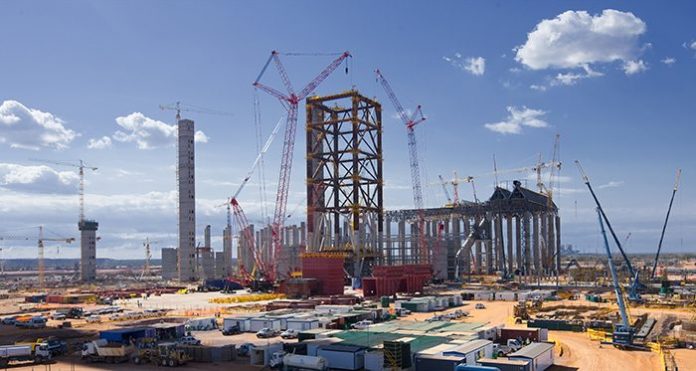 Managing cranage and rigging operations in a manner that eliminates or minimises the risk of fatalities, injuries or incidents applies to any project or site. This entails carrying-out a pre-start check as per manufacturers Operators'Manual to ensure that all mechanical and hydraulic systems are in good working and free from defects, as well as ascertaining whether everything is properly set.
Improper setup has led to a number of mobile crane accidents, and most common setup mistakes include inability to provide enough cribbing under the outrigger pads to support the crane and the load weight. Knowing how much weight is exerted on the outriggers is crucial in order to maintain the crane in a level condition and ensuring the crane has proper support.
In addition, proper cribbing reduces crane pressure, keeping the crane's tires free of support surface.
Crane operation inspection
Cranes require inspections, including daily visual and operational inspections by the operator, a minimum monthly inspection with signed reports by a qualified person, and periodic inspections at minimum, once per year with signed reports by a qualified person. Additionally, you should also be picky with crane rigging supplies partners you choose. Quality of equipment is the first step to security on the construction field.
Measuring the quality of your crane and rigging operation is critical and will give you an insight on how your operation stacks up against others of comparable size in the same industry. The findings will point out the areas where you excel as well as those that need attention. The findings will also guide you in securing an internal team to contribute to the improvement process.
Operators should be trained for the specific type of crane they operate and be knowledgeable about load charts, the crane's limitations, and operating requirements.
Cranage and Rigging
Sarens SA
Sarens SA supplies lifting equipment for projects ranging from 1 ton to 3200 tons. In terms of cranage and rigging, the company supplies lifting equipment for projects ranging from 1 ton to 2000 tons. The company owns a fleet of modern cranes that are serviced regularly and maintained beyond statutory requirements. Cranes and specialized "tackle" are also sourced from trusted local and international suppliers when necessary.
Currently a 1,250 ton maximum crane lifting capacity is available in South Africa but with access to worldwide equipment, stored at strategic locations, it is possible to mobilize up to 3 200 ton lifting equipment (Crane, Jacking or Gantry) within a month.
Where access is restricted, they rig loads weighing in excess of 100 tons into position. Sarens SA also offers comprehensive insurance for projects. We develop customized solutions to suit the needs of each customer and the demands of each project.
This includes initial surveys and recommendations regarding the availability and suitability of equipment and carriers. In addition, they provide regular updates and progress reports to their customers, hands on supervision throughout the project.
Konecranes- GIANT CRANES
Konecranes uses 80 years of experience and ongoing research to develop the most reliable and the latest technologically-driven range of cranes and hoists all over the world. Among them is the largest crane ever built in the world, a Goliath Crane of 2000 tons which spans the length of a football stadium. The Goliath is currently being erected in Rio Grande do Sul, Brazil.
Konecranes is the world's leading provider of Goliath Gantry Cranes, having delivered over 60 of them to shipyards around the world.Other cranes are specifically manufactured for heavy duty use in general manufacturing and the automotive, mining, oil and gas, pulp and paper and power industries. They include Ship-to-Shore cranes, Overhead Cranes, Rubber Tyred and Rail Mounted Gantry Cranes, Straddle Carriers, Container Yard Cranes and Load Manipulators.
On the other end of the scale are Konecranes compact Workstation Lifting Systems up to 2 tons, with CXT Wire Rope Hoists, Jib Cranes, Airbalancers and Manual Chain Hoists.
Konecranes Southern Africa, established almost three years ago in Johannesburg, has grown to another five branches around the country (Durban, Port Elisabeth, Cape Town, Witbank and Klerksdorp). An extensively stocked Distribution Centre supplies parts of all makes of cranes and hoists for the whole of sub-Saharan Africa.
A newly introduced Service Procedure and Documentation delivers an optimal service and maintenance program to improve safety, minimise down time, increase production capacity and reduce operating costs on all makes of cranes and hoists.
BABCOCK EXPANDS CRANE FLEET TO ENTER MINING SECTOR
The Tadano ATF 40G-2 features a full width two-man cabin and a telescopic boom extending from 10.45 m to 35.2 m. Safety devices include electronic load moment and automatic overload shut-off, hoist limit with shut-off, overload warning and load moment gauge. Digital displays show boom angle, boom length, sheave height, working radius and hook load.
The ATF 130G-5 is equipped with an 18 m boom extension mounted to the 60 m main boom. It can be carried along with the crane, which has a total weight of 60 ton and an axle load of 12 tons. As required, the boom extension can be used as a 3.8 m heavy duty jib or as a 10/18 m jib, eliminating the need to transport and mount the whole boom extension separately, or the heavy duty jib, and achieving significant cost savings.
The ATF 220G-5 offers a high load capacity combined with a 68 m main boom and an axle load of 12 tons to ensure possible utilisation and applications up to the 6-axle class. Boom extensions can be offset mechanically and, since bending takes place at the main boom head, the crane can be placed close to buildings and lift loads far beyond the building's edges, owing to the 20 or 40 degree bend of the boom extensions. Installation close to buildings also ensures a short working radius, so that the full range of the load charts can be utilised, with less site space blocked by the crane.
All the new cranes incorporate environmentally friendly Bluetec engines, while the ATF 130G-5 and ATF 220G-5 are equipped with the unique Tadano Lift Adjuster as standard, which can be activated at the touch of a button. In case of critical loading conditions the Lift Adjuster allows for quick and easy load pick-up without load swing, considerably reducing accident risk during crane operations, as the crane driver need not watch the radius display and can focus full attention on the load.
Manufacturers and suppliers should pride themselves by embarking on a continuous research to develop the most reliable, safe and the latest technologically-driven range of cranes, incorporating environmental friendly features. In addition, developing customized solutions to suit the needs of each customer and the demands of each project. This includes initial surveys and recommendations regarding the availability and suitability of equipment and carriers.