Cranes play a massive role in the construction sector around the world. They simplify the process of hauling heavy building materials from one location to another, increasing productivity. Carrying the materials manually is not only challenging, but it can also waste a significant amount of time.
Now the big question: should you buy or rent a crane? Choosing the right option for your next construction project can be challenging as a project manager. The choice you make will depend on several factors, including budget.
However, this article discusses one of the options: crane rental. You'll learn why you should consider outsourcing crane services and understand the factors to consider when choosing a crane rental provider.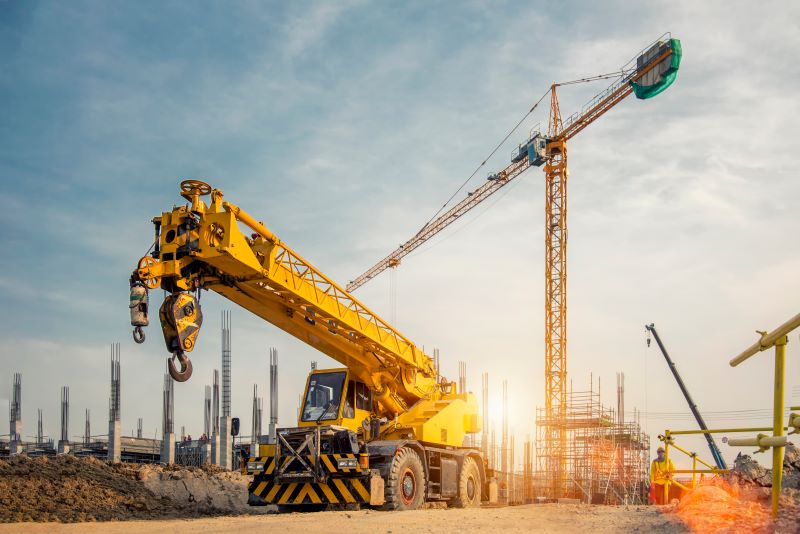 Benefits Of Hiring A Crane
Here are the reasons why you should consider renting crane equipment for your next construction project:
1. Saves Money
Purchasing a crane is a costly investment. Once you own the equipment, you're responsible for maintenance, repair, and licensing costs, which can add up over time.
Renting, on the other hand, can help you save money. For starters, you don't have to purchase costly equipment. The rental company is also responsible for handling any repair work, ensuring the equipment is always in good condition.
Furthermore, renting can save money on training costs. Operating construction equipment requires specific skills and knowledge. If you buy a crane, you must provide training for your team. By renting, you have access to a qualified operator from the rental company. This allows you to enjoy the benefits of using a crane without the financial burden of ownership.
2. Provides Multiple Crane Options
The type of crane you need will depend on the scope of your project. Using the wrong crane can increase the risk at the job site and negatively impact the effectiveness of the whole project.
If you have several projects that require a different type of crane, purchasing multiple cranes may not be feasible, especially for small to medium-sized enterprises. However, by renting cranes, you can access a variety of options. This makes it easier to have the right crane for the job when needed and saves you from having to maintain multiple machines that may not be necessary for every task.
3. Increases Job Site Safety
Working on a construction project can increase the risk of injury, especially for unskilled workers. Any work-related injury can result in increased medical expenses and may harm your public image. This risk is particularly high when inadequately trained workers operate cranes at the job site.
On the other hand, renting cranes can help improve safety on the job site. The rental company is responsible for training the operators, ensuring that only fully trained personnel operate the crane system. This reduces the chances of accidents and related issues. Additionally, experts from the rental company can help keep you up to date with ever-changing compliance regulations and standards.
Factors To Consider When Choosing A Crane Rental Company
Finding the right service provider can be challenging given the numerous crane rental companies out there. However, considering the following factors can help you choose a reputable company for your next construction project:
All industries have regulations and standards that govern their operations, and crane rental is no exception. It's crucial to verify that potential service providers are certified and comply with safety regulations.
Most crane rental companies list their certifications on their website or marketing materials. If you can't find this information, ask for it. If a company is unwilling to share their licenses or accreditations, consider working with a different company.
Equipment Quality And Maintenance
Well-maintained equipment is essential for safety and efficiency on the job site.
Ask potential service providers about their maintenance procedures and how often their equipment is inspected and serviced. A reputable company will have a regular maintenance schedule and should be able to provide documentation of their equipment's maintenance history.
Customer experience matters when choosing a crane rental company. Poor customer service can negatively affect your project. Hence, observe how they treat you on the phone, on their site, and in person.
You can also use reviews to gauge their customer service. However, be cautious with online feedback, as some companies may pay for misleading reviews. Consider reaching out to contractors who have used the company's services and ask about their experiences.
In Summary
Cranes are essential tools in construction projects. When deciding whether to buy or rent a crane for your next project, consider the benefits of renting. Renting a crane can save you money and improve job site safety, ultimately increasing productivity. By outsourcing crane equipment, you can enjoy the advantages of using a crane without the monetary strain of ownership.