You may be wondering what changes and continuities have kept the construction industry moving over the years? What technologies have revolutionized and made it all the better for industry players?
Plenty! A lot has changed. But this article will focus only on the remarkable changes that have taken place in the industry with the help of human innovations.
Search for construction leads
Here are the top 11 innovations that improved the construction industry:
1. Mechanization
To understand the impact of notable changes in mechanization, one must look back at least 50 years.
The introduction of pneumatic and hydraulic devices sometime in the mid-nineteenth century was a vital innovation that resulted in the rise of earthmoving equipment and other machinery now used on construction sites.
Mechanical innovations in the construction industry began to pick up pace around the twentieth century. Power tools, concrete mixers, and cranes were introduced around this time. It can be noted that the internal control engine is replacing wheelbarrows, animal work, and hand shovels by bringing in types of machinery such as tractors, bulldozers, and forklifts. All these also made working on large-scale construction sites less time-consuming.
The introduction of this machinery has helped lighten work and has made it easier for a lot of work to be done on large scales hence improving the efficiency of the construction industry. In recent times, big industry players such as Pacific Trail Manufacturing have been at the helm of some of these innovations by helping mechanize processes that previously needed manual effort. Now bulk loads of lumber could be cut in one go and therefore quicken the entire construction process.
2. Computer-Aided Design
At the end of the twentieth century, the computer-aided design was introduced, replacing the method of the Middle Ages' stonemasons, architects, and builders.
Separate systems and the ducting of high voltage current were previously troubling issues for builders and architects because they used two-dimensional graphic design. But with the introduction of computer-aided design, it becomes hassle-free to identify these issues and resolve them due to the emergence of 3D plans.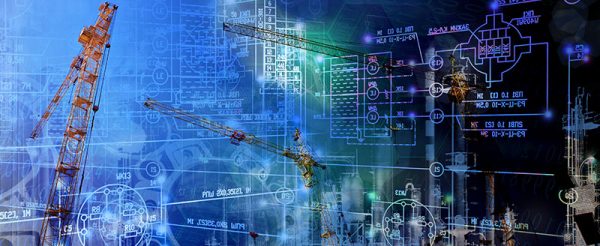 3. Industrialization Of The Construction Industry And Prefabrication
The industrialization of the construction industry, like any other change, had a significant impact on the industry as a whole. Off-site incarceration has been very effective in the industry because it provides numerous benefits.
For example, a heat exchanger that is fabricated off-site not only makes work easier. It's because it is ready to use the moment it is brought on-site, but it also has higher efficiency because of its non-exposure to elements that could have damaged it during its fabrication. Prefabrication also reduces machine inefficiency and waste because the components are already made.
Off-site construction is sustainable as it produces less waste and is not affected by weather conditions.
It is also time-saving as components like compressors, instrument panels, and pump units would have been fabricated in a shop instead of on-site and only come on-site ready for a link-up.
Prefabrication has brought about a better schedule certainty, better quality, improved efficiency, and improved productivity than the traditional methods used in construction.
4. Electronic Devices
The construction industry has undergone significant transformation as a result of electronic devices. Most notably, it has made life easier for contractors by improving project management. Using electronic devices such as smartphones, laptops, and tablets, everyone involved can carry out their work even if they are in different locations, using the same information from the same source and ensuring that they are all on the same page. They can also be utilized to plan out construction designs using software for a more streamlined process and the seamless communication of construction-related documents.
Utilizing electronic devices has replaced paperwork because it is now easier to create an analytics report at the end of the day. After all, using them ensured real-time analytics, which means on-the-spot recording as it happens. It also means that everyone involved has access to the analysis reports, regardless of their role.
5. Architecture Apps
As if the introduction of mobile devices wasn't innovative enough, architects now can Sketch their models using an application that can also provide them with a three-dimensional model. With this advancement, architects will be able to update their models in real-time, and others will be able to see them wherever they are as long as they have access.
6. Robotics
It's improper to discuss construction industry innovation without mentioning robotics. Many businesses have begun to use robots instead of humans on construction sites. It has resulted in a significant transformation in the construction industry, as robots can now be placed in dangerous positions without fear of injury.
Robots cannot make as many mistakes as humans commit because they can be programmed to do a specific job perfectly.
Robots are also faster than humans in terms of performance and efficiency, making this one of the most incredible innovations in the construction industry.
7. Personal Protective Equipment (PPE)
The advancement of personal protective equipment over the years has been revolutionary. The revolution has been ongoing for approximately 45 years, with regulations for employers in some countries, such as the United Kingdom, ensuring that employees whose tasks exposed them to danger were provided with the appropriate personal protective equipment in 1992 under the Health and Safety at Work Act.
A review of the same act in 2008 revealed that the rate of construction worker injuries has decreased by 73% since it was enacted.
The Occupational Safety and Health Act of 1970, enacted in the United States and other countries, followed suit around the same time, assisting in the revolution of personal protective equipment in the construction industry.
8. Artificial Intelligence (AI)
As much as personal protective equipment (PPE) aids in employee safety, the emergence of artificial intelligence has improved it. Many construction companies are now using AI algorithms to predict hazards and avoid them by implementing safety measures.
Personal protective equipment (PPE) combined with the Internet of Things (IoT) sensors ensure employee safety. The sensors detect temperature, heart rate, steps, and other signals and send them to managers to analyze the workers' health. With artificial intelligence, workers' health can now be managed remotely anywhere.
9. Green Building Or Sustainable Building
Many innovative initiatives aim at long-term sustainability. Green building is a non-toxic construction method that quickly discourages the use of toxic materials. It is now a widely accepted idea to help buildings achieve net-zero carbon dioxide emissions. It is achieved by utilizing reclaimed wood, recycled rubber, cross-laminated timber, and other environmentally friendly materials.
Sustainable materials are good for the environment, but they also help reduce operational costs. Green building materials are more expensive than traditional building materials, but they are also healthier for the occupants.
10. Cloud Computing
Cloud computing is probably the center of innovation in the construction industry as it has changed a lot. It did not only change the storage of data from hardware, which is very limited to software, but it has changed the data to software that is accessible anywhere around the world as long as one has access to it.
Through this innovation, all the parties involved can access the data in real-time, making it easier to work together without actually being together.
In a survey carried out by Associated General Contractors of America, it was found that 85% of contractors are implementing cloud solutions. That's because cloud computing is not only admirable for its nearly unlimited storage, but it is also safe from data loss and data theft as it is very secure.
11. Building Information Modelling
Building Information Modeling has recently gained popularity due to its numerous advantages. It aids in the estimation of model-based costs in a less time-consuming manner.
BIM is not only an effective communication tool for all parties involved, such as architects, builders, contractors, and clients, but it also ensures that all of them can remodel and improve the model to the satisfaction of the rest in a less time-consuming manner. Instead of redesigning a single piece of paper and distributing it to all shareholders in the most time-consuming way, they can use BIMs instead. This setup allows everyone to assess and propose modifications to a design in an orderly way.
Building Information Modelling aids in the visualization of the building before construction, which aids in ensuring that it is what is desired.
They also identify hazards, which helps avoid accidents as people observe more safety measures, thereby lowering the cost of both injuries and damages.
Conclusion
Humans have come a long way in introducing inventions that make all aspects of life a lot easier than before, and the construction industry is one of the recipients of the benefits of these innovations. The construction industry has seen promising progress in improving efficiency because of robotics, cloud computing, BIM, artificial intelligence, and so on. All of this has also reduced the time required to construct anything because they are more efficient methods of construction when compared to traditional methods. Because of new technology and techniques being implemented in the construction industry, it is now easier than ever for construction companies.