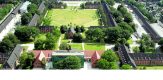 Rwanda is set to commence construction of the long awaited Ellen DeGeneres' Campus of the Dian Fossey Gorilla next week.
Felix Ndagijimana, the Director of the Dian Fossey Gorilla Fund International, confirmed the reports and said the campus will be home to the Dian Fossey Gorilla Fund which has been operating in Rwanda for more than 50 years through its Karisoke Research Centre, based in Musanze District, Northern Province. The Fossey Fund is the world's longest-running and largest organisation dedicated entirely to the conservation of gorillas.
Search for construction leads
Also Read:Construction of 24 Unit classroom block by MTN in Ghana commences
Ellen Degeneres Campus
The campus will include state-of-the art science laboratories, space to hold key partner meetings, classrooms for educational programming, a dynamic and interactive museum that focuses on Dian Fossey's story.
Dian Fossey's museum is expected to act as a key attraction for tourists as well as an educational facility for local communities. The campus will also have living laboratories that illustrate key ecological concepts, such as reforestation or citizen science, as well as dormitories to host university students.
"This campus will expand our ability to be a key node in the Rwandan's government's Center of Excellence in Biodiversity Conservation and Natural Resource Management. We feel it demonstrates our continued investment in advancing the conservation and science goals of Rwanda but will have an impact much beyond that – it will be a significant investment in the local communities around Volcanoes National Park," said the Fund's Director.
The campus project could create more than 1,500 jobs during the construction process, with 40% of the workforce being female and US $2m spent on local labor and trades. Moreover, US $2.5m will be spent on local materials gathered from within 250 km of the site. The campus is expected to officially open in early 2021.