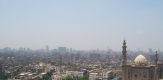 An Entertainment District is set to be constructed in Egypt at a cost of US $20bn. This is after ATIP New Capital Entertainment (ATIP Entertainment) won a contract from the Administrative Capital for Urban Development (ACUD) for the development.
The contract entails providing design, entertainment technology and management for the project. The Entertainment District, spanning 4,256 acres, will be in in Egypt's New Administrative Capital, which has been under construction since 2015.
Search for construction leads
Also Read:Construction of US $198m 'O West' project in Egypt to begin in October
Entertainment District
The project will be developed in three phases over a period of 10 years. It will include construction of 4-star and 6-star resorts and themed hotels, luxury homes, villas and high-rises; a wellness centre; high-end and regional shopping and dining; a VIP golf course and other recreational and green space activities and theme parks.
The Entertainment District will also feature; cultural arts centre, convention centre, aviary, butterfly, topiary and botanical gardens/conservatories, planetarium, museum and recreational activities for children, sports and concert stadium, Formula One racetrack and an entertainment college.
World's tallest observation wheel
ATIP Entertainment CEO Elsayed Zayan pointed out that the District will have world's tallest observation wheel, with views of Egypt's past, present and future, and the world's tallest obelisk designed to point toward the country's bright future.
"Together, ATIP, ACUD and ITEC Entertainment will honor Egypt's past, leverage its present commitment to growth and prosperity, and build the future of recreation, culture, leisure, shopping and hospitality for the Middle East," said Mr. Zayan.
The development will also include a multi-modal transportation hub that will connect with the New Administrative Capital's superhighways, infrastructure and high-speed rails. Over 700,000 jobs will be created during the construction period.
"Egypt sits at the center of the world, as a cradle of civilization and ancient heritage. Today, Egypt enjoys one of the fastest growing economies; a robust population with an educated, qualified and motivated workforce; and visionary leadership to move the country forward with powerful creative and business initiatives, such as the New Administrative Capital with ATIP's Entertainment District centerpiece. We believe this project will elevate Egypt's standing as a world leader and accelerate Egypt's rapid economic growth with long term, sustainable development," said CEO Elsayed Zayan.