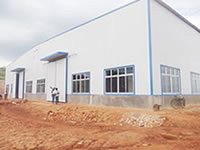 East African Granite factory located in Rutaraka village of Nyagatare district, has started manufacturing granite tiles. It is expected to employ more than 200 people.
According to the factory experts, Rwanda has abundant granite which can allow the factor to function at the top level for nearly half a century. It will be processing granite as a low material which is nearby the industry and Rwanda has a variety of Granite in abundance which can allow the industry to function up to 40 years.
Nicky Barigye, the coordinator of the company, said they plan to produce 120,000 granite tiles per year with a provision to expand to 200,000 tiles depending on the market demand.