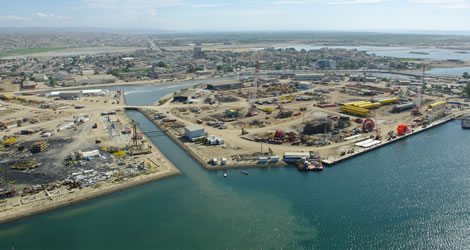 The Angolan Government invested about 200 billion kwanzas (US$2 billion) in 2013 for the rehabilitation of Lobito Port.
This is according to the chairman of the Board of Directors of the port, Anapaz Neto. Neto said this amount was invested in the construction of a terminal for minerals and another for containers and a dry port. She said these facilities are completely finished and ready to operate in two months.
Anapaz Neto said the cargo volume registered by the Port of Lobito in 2013 about 2 million tons, underlining that they have not yet closed the year which means that until March 31, when it will be closed, they may see an increase of 3 percent more of the cargo volume. Neto said compared to 2012, there was a slight increase of 2.5 percent in 2013. For 2014 the institution aims to increase the production and it expects the entry of the private sector in the business.
Most of Africa's ports are faced with serious challenges. Some lack enough berthing space causing congestion and in turn making long delays in clearing cargo the order of the day. This imposes a negative economic impact with countries losing revenue running into millions of dollars. A World Bank report released in 2013 indicating that Tanzania continues to lose up to US$ 1.8 billion due to inefficiencies at Dar es Salaam port reinforces this state of affairs.
However, the recent past has seen countries along the coastline of Africa embark on modernizing, deepening and expanding their port facilities.