A forward funding deal has been secured for Caddick Group's SOYO neighborhood, the Leeds development latest phase, with over 300 apartments set to be constructed. Funds secured by Federated Hermes, the next stage of Caddick Group's SOYO neighborhood in Leeds, will comprise a 331-home project under its build-to-rent brand Hestia developed by Caddick Group.
Two adjacent blocks will be built in the new city centre district, with planning permission offered for 331 apartments , a mixed-tenure of, one-, two- and three-beds, outdoor courtyards, a 12,000 sq ft of retail, as well as restaurant and ground floor amenity area. Also to be created is a new public realm with green spaces and a pedestrian square included. DLG, a Leeds based Architect has been appointed to design the development, with sustainability accreditation that is beyond current statutory needs, using techniques to lower embodied carbon together with high levels of insulation and renewable technologies part-powering the development.
Search for construction leads
Read also: Plan unveiled for £110m Nigg Offshore Wind tower factory in Scotland.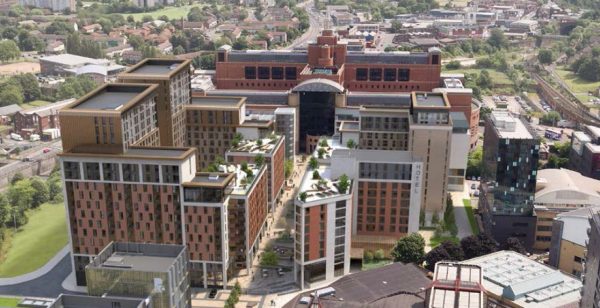 Caddick Group's SOYO neighborhood completion dates
The scheme is scheduled to complete in late 2023, planned to support 2,000 construction jobs and 14 apprenticeships while the construction is ongoing, all to be carried out by Caddick Group subsidiary Caddick Construction. The International Business of Federated Hermes, fund management director, Will Gibby stated: "Our aim remains on developing high-quality, mid-market rental properties that bring value for all the stakeholders. The Caddick partnership on the delivery of Caddick Group's SOYO neighborhood project will do just that for Leeds. The four-year track-record of Hestia on operating quality BtR assets has made us identify an opportunity of institutional scale, on an exciting regeneration project benefiting from quality public realm and cultural amenities. We anticipates to bringing this project forward with Caddick in the coming years."
The Caddick Developments, managing director Myles Hartley added: "We are happy to have secured this chance to work together with one of the world's best investment managers and their experienced residential work on their flagship Leeds BtR project. Caddick Group subsidiaries Caddick Developments, Caddick Land and Caddick Construction will be working together with the project team.