ICRC Regional Office is being developed by the International Committee of the Red Cross (ICRC), an independent, neutral organization ensuring humanitarian protection and assistance for victims of war and other situations of violence, on an 8.2 acres piece of land in Spring Valley on the outskirts of Nairobi Kenya.
The development encompasses offices, meeting rooms, conference room, canteen, gatehouses, powerhouse, recycling building, maintenance warehouses, parking lot including charging ports for electrical cars and parking for bicycles, water treatment plant, and solar panels.
Also Read: Maisha Mapya Apartments Development in Tilisi, Kiambu, Kenya
Cumulatively, the building's footprint is 5,890 m2, while the floor area including parking and external circulation is 15,970 m2. Additional areas have also been reserved for future expansion.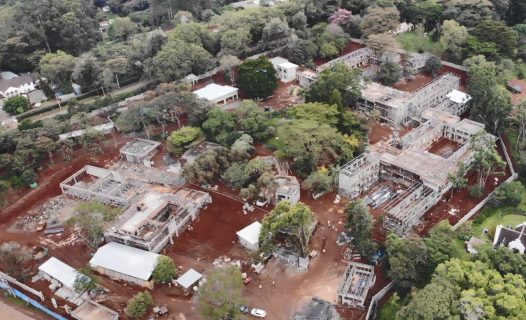 ICRC Regional Office sustainability
In the design stage, the consortium of architects in charge of the design of the facility had to ensure that it adhered to the principles of sustainability. This involved saving as many indigenous trees as possible in the project site, whose notable attribute was its green aspect with many trees and a quiet, serene environment that was largely residential with near-zero high-rise buildings. The architects also considered enhancing energy efficiency, water reuse, renewable energy, and the use of local materials among others.
Other features of the building include a clean, practical non-commercial look; a conducive environment of shared offices and common workspaces; flexible workspace design; accessibility to people with disabilities, watertight security, and safety features. These features are crucial considering that the building's occupancy population is approximately 500.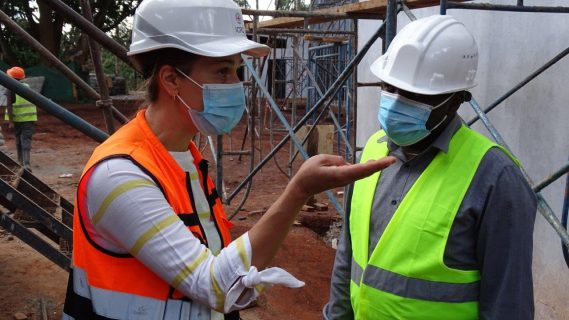 Project team
Client: International Committee of the Red Cross
Architect: Pharos Architects
Quantity Surveyor: Quantimax Consultants
Civil Structural Engineer: Abba & Wandu Engineers
Structural Engineer: Abba & Wandu Engineers
Electrical Engineer: Elemech Consultants
MEP Engineer: Elemech Consultants
ICT Engineer: Elemech Consultants
Main Contractor: Ark Construction Ltd
Electrical Subcontractor: Masterpower Systems Ltd
Plumbing & Drainage Subcontractor: Trident Plumbers Ltd
Landscaping Subcontractor: Greenersol Landscape Ltd
BMS Subcontractor: Glosec
HVAC Subcontractor: Universal Engineering Systems Ltd
Lift Subcontractor: Schindler
Kitchen Subcontractor: Kitchen Professionals
Solar Investor/Installer: Enkai/Illumina Africa