4M Solutions meet the needs of the entire range of the Building Design Industry, including Professional CAD, Architectural Design, Structural Analysis & Design, Building Services Design (HVAC, Electrical and Plumbing) and other software applications.
The new IDEA19 has been redesigned from the start with new generation BIM technology and a new GUI (with Ribbon menus) but also a new display engine and read / write functions directly in DWG2018 / 2019 format for unique speeds (ODA Technology – Opendesign). It is fully compatible with both DWG files (opens DWG files of any version up to DWG2018 and 2019 format) and BIM (IFC) files for full and compact collaboration with any other BIM Architecture (eg ArchiCAD, Revit, Allplan et al.). Among many other things, the new edition also allows the automatic production of charts (Topographic and TDI) for submission to the National Land Registry.
In more detail, the features of the new IDEA19 are described below:
1. Comprehensive Code Restructuring with New Innovative BIM Design
Modern redesign based on ODA Teigha tools
Smart third generation BIM technology
Integration of all the latest ITC8.x tooltips
Even faster Open / Read / Save / Write functions
New display engine for unrivaled Zoom & Pan speeds
2. Program interface
New interface
New look with Ribbon menu
New Visual styles options
New status bar, with options for GRID, ORTHO, ESNAPS, corresponding to AutoCAD
New status bar options and functions, such as Annotation scale list, Annotation visibility etc.
Redesign of toolbars.
New property panel with new features and functions combined with filter and quick select commands
Real time zoom / orbit to all BIM entities directly through their creation dialog.
Redesigning BIM Entity Design dialogs with new features.
New dialogues for building roofs and stairs.
3. BIM modeling
3.1 General Functions
Ability to modify the properties of all BIM entities from the property panel. Ability to use any of these features as a filter for entity selection via quick select.
New Grips on all BIM entities for real-time change of dimensions, length, thickness, rotation angle, etc.
Ability to change all features such as thickness and width to entities such as walls, beams, stairs, roofs, etc.
New dialog for defining a building with more options and the ability to select drawings and images as xref. Layer manager for adding, deleting, or inserting layers.
3.2 Special Functions (regarding the building blocks)
Corner windows
Creating a single roof from pline
Modification of roofs through grips and real-time indication of tilt change.
Create walls of whatever morphology the user designs.
Openings without any frame, case, etc.
Selection of staircase design with casting and pressing options.
New options in ladder design with even control of rounding sizes.
New entity tables such as for doors, spaces, roofs, materials etc.
Use orthophasics and precise design on them
Ability to raise walls with either a staircase, roof or surface.
4. Topographic
Production of Diagrams (Topographic and FVO) for submission to the National Land Registry
5. Photorealism – Rendering
New improved performance and higher quality in photorealism after redesigning the algorithm.
Higher photorealistic speeds.
6. IFC compatibility
Modifications to the IFC file import / export function for even better compatibility / collaboration with other BIM programs (practically entity recognition level analogous to Revit® and Archicad®).
Modifications to IFC modes for even faster process of importing IFC files.
7. Libraries
New 3D furniture libraries.
New preview of libraries in real materials
New preview environment when designing a roof with real materials.
New preview environment when designing a ladder with real materials.
New preview environment when designing rail with real materials.
8. New CAD Engine
Includes all new features of the latest 4MCAD v.19 release, such as:
New notification / update manager in the status bar.
New dialogs on commands like "purge" and "block" with more user options.
New dialogs on commands like "mtext" with more options like using background in texts etc
New command-line feature by automatically filling in the available commands while typing.
New options in 3D rotate and shift commands.
New commands such as "txt2mtx", "rtext", "Helix", "3D Polyline"
New options in the draw order command with an entity group selection (eg hatches).
New method of importing LISP protected files.
9. Other Improvements
New options in the Plus menu (such as AutoCAD Express tools commands) (etransmit, overkill, "blockreplace", "bcount", etc)
IDEA Architectural Package General Philosophy
Freedom in Architectural Composition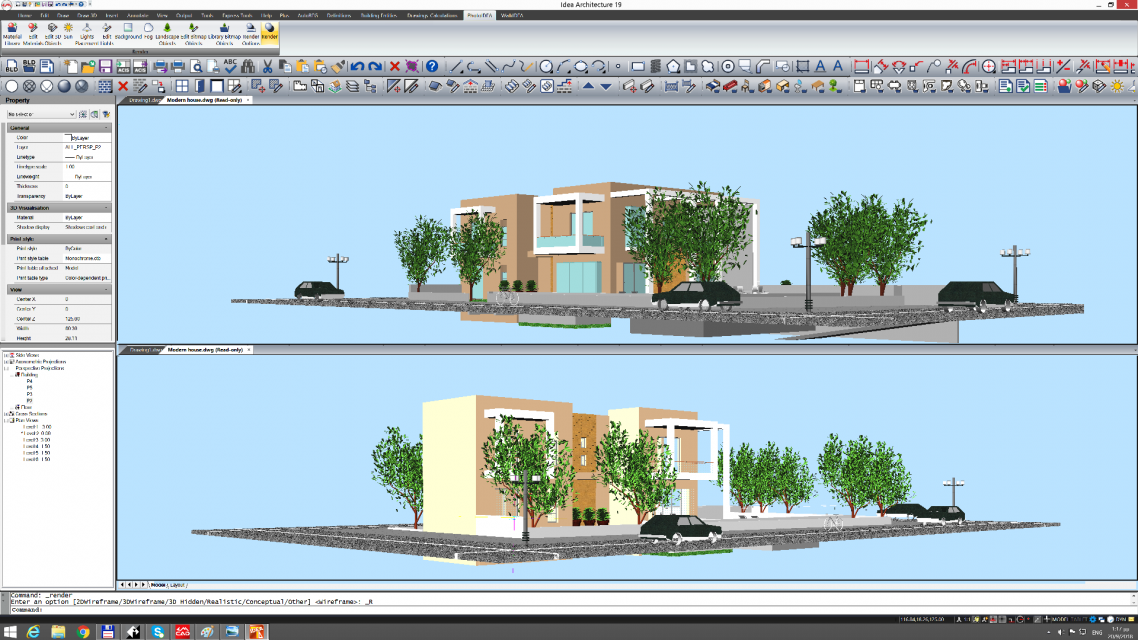 Unlimited flexibility in composition and "elastic" modification of volumes, walls, apertures, slabs, columns, etc. Basic elements of construction (automatic creation of 2D / 3D wall joints, dimensional updating, spacing etc. in each modification). 
Some of IDEA's advanced Architectural Composition features are the following:
Expand-customize the standard CAD (copy, move, trim, extend, etc.) and IDEA entities (walls, openings, beams, etc.)
Interface behavior just like CAD, by applying the corresponding commands and facilities to all components
Extension of "smart" commands & functions to the design of walls (automatic joints, extensions, incisions etc.) and Openings
Dynamic visualization of changes in building components in real time (eg window during mounting or moving)
Grips facilities on all elements requiring greater ease of composition-changes (walls, openings, slabs, columns, beams etc.)
Generalize the "right click -> properties" feature for immediate editing of object dialogs and dynamic real time reshaping.
Easy to configure each item in real time
Free creation and modification of composite elements (stairs, railings, roofs, gables, ramps, as well as more specialized elements such as Chimney, Pergola, etc.) without restrictions. The user has the feeling that he / she is managing flexible objects whose changes he / she is observing in real time.  Of the numerous modelers, Roof Modeler is an indication, among the many roofing modeling possibilities offered by any type of inserts (eg lofts of any form, holes, openings, skylights, etc.), or automatic jointing of individual roofs, the possibility of defining double tilting on the same side, the ability to extend each side separately and many more.
Exposure Generators     
Generators of any kind of openings (windows, doors, sliding etc) beyond the multitude of ready-made library openings, as well as railings, with the help of which the user can easily and unconditionally compose any form of data.  
Rich Libraries 
Plenty of ready-made symbols, objects and architectural details, organized into categories and subcategories, with a dynamic library manager that allows you to easily manage existing projects and integrate new ones, even defining library categories from the beginning
Smart BIM Study Plans Manager 
IDEA contains a tree-view explorer that keeps live drawings of what the user defines in his study (eg views, sections, perspectives, etc.) in relation to both changes to the building model and with any user additions / interventions on these drawings (eg tagging, inserting symbols or drawings from libraries, comments, altimeters, etc.). Another striking feature of IDEA due to its BIM structure.
High Performance Photorealism
With the integrated PhotoIDEA Photorealistic program, high quality photorealistic scenes are produced at the touch of a button thanks to the intelligent BIM structure. The user has immediate photorealistic visualization of each scene of his construction and unlimited ease of testing through the possibilities of selective or group interference in every parameter (materials, lighting, background etc.). In addition, the IDEA user can navigate in and out of the photorealistic building at the same time that he is composing his model, thanks to the fast hiding and animation algorithms in OpenGL.
Additional Features    
Advanced Surveying
The most powerful and automated Topographic 2D-3D, with leveling, excavation-overlays and fully automatic triangulation and also automatic creation of Ideal Solid and Topographic Texts & Coverage Chart. Ventilation and signboard), but also when architecturally demanding (eg staircase creation), thanks to the building's intelligent structured information (BIM). In addition, AutoREG contains commands for import and edit orthophoto, import EGS coordinates, EGS cannabis import, CGS import, while still applying the NOK to the add-on Nomos to produce the cover diagram, thereby also providing the choice between GCR and NOK for its production cover. Finally, it works with Google Earth to import an image from it and export a model to Google Earth.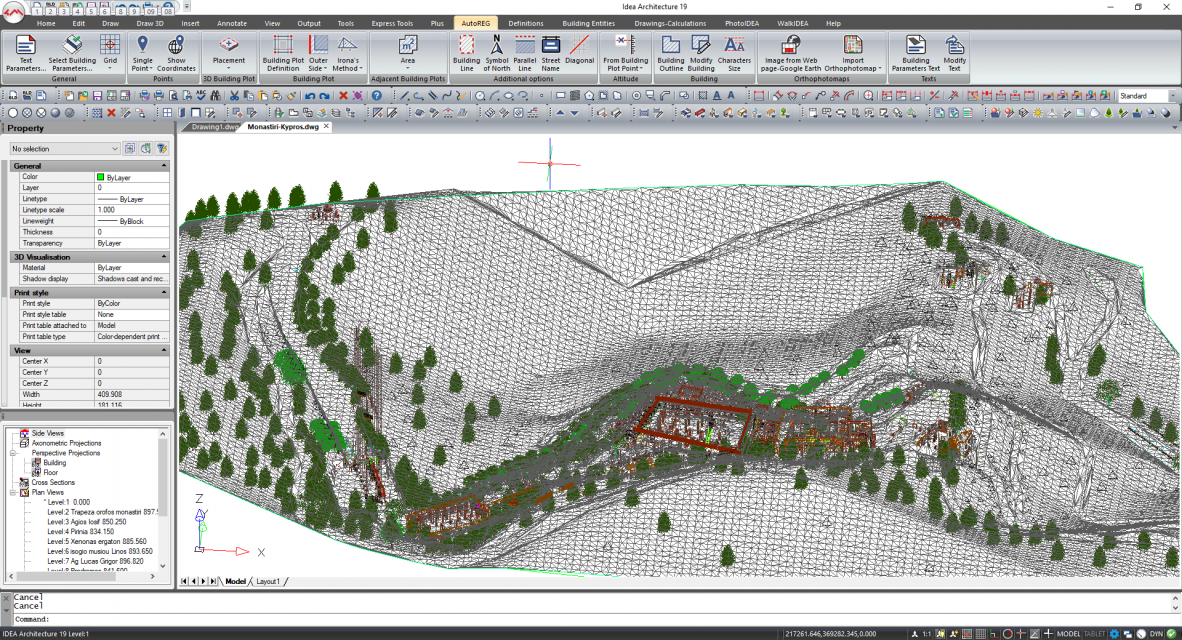 Collaboration with ADEIA for the issuance of a Building License
– Automatic production of building permit forms  
– Automatic production of building permit files (in collaboration with ADEIA) directly from the projects: The  Fire Safety Study as well as the Fee-Tax-IKA, Minimum Cost, Thousand-Allotment Forms arbitrary etc are automatically generated from the IDEA floor plans.
– Automatic Material Counting: Detailed Material Counting, in collaboration with the ADEIA homepage module: Counting total or per level or space and with the degree of analysis desired by the user, without any preliminary drawings, as well as further processing capability (eg. selection of prices & materials from building materials libraries, offer configuration etc.) in a handy spreadsheet environment.  
ADD ON IDEA Applications In addition to ADEIA, IDEA can also collaborate with the following ADD ON applications:
IDEA-Smart: Prodiastasiologisi 
IDEA-Nomos: Automatic Builder 
IDEA T-Roof: Wooden Roof
Compact Collaboration with 4M Packages IDEA works closely with all 4M Building Design Packages and in particular:
IDEA collaboration with STRAD: The building is transferred from IDEA to STRAD to follow the Static study IDEA Collaboration with FINE: The building is being transferred from IDEA to FINE to study one or more of its E / M Facilities
IDEA Collaboration with 4M-KENAK: The building is transferred from IDEA to GCAD / KENAK for full automation of energy efficiency study and energy inspection.

IDEA Collaboration with FineGREEN: The building is transferred from IDEA to  FineGREEN to perform a detailed energy simulation (power plus engine)  

Collaboration with every BIM Package
Through the IFC format with which IDEA is fully compatible (in both read/write and write / output), IDEA works with all market BIM packages, including Revit, ArchiCAD, AllPlan and others. All building information (walls, windows, slabs) is transferred directly from IDEA to BIM Packages and vice versa.  

In conclusion, IDEA is the only Architecture in the Greek Market with such a wide range of innovative ADD ON applications, as well as collaborations with all 4M Packages (FINE, STRAD, 4M-KENAK and Fine GREEN) that multiply its value and make it an Absolute Station Working on Architectural Designs.