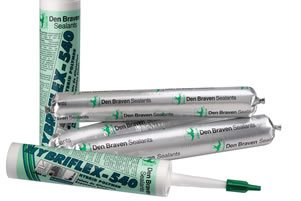 Higher professional grade adhesives and sealants reduce costs
The adhesives industry runs hand in glove with the construction industry so demand has been slightly depressed in South Africa as opposed to the rest of the continent, says Michael Berg, National Sales and Marketing Manager for Den Braven. Candice Santana, Marketing Consultant for Mapei, concurs with Michael Berg that, "infrastructure development and new construction in sub-Saharan Africa has led to high demand for adhesives and sealants". Containing costs in these times is all the more critical and  so there is a call for higher professional grade sealants and adhesives in the market in order to minimise future remedial work, thus reducing costs.
Good and durable adhesives
Professional and quality sealants have to comply with various ISO norms, DIN, BS or ASTM standards. They need to show excellent adhesion and resistance to temperature extremes and also require good resistance to water, UV-rays, ozone and corrosion, adds Berg. Long service life, compatibility, environmental friendliness, bond strength and versatility are also very important.
The purpose of sealants is to seal assemblies and joints or gaps, so they must have sufficient adhesion to the substrates and resistance to environmental conditions to remain bonded over the required life of the assembly. If sealants are used between substrates or surfaces having different thermal coefficients of expansion or different elongation under stress, they need to have adequate flexibility and elongation.
In addition, sealants generally contain inert filler material and are usually formulated with an elastomer to give the required flexibility and elongation and have a paste consistency to allow filling of gaps between substrates. Sealant pastes cure (RTV – room temperature vulcanisation) to form durable and tough rubbery seals.
Surface preparation
It is very important that the surface is thoroughly prepared before applying the sealants. The substrates must be free of contaminants such as grease, oil and dust and they should be sound, clean and dry. In addition, metal, glass and other surfaces should be cleaned with the recommended solvent.
If the joint is not primed, where required, or cleaned properly, adhesive failure in which the sealant does not stick to the sides of the joint or cohesive failure where the material breaks or cracks from within, promoting moisture ingress over time and the growth of mildew and rotcan be the result, explains Berg.
Why cohesion and adhesion failures occur
There are two main reasons for cohesion failures on sealants. The first is where the joint formulation is incorrect. Triangle shape joints with connections at various building elements cause the most problems and can be avoided by using a bond breaker.
The second cause for failures is where high temperature differences occur during sealant curing referred to as "early tear occurrence". Where this happens, the skin is not capable of taking up the large movement and will tear. As a result, the total sealant will tear, with early evidence of this occurring within 24 hours of application. In general, the sealant tears in a diagonal direction and this situation can be avoided by not sealing on days with large temperature variations.
Important considerations
It is important to use only the correct product for the specific application and there should be no compromise. In addition, factors such as shrinkage on cure, adhesion, capacity of joint movement and sealant dynamic design loads are just some factors that need to be carefully considered, adds Berg.
Den Braven: world leader in professional sealants
Den Braven South Africa is a world leader and supplier of professional sealants with sales and distribution outlets nationally in Johannesburg, Durban and Cape Town. The company has a wide product selection ranging from silicone, hybrids, polyurethane, modified silicones and acrylic sealants to applicators – as well as glass and glazing accessories.
High Tack, Mirrorfix-MS, Super Glue and Fix-O-Chim (a chemical fastener) are some of the products manufactured by Den Braven.
In addition, Den Braven offers a range of fire retardant sealants and an instant high track adhesive suitable for sticking a variety of substrates, including natural stone and mirrors with weights up to 23 kg.
Den Braven sealants meet the requirements of the Green Building Council of South Africa's standards for architectural sealants and can contribute to green star ratings in buildings. The environmentally friendly Hybriflex is a new superior joint sealant which supersedes traditional polyurethane sealants.
Mapei: Market leader in the construction chemical industry
Mapei is the market leader in the construction chemical industry with a worldwide footprint and annual turnover of more than €2.2 billion(US$2.97 billion). The company's research and development department is constantly developing and enhancing its product range performance, especially adhesives used in conjunction with composite structural systems where service life is unlimited.
Mapei manufactures low VOC epoxy, polyurethane, bituminous, vinyl, acrylic, silicate, silicone and polyester and all adhesives have a shelf life of two years.
In addition, Mapei's products are designed to have correct shear strength and adhesion to prevent the substrates from parting. The products are effective in temperatures ranging from -40°C to 130°C and every application is investigated before subscribing a solution.
The sealants industry has grown over the years to become a force to reckon with in the construction industry. Existing buildings are being face lifted with glass and natural stone facades and new buildings erected where structural glazing is used, not only for aesthetics, but for insulation and sound dampening. In addition, the concept of "fixing and sealing elements" as emergency repair is no longer true, sealants and adhesives have become a permanent construction solution, explains Santana.