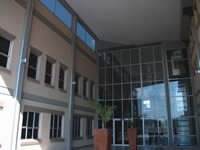 Deloitte is the brand under which many dedicated professionals in independent firms throughout the world collaborate to provide audit, consulting, financial advisory, risk management, and tax services to clients.
These firms are members of Deloitte Touche Tohmatsu Limited (DTTL), a UK private company.
Each member firm provides services in its geographic area and is subject to the laws and professional regulations of that particular country. Deloitte first entered the Botswana market and has since then lived up to their slogan – be exceptional – in terms of the service provision. This led to expansion and the need for premises which could accommodate this growth.
Deloitte in Botswana has been in need of larger premises to manage its expansion and engaged Time Projects to design and construct their new offices.
The preliminary design of the building had already been done by the time Deloitte showed a keen interest in acquiring it. After an agreement had been reached, works started in November 2009 and the project was completed in March 2011. The building was handed over to Deloitte for occupation, which launched an official opening of this monumental building in February 2012 once they had settled in. The cost of the entire project amounted to P39.2 million.
Deloitte  previously rented a building for their operations in Fairgrounds, not far from their new offices, but they were looking for place to buy where they could nest their new home on a long term basis. The offices which they would move to had to reflect the magnificent stature of the organization and also be similar to their existing offices in Johannesburg (South Africa) and Windhoek (Namibia). The ultimate end was to ensure uniformity. To achieve this end Time Projects had to travel to these offices in order to get a feel of what was expected. In addition they had work very closely with South African interior designers, NMC, who did the interior for these offices.
Brief Description
The building is a concrete structure with brick infill and aluminum windows. Office spaces and boardroom floors are covered with durable carpets while the lobby, staircase, kitchens, and toilets are finished with high quality granite. Landscaping plays an important role in enhancing the external aesthetic of the building. The "funky car pots" on either side of the building are truly unique, as Heinrich Malan of Time Projects pointed out.  There is also basement parking reserved for staff.
The actual structure is made up of two wings and as middle atrium with lots of glass play throughout, even in the boardrooms and training room on the ground level behind reception area. The refreshment area behind the reception boasts exquisite lighting which signals elegance and class – truly exceptional. The design philosophy is geared at ensuring maximum efficiency in Deloitte's functionality while encompassing a level of transparency and openness.
An open-plan approach has been adopted, whereby there are huge open spaces where employees can work, and offices designated for partners have glass partitions. This makes "sleeping on the job" impossible! Even the elevator in the double-storey building is especially made of glass, which is a rather rare and remarkable sight, so that it is in accordance with this overall design philosophy.
Special Considerations
In addition to the elevator within the building, there are also two (2) ramps on either side of the building (outside) to allow those in wheelchairs easier mobility in the offices. Taking the environment into consideration wastage rain water harvesting is practiced for irrigation purposes which will ensure that all the colorful landscaping remains vibrant. This option was taken to minimize water wastage in a country where water is scarce. Also, amidst the recent power cuts which have plagued Botswana, a backup generator has been installed. The building is positioned on east-west axis to ensure minimum heat gain in the winter and maximum heat gain in winter.
Challenges
During construction, it was discovered that the sewer main located a few meters from the back of the building was incorrectly positioned, which consequently meant that it ran into the site. It then had to be repositioned at the cost of the developer and sequence of the construction also had to be slightly altered. Furthermore, there were rains which threatened the prompt completion of the project, but they came to pass and it was business as usual.
Project Team
Project Manager / Developer:                     Time Projects (Botswana) (Pty) Ltd
Quantity Surveyor:                                    MLC Quantity Surveyors
Mechanical & Electrical Engineer:                A.R Edwards & Associates
Civil & Structural Engineer:                        ADA Consulting Engineers (Pty) Ltd
Architect:                                                 Paul Munnik Architect (Pty) Ltd
Main Contractor:                                       Wharic
Earthworks:                                              Excavator Hire (Pty) Ltd