The Generali Tower is a twisting 44-storey skyscraper within the CityLife master plan in Milan, Italy. The tower is 170m high and it's also known as the Hadid tower or The Twisted One. Zaha Hadid Architects designed the tower project which began construction in 2014 and was completed in 2017. The interior designs for the tower were completed in 2018.
The Generali Tower or Hadid tower now accommodates about 3,900 employees of the Generali bank. The tower has also met Milan's rigorous local building code standards, including all international benchmarks for efficiency. It uses an environmentally sustainable design that provides a double façade of sun-deflecting louvers. This feature ensures excellent energy performance on each floor of the building.
Reported in 2014
Hadid Tower Under Construction in Italy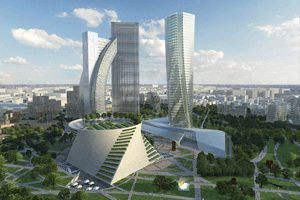 A twisted tower designed by Zaha Hadid Architects (ZHA) is currently under construction as part of a project which will dramatically alter the skyline of Milan, Italy.
Forming part of the CityLife Milano masterplan, and situated in the city's historic Fiera district, The LEED Gold certified Hadid Tower (Torre Hadid) will be 170m high with 44 floors.
Containing both commercial and office space, with a shopping area which connects to the metro station, the Hadid Tower is being built alongside the 220m Arata Isozaki & AssociatesTower ('the straight one') and the 150m Daniel Libeskind Tower ('the curved one').
Designed with a distinctive twisted shape and dubbed 'Lo storto' (the Twisted One) the retail section situated at the bottom of the tower rises and twists to give way to a galleria and promenade. These twisting lines continue up through the tower to form a vertical 'spiralling vector'.
This twisting design is made possible by using a conventional central core with a radial display of columns to support the load. According to ZHA "The structure of the tower is conceived as a stack of equivalent, economically efficient floor slabs that incrementally twist about a vertical axis.