Moke gardens is an exclusive gated community located at the foot of the Lukenya hills and just 35 kilometers from the Nairobi Central Business District. Moke Gardens is about ten minutes by car from the Jomo Kenyatta International Airport, Daystar University is only five kilometers away, and the Nairobi Expressway is also close by.
The first apartment blocks, totaling 58 dwelling units, are anticipated to be finished by the end of 2022 after construction on the flats started in October 2021. Modern designs may be seen in the 1, 2, and 3-bedroom apartments. The semi-detached maisonettes have a guest room on the lower level and three bedrooms, all of which have en suite bathrooms, on the upper level. The maisonette also includes an attached DQS with a separate entrance.
Search for construction leads
Reported in March 2013
Moke Gardens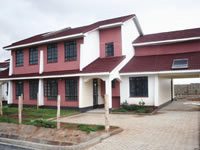 Customized Residences
With the housing sector in Kenya facing a deficit of nearly 150,000 units annually, there does not appear to be a more lucrative venture for investors than residential development despite the cloud of high-interest rates.
Major Kenyan cities have continued to see a boom in home construction. Though analysts expect the momentum to slow down in the face of the upcoming elections and the high cost of borrowing, new estates are still coming up.
One of the latest such estates is Moke Gardens.
Moke Gardens is a modern estate for middle-income earners on a 40-acre piece of land in Lukenya near Athi River, a 25-minute drive from Nairobi. The Ksh1.5 billion (US$18m) project comprises 272 semi-detached maisonettes built on an eighth of an acre piece of land each.
According to the developer, Mr. Harun Nyamboki,  the project will be completed in four phases 48, 75, 75, and 74 units. When complete, the controlled development will feature a perimeter wall and a single gate. The project kicked off in June 2009.
The development incorporates eco-friendly concepts. The rooms feature high ceilings that allow natural light into every room and ventilation.
All the houses are fitted with solar water heating systems. Grey water from the houses will be treated and recycled through a water treatment system at the property. The recycled water will be used for irrigation and general cleaning. Once the project is completed, solar-powered streetlights will be installed.
The bathrooms are well-finished with modern shower cubicles. Each house rests on a well-manicured backyard surrounded by a picket fence separating the property and the road. The developer has been generous with space.
Says Mr. Nyamboki: "Our target market wants well-designed houses with ample space for families. We have also delicately balanced cost and quality. Our finishing is good and we have made space allowance for additions such as washing machines. The rooms will not look cluttered when furnished."
"We will try and customize the houses to individual lifestyles. Some buyers prefer balconies on the upper rooms while others would like less space in their backyards," remarks the developer while acknowledging that this may slightly delay the project completion date of 2013.
Ceramic tiles of different designs and decra roof tiles are available on-site for buyers who want a different look for their houses. Each unit has a driveway that can accommodate two cars while a third car can park in the front yard. The property will feature a public area, a school, entertainment, and shopping spots.
Mr. Nyamboki says his main challenge at the moment is ensuring there is adequate infrastructure in the area. The local authority is set to complete a sewer line to the property while a road from Mombasa road through Daystar University is to be rehabilitated.
A four-bedroom maisonette complete with a servant quarter is selling for Ksh8.5 million (US$102,000) while three-bedroomed ones are going for KSh7.5 million (US$91,000). "When you look at the cost per square meter, it's about KSh 45,000 (US$540). That is a reasonable price", he concludes.