The Protea Hotel was to be constructed in Hoima, Uganda. Updates on the construction however inform us that it has not been completed yet.
It is unclear whether construction will continue to take place in the future however after Protea Hotels was taken over by Marriott Hotels, the last that was reported on the hotel was that it aimed to be completed in the first quarter of 2019.
Search for construction leads
Reported in August 2014
New Protea Hotel to Be Built in Hoima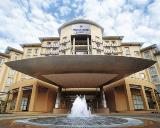 Protea Hotels has signed an agreement for the construction of another Protea Hotel in Uganda, bringing to four the number of properties in the country.
The new hotel will be constructed in Hoima, the center of the Albertine Rift Valley oil exploration, extraction, and processing region.
The 80-room hotel will have six conference facilities capable of hosting 300 delegates each, two restaurants, a swimming pool, a health club with a gym, sauna, and steam room, and disabled access to the property.
Construction starts in the third quarter of 2012 and is expected to last two years. Stuart Cook, managing director of Protea Hotels Uganda, said Protea Hotel Kampala and Protea Hotel Entebbe were already open, while Protea Hotel Mbale joined the portfolio on July 1.
Cook added Protea Hotels is rapidly expanding in Uganda. This process is largely driven by corporate travel because there is a lot of economic growth within the country.