The Tahrir Petrochemicals Complex is a project that is currently under construction on an area of ​​3.56 million square meters in the Suez Governorate. The project will be built on an area of ​​3.56 million square meters. The facility is set to include a 4 000 000 tonne per annum naphtha cracker plant, which will be the first of its kind in the country and the biggest in the entire world.
In addition, it will have related downstream facilities with the capacity to produce 1.4 million tonnes of ethylene and polyethylene per annum, 900,000tpa of propylene, 250,000tpa of butadiene, 350,000tpa of benzene, and 100,000tpa of hexene-1. Moreover, a single-train ammonium nitrate process plant with a capacity of 1,060tpd and a nitric acid unit will also be set up at the complex.
The project also comprises the construction of support utilities and offsite facilities such as a 3,800m³ph capacity seawater desalination system implementing GE's patented ultrafiltration and reverses osmosis technology, a wastewater treatment plant, a 300MW combined cycle power plant, sea works, a tank farm, jetty works, pipelines, and auxiliary components.
At an estimated cost of US$11 billion, the Tahrir Petrochemicals Complex project is expected to be completed in 2026. Furthermore, the complex is expected to commence commercial operations in 2027. Tahrir Petrochemicals and Egypt Hydrocarbon will manage operations at the plant.
Reported in March 2013
Drake & Scull Water for Egypt's Project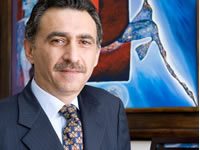 Drake & Scull Water and Power L.L.C (DSWP) has secured an AED 142 million Construction Contract for a Mining Grade Ammonium Nitrate Plant in the province of Ain Sukhna in Egypt. The project is the first for Drake and Scull Water and Power in Egypt's Petrochemical industry since the launch of its specialized regional Oil and Gas division in 2010.
 The company entered into a strategic Joint Venture Agreement with Hassan Allam Construction one of Egypt's largest general contracting companies to execute the project. The contract scope of work includes the complete construction and pre-commissioning of the following packages: civil works, mechanical equipment and storage tanks erection works, piping, and structural steel fabrication and erection work.
The Mining Grade Ammonium Nitrate Plant is developed and operated by" Egypt Hydrocarbon Corporation S.A.E" and comprises a nitric acid unit and ammonium nitrate unit, together with associated infrastructure and facilities including storage tanks, pipelines, and utilities. Once completed in April 2014, the plant will produce 1,060 MTPD of mining-grade ammonium nitrate (MGAN), for use in the mining and construction industries.
Reported in May 2014
Drake & Scull signs US$599m agreement for the Tahrir Petrochemical Corporation project in Egypt
Drake & Scull International (DSI has signed an AED 2.2 bn (US$599m) agreement with Egypt-based company Carbon Holdings for the construction of the Tahrir Petrochemical Corporation (TPC) development project located at the entrance of the Suez Canal in Ain Sokhna.
DSI is commissioned to complete OSLB construction works and civil works that include storage facilities and ancillary buildings. Under the terms of the contract, DSI will join another international group of companies that includes Archirodon Group and Maire Tecnimont S.p.A to embark on the Engineering, Procurement, Construction, and Commissioning (EPCC) activities associated with the utilities and offsite facilities of the project.
Speaking after the agreement signing, Drake & Scull International CEO Khaldoun Tabari said the company is pleased to be part of the international consortium delivering a vital project that will transform Egypt's petrochemical sector and also further strengthen the company's position in the country where they have an important presence in the Oil & Gas, Waste Water, and Water treatment and Hospitality areas. The Tahrir Petrochemical Corporation (TPC) development project in general is expected to cost over US$5bn.
DSI is a regional market leader in the integrated design, engineering, and construction disciplines of General Contracting, Mechanical, Electrical and Plumbing (MEP), Water and Power, Rail, and Oil and Gas and has managed to clinch mega project contracts in KSA, UAE, Kuwait, India, Algeria, and Europe for a collective value of AED 1.68 bn (US$457m) with the Tahrir Petrochemical Complex deal adding AED 3.88 bn (US$1bn) on its award portfolio as of May 2014. Egypt's petrochemical project was earlier set for a start in 2015.
Reported in Jun 2014
US$6bn Tahrir petrochemical complex project launched in Egypt
AUS$6bn Tahrir petrochemical complex has been launched by the board of the General Authority for the Northwestern Suez Gulf Economic Zone. The Tahrir project will entail the construction of a petrochemical industrial complex on an area of five square kilometers in Ain Sokhna.
The board's chairman, Major General Mohammed Refaat, said that Minister of Industry, Foreign Trade, and Investment Mounir Fakhry Abdel Nour has taken special steps to support the project adding that the project is labor-intensive and will help fight unemployment. Refaat said that one-half of the project is funded through local investments, and the other through a Saudi-Emirati partnership with companies registered with chambers of finance in the UAE and London.
The authority's board designated Engineer Adel Ayoub, Chairman of the Main Development Company (MDC), to contract with Basel El-Baz, chairman of the Tahrir complex, a subsidiary of Carbon Holding, in order to sign a partnership contract within the area that has yet to be annexed, measuring 14 kilometers. The administration of the Tahrir Complex will extend the project's facilities at its own expense.
The complex includes several factories that will provide various chemical supplies for the local market in multiple governorates of Egypt. They will be exported through the Sokhna and Adabiya ports in Suez. Upon operation, the project will provide 3,000 direct employment opportunities and 50,000 indirect employment opportunities.
This comes in the wake of the Egyptian interim government announcing its budget for the coming fiscal year Monday, in which it has reduced allocations for petroleum product subsidies to approximately US$14.5bn compared to US$ 18 bn for the current year. Various experts have noted that this move will raise fuel prices.
In April, Egypt awarded Maire Tecnimont Group and the Netherlands–based Archirodon Group a contract for Engineering, Procurement, Construction, and Commissioning (EPCC) activities for the realization of utilities and offsite facilities of the complex. The contract, awarded on a direct negotiation basis, has an expected value between US$1.7bn and US$1.95 bn.
The Tahrir Petrochemical Complex, located at the entry of the Suez Channel, is one of the most strategic projects which support the industrial development of Egypt, strengthening the domestic petrochemicals sector and further consolidating foreign direct investments in the country. Once completed in 3 years, this major Complex is expected to boost Egypt's annual exports by more than 25 %, creating new job opportunities as well as reinforcing the manufacturing sector.
Reported in July 2014
Construction of Egypt's Tahrir Petrochemical Complex Project to commence in 2015
Construction of the Tahrir Petrochemical Complex, a project that will take up between USD 1.7 billion and 1.95 billion from Morocco's exchequer, is set to begin in 2015. Carbon Holdings entered into an agreement on March 2014 to provide Engineering, Procurement, Construction, and Commissioning (EPCC) activities for the Ain Sokhna-based project.
The project will, upon completion, comprise a 4 million tonne-a-year naphtha cracker and facilities for producing benzene (350,000tpa), hexene-1 (100,000tpa), and propylene (900,000tpa). It will also produce 900,000tpa of butadiene and 1.4 million tonnes of Ethylene per year.
Commissioning of the project is expected in 2019. Among the providers of the funds for construction includes the Export-Import Bank of the United States, the Italian Export Credit Agency (SACE), the Export-Import Bank of Korea, and the Korea Insurance Corporation.
The 4 million tonne-a-year naphtha cracker is the biggest of its kind in the world and the first in the country. The Petrochemical project is expected to raise Egypt's annual exports to over 25%, create about 20,000 new jobs and reinforce Egypt's manufacturing sector. 50% of the project funds pertain to Milan-based Maire Tecnimont Group. The project is expected to boost foreign direct investments in the country.
Dubai-based Drake & Scull International has already won a $596 million contract with Carbon Holdings to facilitate construction works and civil works. The company will see the construction of storage facilities and related buildings.
Among other facilities at the plant include a 3,800m³ph capacity seawater desalination system, a nitric unit, and a 1,060tpd-capacity single-train ammonium nitrate process plant.
Reported in Feb 2016
Emerson to automate massive Tahrir Petrochemicals project in Egypt
Emerson (NYSE: EMR) and Carbon Holdings, the privately owned Egyptian petrochemical firm, today announced that Emerson Process Management has been selected to provide automation and reliability technologies and services for Carbon Holdings' Tahrir Petrochemicals Project at AinSokhna, Egypt. Emerson's initial scope of work is estimated at $150 million.
When completed, the approximately $6.9 billion Tahrir project will be the largest petrochemical plant in Egypt and the largest naphtha cracker plant in the world. It will produce 1.5 million metric tons per year of ethylene that will then be further processed into polyethylene. Other major products will include propylene, polypropylene, hexene, butadiene, benzene, and styrene. Construction and operation of the Tahrir Petrochemicals complex are expected to generate thousands of direct and indirect permanent and construction jobs in Egypt.
As Main Automation Contractor, Emerson will apply best practice technologies and services to help ensure the facility is completed on time and within budget. Engineering services include designing the plant for optimum availability, and Emerson will also provide a robust reliability program that includes consulting services, equipment health monitoring, and a reliability service center for ongoing local support and expertise.
The announcement was made at Emerson's Middle East headquarters in Dubai where David Farr, chairman and CEO of Emerson, met with Basil El-Baz, chairman and CEO of Carbon Holdings, for the signing of a memorandum of understanding regarding the contract award.
"Investments of this size require us to select partners that have a long history of handling large, complex projects and the expertise to produce a reliable plant with dependable output," said Carbon Holdings' El-Baz. "We chose Emerson for its proven ability to deliver a successful automation project that results in an efficient, high-availability operation."
Designed to serve both local and export markets, the TahrirPetrochemicals complex will be constructed in Egypt's Suez Special Economic Development Zone, with raw materials received and products shipped from the Gulf of Suez. Financing for the mega-project is expected to come from the export credit agencies of the United States, Korea, Italy, and the Overseas Private Investment Corporation, as well as direct investors. Under the memorandum of understanding, Emerson will also make a preferred equity investment in Tahrir Petrochemicals.
"We are excited to help Carbon Holdings realize its vision of creating a world-class petrochemical complex that can be a catalyst for economic development in Egypt," said Farr. "With Emerson's technologies, experience, and expertise, Carbon Holdings has positioned itself for top quartile performance – not only in project execution but ongoing operations as well."
Emerson Process Management (www.emersonprocess.com), an Emerson business, is a leader in helping businesses automate their production, processing, and distribution in the chemical, oil and gas, refining, pulp and paper, power, water, and wastewater treatment, mining and metals, food and beverage, life sciences and other industries. The company combines superior products and technology with industry-specific engineering, consulting, project management, and maintenance services. Its brands include PlantWeb™, Syncade™, DeltaV™, Fisher®, Micro Motion®, Rosemount®, Daniel™, Ovation™, and AMS Suite.
Reported in August 2019
Construction of Egypt's biggest petrochemicals complex to begin this year
Construction of Egypt's biggest-ever petrochemicals complex, dubbed Tahrir Petrochemical Complex (TPC), is set to begin before the end of this year. The complex will be constructed on a 5.2 million sqm piece of land at the Suez Special Economic Development Zone (SC Zone) at the Red sea port of Ain Sokhna.
Initially, the project was expected to be completed 19 months ago, but unfortunately, it was subjected to a number of hindrances, including Egypt's political revolution and subsequent turmoil. The most recent delays have been associated with financing issues.
Contracts for the project
Contracts for the US $10.9bn project that include project management consultancy (PMC) contracts as well as four other separate engineerings, procurement, and construction (EPC) contracts were signed in June last year.
The PMC contract was awarded to Bechtel, a US-based Engineering, Construction, and Project Management company while the other four contracts were given to The Linde Group which is based in Germany, Italy's Maire Tecnimont; a local engineering, construction, and infrastructure company called Hassan Allam Construction and Archirodon of Greece.
However, execution of the EPC contracts is yet to start as the developer, Carbon Holdings, is still seeking equity financing for the project as well as discussing and finalizing technical schedules and other details associated with the EPC contracts.
"We are hoping to mobilize the EPC contractors, and see to it that they start to implement their packages before the year ends," noted James Bishop
Reported in April 2021
Contract signed for the construction of the Tahrir Petrochemical Complex in Egypt
A US$ 7.5bn contract has been signed for the construction of the Tahrir Petrochemical Complex in the Ain Sokhna industrial zone, near the Gulf of Suez, Egypt.
The contract was signed between the Red Sea National Refining and Petrochemicals Company and General Authority For Suez Canal Economic Zone, the main developer of the Suez Canal Economic Zone in the presence of Prime Minister Mostafa Madbouly and Tarek Al Mulla, minister of petroleum and mineral resources.
Reported in Jun 2021
Foundation stone laid for construction of Tahrir Petrochemical Complex
Egypt's Prime Minister Moustafa Madbouly has laid the foundation stone for the construction of the proposed Tahrir Petrochemical Complex in the Suez Canal Economic Zone (SCZone) located in the Ain Sokhna region, near the Gulf of Suez, Egypt.
This comes approximately two months following the signing of a contract for the said project between the Red Sea National Refining and Petrochemicals Company and the General Authority For Suez Canal Economic Zone, the main developer of the (SCZone).
The Prime Minister was accompanied by the North African country's Minister of Petroleum and Mineral Resources Tarek El Molla, the Minister of Transportation Kamel El Wazir, the Governor of Port Said Adel El-Ghadban, the Governor of Suez Abdel Majid Saqr, the Governor of Ismailia Sherif Bishara, and the Chairperson of the SCZone Yehia Zaki.
Dec 2021
Tahrir Complex (Mogamma El-Tahrir) Rehabilitation Project Forges Ahead
The proposed project to redevelop and rehabilitate Tahrir Complex (Mogamma El-Tahrir), a historical asset in downtown Cairo that is currently owned by Egypt's Sovereign Wealth Egypt is making good progress.
This is after the government of the North African Country recently signed a deal worth more than US$ 222M with a US consortium that comprises Global Ventures, Oxford Capital, and Al-Otaiba Investments, for the implementation of the project which is the first model of adaptive reuse of government buildings in that region and the country at large.
Government's commitment to the Tahrir Complex (Mogamma El-Tahrir) Rehabilitation Project
Speaking after the signing of the deal Egypt's Prime Minister Mostafa Madbouly, confirmed the government's keenness on implementing this project in a way better than similar development projects that were carried out by the consortium involved in the United States and Europe.
The Minister also stressed the necessity of finalizing the project as soon as possible so as to make it the first model of the reuse of historical buildings in a modern way, a matter that increases its real historical value and returns.
Strategy to bring more investments into Egypt
According to Hala El-Said, the minister of planning and economic development who doubles as the CEO of the Sovereign Wealth Fund said that the Tahrir Complex (Mogamma El-Tahrir) Rehabilitation Project is one of the fund's strategies that seek to lure more investors to pump investments into Egypt and meet their needs, highlighting efforts exerted by the government for developing the country's basic and technological infrastructure, and introducing radical economic reforms.
El-Said stressed that the Arab Republic is on its way to achieving great things based on its development plans that aim to implement its 2030 Vision.