On the western edge of the Caspian Sea near Baku, Azerbaijan, the Full Moon Hotel was a planned structure. The shape of Hotel Full Moon initially resembled a disc with rounded corners and a hole in one of the top corners, with aspects that change drastically depending on the direction they are viewed from.
The Aypara (Crescent Moon) Tower, which is being built around the bay in front of the Port Baku buildings, was intended to be a counterbalance to the Full Moon Hotel, which was intended to add to the "new Dubai" vibe of the city's 21st-century architecture. The building's skeleton is almost finished, but it's evident that the original plan was scrapped in favor of something that resembles a huge lotus flower.
Reported in March 2013
Full Moon Bay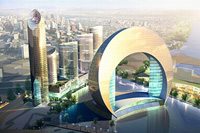 Reinventing the traditional notion of the skyscraper, Azerbaijan-based Heerim Architects have dreamed up two stunning lunar-inspired projects that will radically change the skyline of the capital city of the central Asian republic.
The Korean firm plans to build the Full Moon Bay and the Caspian Plus on opposite sides of the bay to act as markers of the gateway to Baku.
The highlight of the project will be the celestial Hotel Full Moon which will be constructed essentially as a disc with rounded edges and a hole in one of the top corners that would appear drastically different from different viewing angles.
The bulky center will give the front a distinct appearance with the glass diagrid contrasting with the hexagonal honeycombs in the back of the structure. The main building of the hotel will house the 35-storey luxury hotel with 104,182 square meters of space-occupying 382 rooms.
The 158.68 meters hotel will be linked to two residential apartment blocks called Palace of Wind 1 and 2 via a zoomorphically shaped podium that will curve around the boundary.
Hotel Crescent, which will be a part of the Caspian Plus, will be designed to act as a counterpoint to the Hotel Full Moon and will feature an arched structure similar to a crescent moon. The hotel will have 32 storeys with a total of 221 rooms and 128 serviced apartments on 128,140 square meters of floor space.
Four residential and office buildings will act as a backdrop to the stunning structure, the tallest of which will stand at 203 meters tall. The divine bay is eagerly awaited as the initial layout only promises to make it one of the most awe-inspiring sites in the world.