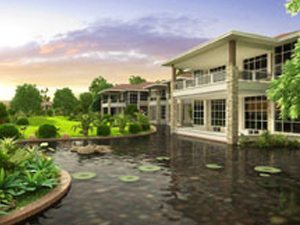 Although African architects continue to produce magnificent buildings, it is not often that construction projects from the continent get recognized on the global arena for their excellence
And so it was refreshing and exciting when The International Property Awards, an organization that rewards outstanding property developments worldwide, announced that The Watermark Business Park in Karen, Nairobi, had been awarded the Best Office Development in Africa 2012.
The development by Karen One Development Ltd, with Hass Consult as the development consultants, is the first ever Kenyan development to win in the office development category.
In a gala ceremony held at the Royal Mirage Hotel in Dubai, The Watermark Business Park beat two other Kenyan developments and a South African development also shortlisted in the same category.
The Watermark Business Park is a signature park development in Karen, Nairobi, designed in a classical yet ecologically sensitive concept, with offices enveloping a spectacular landscaped park and water feature lending it expansive views and a serene environment.
This development, offering a total of 180,000 sq.ft. of offices on 10.8 acres, is on course to set the benchmark for future development in this leafy suburb.
The Place
Strategically located at the junction of Langata Road and Ndege Road, the Watermark borrows from Karen's greater setting while boasting excellent frontage and visibility from Langata Road. The site is just a stone's throw from Karen Hospital, Karen Golf & Country Club and Crossroads Shopping Centre.
The Style
The Watermark's design concept is an embodiment of its natural setting and the 10.8 acres lends itself to a concentric arrangement of the two-storey blocks around a central water feature and park of 5.2 acres.
Emphasis has been given to the style and general aesthetics of the buildings and to the complex as a whole, with careful consideration given to the natural characteristics of the land in the design process, rendering a nature-based park environment that is aesthetically pleasing and enjoyable to work in.
The Watermark emerges as not just an office park but a high quality environment, where the design, construction and quality of the environment creates a top-notch business community.
The Space
The office courts are skillfully designed to create a flexible module offering suites from 2,500 sq.ft to 26,500 sq.ft. on either ground or upper floor. All suites benefit from private kitchen and washrooms with provisions for executive toilets, and the interior suites further enjoy enclosed terraces set over the water. Other attractions include:
Flexible plans catering for a variety of uses
Higher floor to ceiling height on the ground floor allowing for seamless use of the space for showrooms
Fully IT compliant offices ready to receive tenant fit out interiors
Total of 500 carparks creating a generous car park ration of 3 cars per 1,000 sq.ft of lettable space. Of these, 265 carparks are covered and for exclusive use by tenants.
The development will feature breathtaking landscaping features by the Nairobi based landscapers, Garden Art Ltd.
Facilities
The central feature of The Watermark is the Lake House, a spectacular gazebo on its own island at the centre of the expansive water feature. The Lake House is a split level space, ideal for use as a quiet retreat, meeting space or private lunches during the day and presentations, launches and after work cocktails as the sun goes down.
Designers of The Watermark offices have taken consideration of the unique needs of the business community, providing a myriad of other facilities including:
An onsite cafeteria which will be the daytime melting point for occupants of this business park
Designated playing area for children with potential for creation of a day care facility
Basement stores starting in size from 116sq.ft. available for purchase or rent by occupants
Borehole water supply, mains power connection with back-up generators serving the common spaces as well as the individual offices and a sewer treatment system
Security as a focal point of the design, achieved through controlled and manned sentry entrances, boundary walling with electric fencing and CCTV surveillance
Business Opportunities
In addition to attracting a complete business community, The Watermark creates new business opportunities for enhancing and support facilities that will benefit not only from the immediate population but also from the broader Karen neighbourhood. Some of these include:
Cafeteria and convenience store
Daycare centre and playing ground
Restaurant and coffee shop
The Details
The exteriors at The Watermark will be a creative deployment of natural materials such as yellow stone, glass and aluminium to create an architecturally inspiring façade. Lobbies will be finished in high quality ceramic tiling as will kitchenettes and bathrooms.
Great consideration has been given to the environment and natural resources with natural ventilation and lighting captured through keen attention to orientation and sun movements, water recycling generated from a sewer treatment system, rainwater harvesting and solar street lighting.
Project Team
Architect                                                              Beglin Woods Architects
Quantity Surveyor                                           Construction Cost Ltd
Structural & Civil Engineer                            Civil Engineering Design
Mechanical & Electrical Engineer               Loadline Engineering
Main Contractor                                               Nipsan Construction Ltd
Electrical Sub-Contractor                              Master Power Systems Ltd
Plumbing Sub-Contractor                             Pioneer Plumbers Ltd
Landscaping                                                       Garden Art Ltd
Waste Water Management                         Nature Systems Ltd
Letting/Selling                                                   Hass Consult