As an employer, it's your duty and obligation to prioritize workplace safety in order to protect your workers and your assets.
Developing a safety program takes time. Creating a safe work environment requires a complete program. After designing a safety plan, you must implement it. That means educating employees and managers and making everybody in the organization feel responsible for safety.
Investing in Workplace Safety
Search for construction leads
Workplace safety affects your company's bottom line. Injury or incident costs outweigh preventative costs that are before negative news affects customers and stakeholders. When accidents occur without the necessary procedures, significant financial penalties can strike the organization and you personally.
Safety shouldn't be an afterthought; it's smart business. Implementing health and safety initiatives protects your greatest resource, your employees. That said, putting a reliable system in place can help a business manage workplace health and safety compliance. A safety solution provider like https://www.stenhouselifting.com.au/ and others that incorporate training, hazard assessments, inspections, observations, and results will help the business recoup its investment.
Here is a simple formula for planning and implementing a program for workplace safety.
1. Understand The Workplace Risks
A safer workplace involves identifying hazards. Oil and gas employees risk explosions and burning while restaurant staff slip and fall. Make sure staff understand job risks. Once the dangers are identified, training staff to avoid them will be easy. Make a list of questions to use as a guide for the evaluation, including the following:
Is the office layout unsafe?
What equipment do workers use?
How can equipment misuse be dangerous?
What daily threats do employees face?
In what ways do the workers' existing working conditions pose a risk to their health and safety?
In addition, periodic inspections for corrective and control methods can help identify and stop workplace hazards.
When dangers exist or recur, it can mean that the hazard control system has failed. The hazard control system guides safe work operations and injury or illness prevention.
A qualified person must conduct your business's hazard assessment when developing your safety program. A successful hazard control system identifies workplace risks, how to eliminate them, and how to stop them from happening again.
2. Maintain Equipment And Provide The Necessary Safety Equipment
Proper equipment is a must. Ensure workers can operate and maintain equipment. If professional maintenance is needed, the management should do it.
Management should provide all personnel with safety gear such as safety goggles, back braces for heavy lifting, ergonomic office chairs, etc. Employees should use and maintain their personal protective equipment (PPE.)
This is important for construction, home renovation, packaging and distribution companies, firefighting, and other fields that demand protective equipment and uniform. For example,  construction workers must always wear hard helmets in certain worksite zones. Firefighters need fire-resistant clothes and helmets. Chemists must wear goggles in labs.
Employees must observe safe work procedures. Regular safety meetings assess the program and any hazards.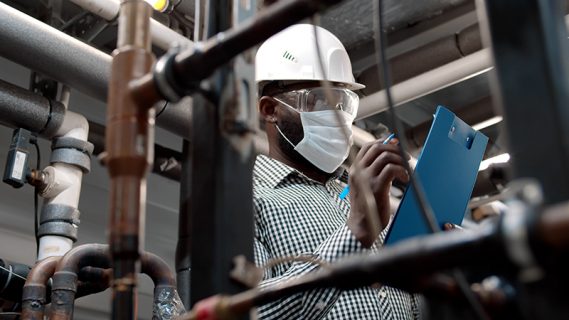 3. Develop Communication Plan
Overall, workplace safety and security depend on an organization's ability to communicate goals and objectives.
A communication plan should promote the program's objectives. Determine the most relevant safety and security communications and develop a baseline. Set measurable goals and objectives to implement and monitor specific measures. Model desired behavior.
Also, developing a safety communication strategy such as webinars and group meetings involving successful safety and security communication strategies that identify the audience, tools, timeframe, and budget.
4. Use Positive Reinforcement
Positive reinforcement means rewarding a person for performing the desired behavior, so they do it more often. Safety and positive reinforcement should go together. You may boost employee satisfaction by telling them they're making a difference and appreciating them constantly.
Small safety incidents shouldn't be ignored. Safety monitoring in a learning-supportive environment enhances staff safety practices. Management should be careful, not accusatory, when addressing safety issues. That leads to the next step.
5. Develop Safety Rules And Regulations
Any organization's safety program must include safety standards. A safety committee must write the regulations with a job site assessment and source documents from recognized sources such as a company's insurance, local safety councils, authorized industry groups, etc. Once a basic safety guide meets all regulatory requirements, the safety committee can construct site- and company-specific guidelines.
Unenforced safety rules are ineffective. Supervisors must know all rules, even those outside their scope. Each employee should obtain a copy of the regulations, and extra copies should be displayed on bulletin boards.
6. Improve Constantly
Your safety program should grow with your work habits. Regularly review and update safety guidelines with employees. Organize each session as a safety meeting that encourages comments, ideas, and criticisms that increase worker safety.
Conclusion
Effective workplace safety programs focus on people, but leadership is also key. All these steps need leadership. These resources can help you develop an effective and sustainable safety program. It will help you engage your workers, resulting in a joint effort to fight workplace risks and protect everyone's safety.