Africa's building and construction journal
Africa's building and construction journal
South Africa's East London industrial development zone (IDZ)is set to benefit with additional power from a wind farm that is to be developed by...
Solar Wind Energy offers a bold new approach to the United States and other nations aggressively pursuing energy independence with clean, sustainable energy solutions...
MEKA is a Turkish trendsetter name in the construction industry. It has been manufacturing concrete plant, concrete mixer and the crushing &screening equipment since...
The Tensar design was both sustainable and environmentally friendly by recycling the existing pavement asphalt surface and reusing the existing base materials. The innovative...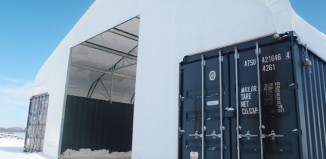 Calhoun Super Structure Ltd. – a pioneer in the fabric building industry – is very excited to announce the official unveiling of a new...
Event date: 28 September 2015 – 29 September 2015 Venue: Lagos Oriental Hotel City: Lagos Country: Nigeria Web Address: www.urbanmobilityafrica.com Africa is the most rapidly urbanising region in the planet, over 56% of its...
"Transformation in Africa's cement market & spotlight on high growth region!" Many countries in Africa are investing in cement production with the aim to achieve...