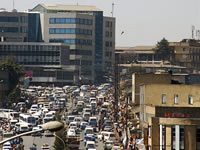 The first phase of the model of Addis, which is 79sqm, is to be handed over at the end of the month Partial view of the model, which sits on 98 tables, 90cm by 90cm, and only covers the areas from CMC to Piassa to Gotera, which is seen on the lower right corner.
The first phase of the construction of the model of Addis Ababa, made by the Ethiopian Institute of Architecture, Building & Construction Management (EIABC) at a cost of 1.3 million Br is to be delivered to the Urban Planning & Information Institute (UPII) at the end of this month.
The model, one of the three projects contracted to EiABC along with the revision of building height regulations and the evaluation of the Addis Ababa master plan, occupies 79sqm.
Built on a one to 1,000 scale, the construction of the model took about seven months using a laser cutter. The model, which sits on 98 tables of 90cm by 90cm, is made out of plywood.
Although, the memorandum of understanding (MoU) for the construction of the model was signed a year and half ago with the Proto Lab of the EiABC, it took some time to start as the laser cutter already on order took some time to come.
The laser cutter, bought at 40,000 dollars, is used to mark, cut and engrave materials guided by a computer input. The machine cuts different types of materials including plywood, plexiglass and paper at different depths.
The Urban Planning Institute had already planned to have a model to be made for the whole city; however it decided to do it in phases as model would have reached 36m on one side, according to an official in the Proto Lab, who are not authorised to comment.