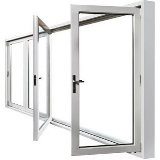 Royal Building Products has launched the new Royal Overture Folding Door Series.
Overture Folding Doors are available for residential and commercial applications and can accommodate a maximum width of 288 inches and a maximum height of 120 inches.
When fully retracted, Overture Folding Doors provide easy access to exterior living and a great feeling of wide open space.
The Royal Overture Folding Door Series offers multi-panel configurations for maximum design options and is available in a variety of Royal Bond Spectra-Coat colors to complement virtually any decor.
"The Royal Overture Folding Door Series continues our tradition of designing innovative, high-performing patio door solutions," said Mark Fanelli, vice president and general manager of Royal's Window & Door Profiles business.
www.royalbuildingproducts.com